AMD announces RX 5600 XT graphics card and Ryzen 4000 mobile processors
Plus: Intel's discrete graphics demoed for the first time.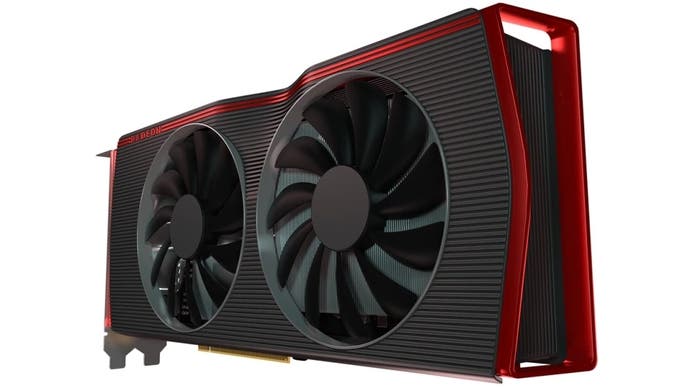 AMD took to the stage at CES 2020 last night to unveil its next big graphics card release: the RX 5600 XT. Slotting between the previously released RX 5500 XT and RX 5700 XT, this new GPU is designed for high-end 1080p and entry-level 1440p gaming, facing off against Nvidia's GTX 1660 Super and 1660 Ti in the sub-$300 price bracket.
In figures provided by AMD, the 5600 XT outperforms the identically-priced 1660 Ti in Call of Duty Modern Warfare, The Division 2 and Gears of War 5 by between 12 and 26 per cent at 1080p, with the highest gap in Gears 5. It's worth noting that these are all DirectX 12 titles, where AMD's graphics cards have traditionally performed well against Nvidia opposition. It'll be interesting to see how the RX 5600 XT fares in DirectX 11 titles too, where Nvidia has historically been much stronger pound-for-pound.
Looking at the specifications of the new card, it's clear that the RX 5600 XT is a cut-down version of the RX 5700, with the same number of stream processors but lower clock speeds and a narrower 192-bit memory interface, good for 288GB/s of memory bandwidth. VRAM capacity has also gone down, from 8GB to 6GB. That's a bit surprising given that the cheaper RX 5500 XT is available in an 8GB option, but 6GB of video memory should be sufficient for 1080p gaming.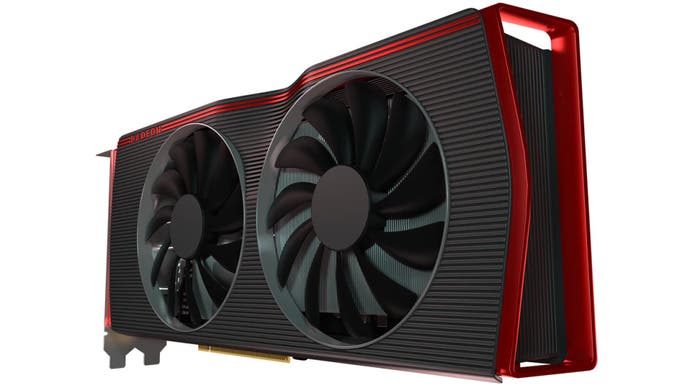 Let's take a look at those specifications now as we see how the RX 5600 XT slots into the existing AMD lineup:
| | RX 5500 XT | RX 5600 XT | RX 5700 | RX 5700 XT |
| --- | --- | --- | --- | --- |
| Compute Units | 22 | 36 | 36 | 40 |
| Stream Processors | 1408 | 2304 | 2304 | 2560 |
| TFLOPs | 5.2 | 7.2 | 7.95 | 9.75 |
| Game Clock | 1717MHz | 1375MHz | 1625MHz | 1755MHz |
| Boost Clock | 1845MHz | 1560MHz | 1725MHz | 1905MHz |
| Memory | 4GB/8GB GDDR6 | 6GB GDDR6 | 8GB GDDR6 | 8GB GDDR6 |
| Memory interface | 128-bit | 192-bit | 256-bit | 256-bit |
| TDP | 130W | 150W | 180W | 225W |
| RRP | $169/$199 | $279 | $349 | $399 |
The RX 5600 XT will start at $279 in the US and goes on sale from January 21st. Like the RX 5500 XT, no reference models will be sold by AMD, with custom designs offered by the likes of ASRock, Asus, Gigabyte, MSI, PowerColor, Sapphire and XFX.
An OEM-only model for system builders, the RX 5600, will also be available later this year. It comes with only 32 compute units and 2048 stream processors good for 6.4 TFLOPS of single precision performance, but is otherwise identical to the RX 5600 XT in terms of VRAM, power usage and so on. Mobile versions of the 5600 and 5700 series desktop cards will also be available in the first half of the year, called the RX 5600M and 5700M.
As well as graphics hardware, AMD also revealed its ambitions for its next generation of mobile processors, called Ryzen 4000 Mobile, which they claim will be the "best laptop processors ever built." They've backed that up with some impressive specifications, including the first eight-core, sixteen thread processors to fit into a thin and light laptop power envelope. AMD claims that their new generation of 7nm Zen 2 mobile processors are twice as powerful per watt as Ryzen 3000 Mobile. They also support LPDDR4x memory for the first time, which is important given how well Ryzen scales when given access to faster RAM.
The Ryzen 4000 Mobile series includes seven varieties so far, including two 45W 'H' varieties and five 15W 'U' chips. Eight core and sixteen thread processors are present in both camps, with both the 4800H and 4800U boasting maximum boost clocks of 4.2GHz. However, their base clocks are some distance apart, with the low power chip starting at 1.8GHz and its bigger brother beginning at 2.9GHz. You can see the full breakdown below:
| | Cores/Threads | Base clock | Boost clock | Cache (L2+L3) | GPU compute units |
| --- | --- | --- | --- | --- | --- |
| R7 4800H | 8C/16T | 2.9 GHz | 4.2 GHz | 12MB | 8 CUs |
| R7 4800U | 8C/16T | 1.8 GHz | 4.2 GHz | 12MB | 8 CUs |
| R7 4700U | 8C/8T | 2.0 GHz | 4.1 GHz | 12MB | 7 CUs |
| R5 4600H | 6C/12T | 3.0 GHz | 4.0 GHz | 11MB | 6 CUs |
| R5 4600U | 6C/12T | 2.1 GHz | 4.0 GHz | 11MB | 6 CUs |
| R5 4500U | 6C/6T | 2.3 GHz | 4.0 GHz | 11MB | 6 CUs |
| R3 4300U | 4C/4T | 2.7 GHz | 3.7 GHz | 8MB | 5 CUs |
While it's great to see strong generational leaps in performance, the big question is how these chips fare against Intel's most recent releases. AMD offered up a few comparisons between the top-end Ryzen 7 4800U and Intel's Core i7 1065G7, claiming that the newcomer offered four per cent faster single-threaded performance and 90 per cent faster multi-threaded performance as measured in Cinebench R20.
It was a similar story when comparing the two company's top high performance mobile chips, the Ryzen 7 4800H and the Core i7 9750H. The AMD chip claimed a 39 per cent higher score in the CPU component of the Firestrike physics benchmark, outperforming even the Core i7 9700K eight-core desktop CPU operating with more than double the power budget. AMD's third generation Ryzen processors have proven themselves extremely capable in content creation roles on desktop, so it's not too surprising to see such a wide gulf in multi-threaded performance here as well.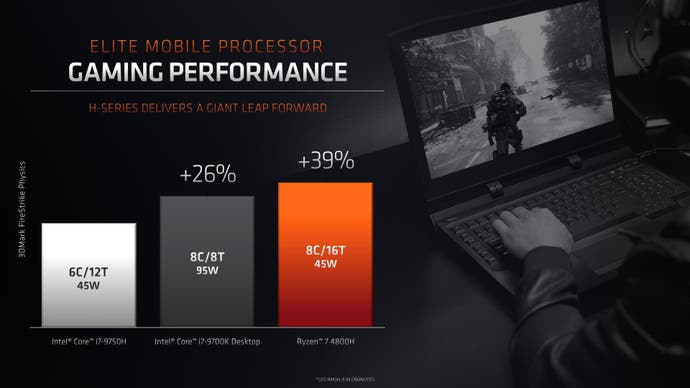 For gaming and content creation, laptops with both AMD processors and AMD discrete graphics cards will be able to take advantage of a new feature called SmartShift. This is essentially an algorithm that intelligently balances power utilisation between CPU and GPU to maximise performance. In most modern games, for example, the CPU is relatively underused while the graphics card is the bottleneck, so SmartShift would be able to cut power to the CPU in order to maintain higher frequencies on the GPU, raising performance overall.
In a demonstration of The Division 2, a DirectX 12 title that's easy on the CPU, the game's built-in benchmark reported an average frame-rate of 67fps with SmartShift enabled versus 61fps with it off. The first laptop to feature the technology is Dell's G5 SE, which will be available this summer for $800. However, other laptops with Ryzen 4000 processors will be available earlier, from around March, and will eventually total over 100 models.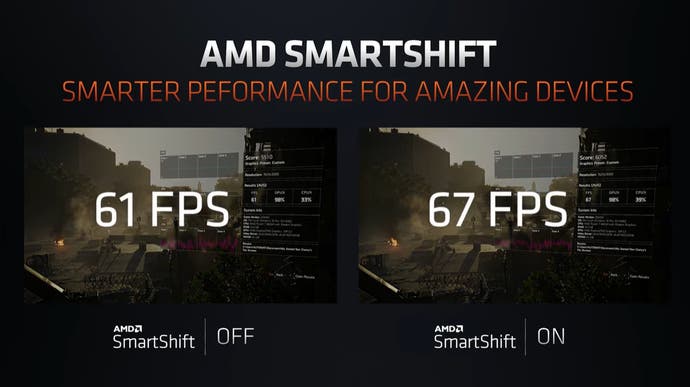 AMD also announced a release date for the Threadripper 3990X, which was first detailed last year. The 64-core 128-thread processor goes on sale worldwide from February 7th and fittingly costs $3990. In a demonstration of the chip's processing chops, a V-Ray render was completed in 63 minutes, compared to 90 minutes for a dual-processor Intel Xeon Platinum 8280 system with 56 threads and 112 cores - and a suggested retail price of $20,000.
As well as making its processor and graphics card announcements, AMD also dipped into the Xbox Series X news cycle from their opening sizzle reel. AMD's surprise reveal of the back side of the Xbox Series X made headlines - before and after the company admitted to using a fan-made render purchased online. That means we're no wiser as to the features of the Series X, but it was an entertaining interlude regardless.
While AMD offered some of the biggest announcements of the show, its two greatest competitors have also been making headlines of their own. Nvidia kicked off CES earlier on Monday with their own announcements, including a range of G-Sync and G-Sync compatible monitors including the first 360Hz panel to hit retail, a Mini LED display and a range of new OLEDs from Acer and LG.
Nvidia also revealed that ray tracing and DLSS are set to arrive in Wolfenstein Youngblood later this week, courtesy of a new GeForce driver. That driver has since been released, bringing with it a new global or pre-game frame-rate limiter, previously only accessible using a third-party tool, as well as a new rendering option for VR. Called VRSS, the idea is to use up to eight times as many shaders to render the area you're currently looking at, while conserving performance elsewhere to get the best blend of visual fidelity and fluidity. You can read more about the new driver in our analysis from yesterday.
Intel also demonstrated its Xe discrete graphics for the first time, teasing that the new "DG1" hardware would provide about double the performance of its (surprisingly capable) integrated Iris Plus graphics. The demo hardware was installed in a thin and light laptop and ran Destiny 2 at what looked to be a stable frame-rate but low settings, suggesting that the company is aiming to offer a solution that competes against low-end AMD and Nvidia graphics solutions - think GeForce MX150 and Vega 10 - rather than more capable mid-range discrete options like GTX, RTX or RX mobile GPUs. Destiny 2 was only shown briefly, with no one visibly holding the controller, so we look forward to seeing a more comprehensive demonstration in the future.
That's it in terms of PC hardware news for now. We'll bring you any more CES 2020 stories as they appear, and expect some Radeon RX 5600 XT performance analysis from us later this year.