Nvidia showcases stunning RTX upgrades for 10 key PC games
Our first look at ray tracing in Minecraft, Dying Light 2 and more.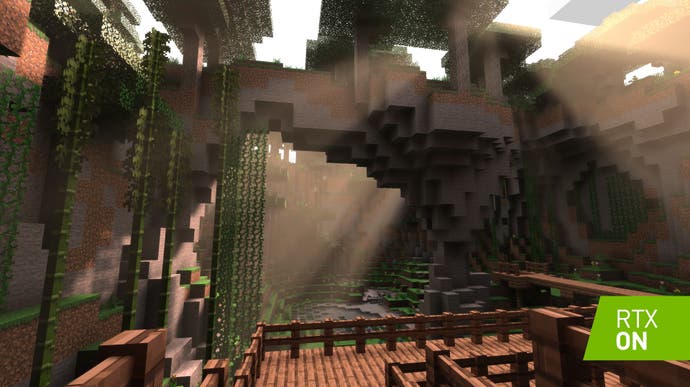 Nvidia has arrived in Cologne in force this year, with a raft of RTX announcements to coincide with Gamescom's action-packed first day. Minecraft RTX is the biggest news so far, with a new path-traced version of the game launching on Windows 10 in the new year, but there are also new details for Call of Duty Modern Warfare, Vampire The Masquerade, Dying Light 2 and more. We've gathered up all of the trailers and some fancy RTX comparison shots for you right here, along with whatever details we could find about the type of ray tracing to be included in each game and its current release date.
We'll be going hands-on with as many of these titles as possible, so stay tuned for plenty of Digital Foundry articles and videos over the next few days! In the meantime, here are all of the ray tracing enabled titles at Gamescom this year - including those infamous "RTX ON" and "RTX OFF" comparison shots, trailers and more.
Call of Duty: Modern Warfare
Call of Duty Modern Warfare is a return to the series' roots in many ways, whilst also bringing in a lot of new tech that should open up new gameplay possibilities. As well as variable rate shading, a performance-saving tech we loved in Wolfenstein: The New Colossus, the game also features ray traced shadows to add that extra bit of immersion. Modern Warfare's release date isn't too far out either, currently sitting at October 25, 2019.
Control
Unlike most other RTX titles released thus far, Control features the full gamut of RTX effects - including ray-traced reflections, diffuse global illumination and contact shadowing. The game is scheduled to launch on August 27th, just over a week away, and should be Nvidia's best RTX showcase yet.
Cyberpunk 2077
One of the most anticipated games to feature at Gamescom, Cyberpunk 2077 features real-time ray-traced global illumination. This video can get you up to speed on the game's use of RTX effects, while the screenshots below are ideal for pixel peeping. No RTX on/off comparison shots yet, though!
Deliver Us The Moon
Deliver Us The Moon is a third-person exploration game that casts players as the last surviving astronaut in an apocalypic near-future space setting. The game uses the full array of options in the RTX toolkit, including global illumination, shadows and reflections. This indie title is built on Unreal Engine 4, making it one of the first to include the ray tracing support added in version 4.2.2. DLSS is also supported, having been announced in September last year.
Dying Light 2
Chris Avellone-penned zombie survival game Dying Light 2 features real-time ray tracing and arrives early next year. Unfortunately, there's no RTX trailer for this one, so you'll have to make do with a single RTX on/off comparison shot linked below, which shows what looks to be ray-traced global illumination - a perfect fit for a game where light is such a valuable resource.
Metro Exodus: The Two Colonels (DLC)
The Two Colonels DLC for Metro Exodus extends the ray tracing available in the game with ray-traced global illumination with emissive lighting. The DLC should be released this summer, with the official trailer dropping around 5PM CEST today.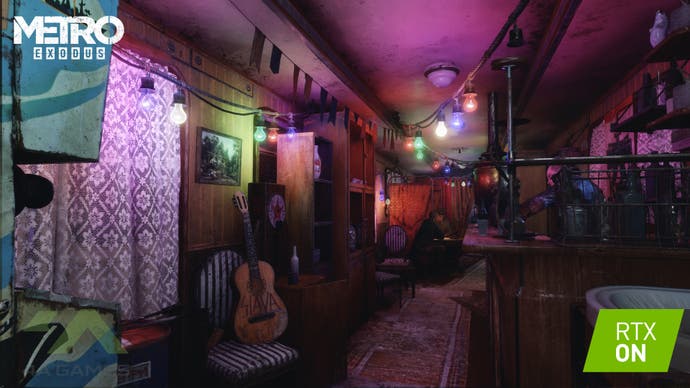 Minecraft
Minecraft is getting official ray tracing support! Minecraft with path traced global illumination made its Digital Foundry video debut back in April thanks to the efforts of able modder Sonic Ether, but now we're seeing an even more realised version of ray tracing direct from developers Microsoft Studios and Mojang - with an assist from Nvidia, no doubt. Nvidia made special mention of global illumination for lighting and colours, realistic water reflection and refraction and emissive textures. Minecraft with RTX debuts in early 2020.
Synced: Off Planet
This MMO, developed by Chinese giant Tencent, uses ray-traced reflections and shadows as ably shown in the trailer below. Expect urban near-future environments with plenty of puddles and metals for reflections and gameplay reminiscent of The Division, plus basic base building and zombies.
Vampire: The Masquerade - Bloodlines 2
Vampire: The Masquerade Bloodlines 2 features ray-traced reflections and comes out next year. The Paradox title is a follow-up to 2004's original Bloodlines and shows an alternate version of Seattle carved up by rival vampiric factions. All of that blood is going to look very shiny indeed.
Watch Dogs: Legion
Watch Dogs: Legion releases on March 6th, 2020, with full support for real-time ray-traced reflections. The game makes its RTX debut at Gamescom this year, with the brief trailer embedded below showing a rain-slick Camden market, reflective phone boxes and other quintessentially British locales.
Wolfenstein Youngblood
Wolfenstein Youngblood launched without ray tracing, but the tech is soon to be added to the game alongside the variable rate shading that debuted in its predecessor. As seems to be the trend these days, ray traced reflections (a la Battlefield 5) will be the RTX tech of choice. The comparison sliders linked below show how these reflections can add new information, allowing you to see around corners as well as adding to immersion.
Those are all of the RTX titles we've spotted in the headlines at Gamescom this year, but we'll continue to update this article as new details emerge. Stay tuned to Digital Foundry on YouTube and here on Eurogamer as Gamescom continues!