AMD Radeon RX 5700 XT benchmarks: trading blows with RTX 2060 Super
This upgraded 7nm GPU excels at 1440p and even stretches to 4K.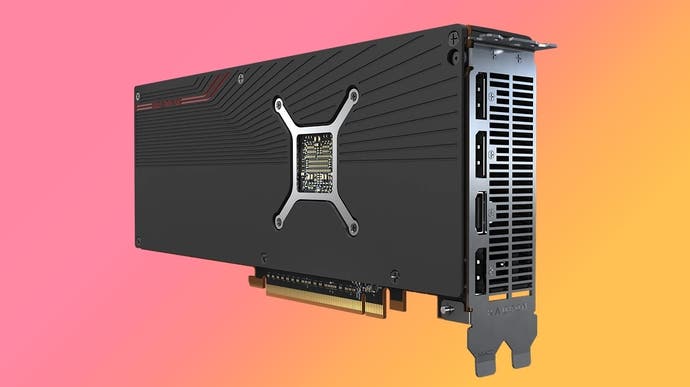 The RX 5700 XT is AMD's fastest Navi graphics card released thus far, offering a sizeable performance boost over the vanilla RX 5700 for a reasonable price: $399/£379/€419. Nvidia's surprise launch of the RTX Super cards looked to take the wind out of AMD's sails, but Team Red fired back with price cuts that ensure the RX 5700 XT gets a winnable matchup against the RX 2060 Super. In this article, we'll examine how the RX 5700 XT stacks up against its closest competitors in 12 recent games, letting you get a good idea of whether this is the card for you.
As well as a quartet of RTX cards new and old - the RTX 2060, RTX 2060 Super, RTX 2070 and RTX super - we'll also see how the XT compares against previous AMD cards, including the Vega 56, the Vega 64 it nominally replaces and the more powerful but slightly older Radeon 7.
Our usual benchmark suite contains nine games tested at three resolutions, but we went next level for our RX 5700 XT review and added three new games to the mix: AMD favourite Strange Brigade, the gorgeous Metro Exodus and the latest DICE release, Battlefield 5. We didn't have time to test these new titles on older hardware like the Vega 64, so we'll put these games towards the end of this page.
---
Which GPUs are worth buying? We've made our picks for the best graphics cards available, updated with the latest graphics cards as they're released. As well as an overall performance champ, we name the best value graphics card and best cheap graphics card to guide your next upgrade.
---
Before we get into the results, we should discuss our testing setup briefly. In order to give these graphics cards as much headroom as possible, we opted for an open air test bed running an Intel Core i7 8700K. This chip is overclocked to 4.7GHz on all cores and paired with a Digital Storm 240mm AiO CPU cooler to keep temperatures down. The rest of the rig specs include 16GB of DDR4 memory running at 3400MHz in dual channel mode and an Asus Maximus XI motherboard. All games were run from SSD storage.
The RX 5700 and RX 5700 XT units we tested are reference models direct from AMD, operating at stock speeds with a single fan in a 'blower' configuration. This design tends to work well in all manner of cases, even those with limited airflow, but you might notice louder fan noise and worse cooling than you would from a dual-fan or triple-fan design in a case with good airflow. However, later custom cards at the same price point should offer near-identical performance.
We should also mention that the RTX 2060 and RTX 2070 in our charts are Founders Edition cards made by Nvidia, so they operate beyond their reference specifications and offer better performance than you'd expect from an entry-level card, with an upgraded price to match. Conversely, Nvidia hasn't taken this approach with the RTX 2060 and 2070 Super cards, which should perform the same as other entry-level cards.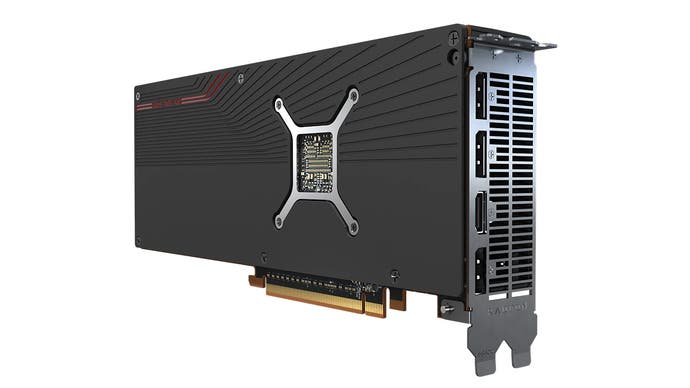 | AMD | GPU cores | Boost Clock | TFLOPs | Memory | Bandwidth | TDP |
| --- | --- | --- | --- | --- | --- | --- |
| Vega 56 | 3584 | 1474MHz | 10.6 | 8GB HBM2 | 410GB/s | 210W |
| Vega 64 | 4096 | 1546MHz | 12.7 | 8GB HBM2 | 484GB/s | 295W |
| RX 5700 | 2304 | 1725MHz | 7.5 | 8GB GDDR6 | 448GB/s | 185W |
| RX 5700 XT | 2560 | 1905MHz | 9.0 | 8GB GDDR6 | 448GB/s | 225W |
| Radeon 7 | 3840 | 1800MHz | 14.2 | 16GB HBM2 | 1024GB/s | 295W |
| Nvidia | GPU cores | Boost Clock | TFLOPs | Memory | Bandwidth | TDP |
| --- | --- | --- | --- | --- | --- | --- |
| RTX 2060 | 1920 | 1680MHz | 6.5 | 6GB GDDR6 | 336GB/s | 160W |
| 2060 Super | 2176 | 1650MHz | 7.2 | 8GB GDDR6 | 448GB/s | 175W |
| RTX 2070 | 2304 | 1620MHz | 7.5 | 8GB GDDR6 | 448GB/s | 175W |
| 2070 Super | 2560 | 1770MHz | 9.1 | 8GB GDDR6 | 448GB/s | 215W |
As AMD took the unusual step of changing their pricing just 24 hours before launch, so it's worth reiterating exactly what this card costs. In the US, you can expect to pay $499, a $50 reduction from the old price and exactly the same as Nvidia's new RTX 2060 Super. In the UK, the RX 5700 XT goes for £379, £40 more than its little brother. Elsewhere in Europe, expect to pay around €419 for the 5700 XT and €369 for the RX 5700.
AMD Radeon
Nvidia GeForce
Suggested Pricing
Radeon RX 5700
RTX 2060 FE
$349/£339/€369
Radeon RX 5700 XT
RTX 2060 Super
$399/£379/€419
RTX 2070 FE (discontinued)
RTX 2070 Super
$499/£475/€559
Radeon 7
RTX 2080 FE
RTX 2080 Super (July 23rd)
$699/£669/€739
RTX 2080 Ti FE
$1199/£1099/€1259
If you've read one of our Digital Foundry benchmarks or review pages before, you'll likely be familiar with the unique way we present our results. For everyone else, the idea is to offer 'live' data that accompanies a video of the test scene we used for each game when you're visiting the desktop version of our site. Hit play on the YouTube video embed, and you'll see the frame-rate and frame-time graphs react accordingly as the scene plays out. We've opted for 1440p results by default, but you can select just the data points you're interested in, like other cards and resolutions, with the controls to the right of the video. There's also a barchart of average results; hover your mouse over the graph to see averages plus best or worst one per cent figures, and click on the chart to switch between absolute frame-rates and percentages. Now, let's get started with the results.
Assassin's Creed Odyssey
Despite being an AMD-affiliated title, Assassin's Creed Odyssey doesn't offer the warmest of welcomes to Team Red's latest hardware. At 1440p, where we'll be providing the bulk of our analysis, the 5700 XT manages just 52fps at ultra high settings. That's three per cent behind Nvidia's RTX 2060 Super at the same price point, and 13 per cent behind the RTX 2070 Super a tier higher. At 4K, the XT barely limps over the 30fps minimum, although the RTX 2060 Super doesn't manage any better.
AC Odyssey: Ultra High, TAA
Assassin's Creed Unity
Assassin's Creed Unity is another game that AMD hardware typically struggles with, thanks to a depth of field effect that brings most Radeon cards to their knees. The Radeon 5700 series shows a significant improvement though, with very little of frame-rate swings that characterised earlier cards' performance. Overall, the 5700 XT manages 72fps at 1440p, three per cent ahead of the RTX 2060 Super and tied with the RTX 2070. At 4K, it's exactly the same story.
Assassin's Creed Unity: Ultra High, FXAA
Battlefield 1
Battlefield 1 has long represented a best case scenario for AMD hardware, as it's a DX12 title that runs extremely well on Radeon cards old and new. The RX 5700 XT manages 130fps at 1440p, which is 25 per cent faster than the Vega 64 and 11 per cent faster than the RX 5700. It's also within striking distance of the Radeon 7, a significantly more expensive card that only manages 10 per cent better performance at this resolution. Nvidia cards perform poorly by comparison, with the RX 5700 XT beating the RTX 2060, RTX 2060 Super, RTX 2070 and RTX 2070 Super at 1440p. Indeed, it's only the RTX 2080 that achieves higher frame-rates than the RX 5700 XT here, and its advantage is only three per cent yet it costs $300 more. Still, Battlefield 1 has long been an outlier, so how do other games compare?
Battlefield 1: Ultra, TAA
Crysis 3
Crysis 3 results are also decent for the RX 5700 XT, with the card delivering an 89fps average through the bombastic train scene that closes out an early portion of the campaign. That's slightly higher than the 87fps achieved by the RTX 2060 Super, and just 1fps behind the RTX 2070. It's similarly close at other resolutions, with the 5700 XT actually beating out the 2070 at 1080p.
Crysis 3: Very High, SMAA T2X
Far Cry 5
Despite using the DirectX 11 API instead of the more modern DirectX 12 or Vulkan, Far Cry 5 represents another strong performance for the RX 5700 XT. The card maintains a 1440p average above 100fps throughout the integrated benchmark, a 12 per cent improvement over the RX 5700 and a 14 per cent advantage over the RTX 2060 Super. In fact, the RX 5700 XT is closest in performance to the RTX 2070 Super, trailing this more expensive card by only one per cent at 1440p.
Ghost Recon Wildlands
Continuing with Ubisoft titles, Ghost Recon Wildlands offers a tougher challenge than Far Cry 5 thanks to its more extreme highest graphical preset. The XT card manages 57fps at 1440p, again a 12 per cent lead over the RX 5700 and the same over the RTX 2060 Super. Once again, you have to look to the RTX 2070 Super to find a better-performing competitor from Nvidia. These trends hold true at 4K as well, with the XT delivering a console-quality 36fps average at ultra. However, rest assured that the high and very high presets still look great and should easily deliver 60fps performance.
Ghost Recon Wildlands: Ultra, TAA
Rise of the Tomb Raider
Rise of the Tomb Raider comes next, a game with a three-part benchmark that sadly doesn't accurately simulate running the actual game. Regardless, the benchmark runs quickly and still provides an adequate yardstick for graphics card performance in DX12 titles. The RX 5700 XT comes neatly between the RTX 2070 and RTX 2070 Super here, with a 1440p average of 102fps and a 4K average of 52fps. That's easily in range of 4K/60, as long as you're happy to make a few sacrifices to graphical fidelity.
Rise of the Tomb Raider: Very High, SMAA
Shadow of the Tomb Raider
Shadow of the Tomb Raider's long three-part benchmark is a much more accurate predictor of in-game performance, and it's a tougher workload as well. 1440p is still well on the table here, with the 5700 XT hitting 79fps, but 4K is a little out of reach at just 40fps. The RX 5700 XT performs well once again, with a margin-of-error advantage over the RTX 2070 and a six per cent lead over the RTX 2060 Super at the same price point.
Shadow of the Tomb Raider: Highest, TAA
The Witcher 3
The final test in our usual suite, The Witcher 3 has also tripped up some AMD cards over the years. The RX 5700 XT handles 1080p and 1440p easily at 129fps and 91fps, respectively, and 4K is still quite playable at 49fps - especially when you're out of the bustling streets of Novigrad. The RX 5700 XT does beat out the RTX 2060 Super at each resolution, with the advantage carried by the AMD card normally in the region of five per cent, but narrowly loses out against the RTX 2070.
Witcher 3: Ultra, Post-AA, No Hairworks
Strange Brigade
Strange Brigade's DX12 benchmark offers an easy target for AMD, with the RX 5700 XT nearly hitting a 120fps average at 1440p. The card is even strong at 4K, with an average result of 68fps according to our figures. That's faster than even the (more expensive) RTX 2070, showing that AMD's advantages in DX12 games isn't limited to just Battlefield 1.
Strange Brigade: Ultra, DX12
Metro Exodus
While you won't be able to enjoy Nvidia's real-time ray tracing on the RX 5700 XT, you will be able to count on reasonable performance. We had some unusual results here, but at 1440p we recorded a 92fps average for the XT throughout the opening seconds of the Volga level in the campaign. That's equal to Nvidia's RTX 2070, and seven percentage points to the good against the RTX 2060 Super. However, at 1080p and 4K we get pretty poor results for all of the AMD cards we tested. Hopefully this is a situation that can be changed by driver updates in the future.
Metro Exodus, Ultra, DX12
Battlefield 5
We conclude with another Battlefield title, this time 2018's Battlefield 5. The opening scenes of the Tirailleur war story, which examines the Sengalese contribution to World War 2, makes for a challenging showcase even without the real-time ray traced reflections possible on Nvidia's latest hardware. The benchmark shows a solid 1440p result of 109fps, faster than any Nvidia card we tested all the way up to the RTX 2070 Super. The advantage over the RTX 2070 Super isn't massive, at two per cent, but it's a nice scoop for AMD given how much more expensive the Nvidia card is.
Battlefield 5, Ultra, DX12