PUBG mobile analysed: top-end smartphones compared with PC
And could the conversion work lay the foundation for a Switch port?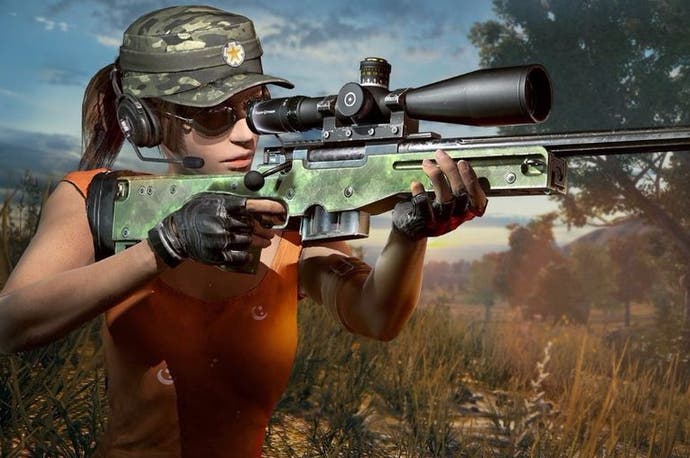 When we first looked at Playerunknown's Battlegrounds on Xbox One, it's fair to say that we weren't hugely impressed, owing to its cut-back visuals and remarkably low frame-rates. And with that in mind, the basic concept of the game being adapted for iOS and Android seems almost outlandish. But here's the thing: as compromised as it is, the mobile port works and in fact, the sometimes brutal cuts are essential in actually making the game playable in handheld form on a relatively tiny smartphone screen. And in turn, this may offer up some idea of how - in time - the PUBG Corporation could bring the game to Nintendo Switch.
Ian's already taken a look at the game running under iOS - on a vintage 2014 iPhone 6, no less - but we wanted to push harder, so we deployed the game on two high-end Android devices: the Samsung Galaxy S8 (specifically, the version using the Samsung Exynos 8895) and the Razer Phone, based on Qualcomm's Snapdragon 835 processor. PUBG actually ships with three quality presets designed to match the game's visuals to the capabilities of your hardware, and curiously, it also has three selectable frame-rate targets. It's difficult to figure this out because the title is currently available in China only and has no English text, but we've included a settings breakdown in our video embedded below.
The good news is that actually getting the game installed (freely and legally) is a piece of cake, and Eurogamer has a full install guide right here. Just be aware that the servers are geared towards an audience located elsewhere on the globe, so your ping may be high and PUBG's notorious rubber-banding and micro-teleporting may be more pronounced than you would expect.
But we're more concerned with the conversion work and how mobile gaming giant Tencent has somehow managed to shrink PUBG down onto smartphones. An Unreal Engine 4 logo at the beginning of the game confirms that the same core engine technology behind the PC and Xbox versions powers the mobile version, while the same open world is in place - specifically, the Erangel map, including its crash site opening lobby. The core gameplay is fundamentally the same too: it's a 100-man free-for-fall, beginning with a parachute descent, followed by a mad grab for weapons, armour, medkits and vehicles, and a tense 'battle royale' that leaves one man standing at the conclusion.
The original gameplay is preserved to a remarkably high degree, and as Ian pointed out in his excellent video, it's actually streamlined and even improved in several ways. The big changes beyond that are all in the visuals: detail is massively cut back both in terms of geometry and texture quality, while the lighting model is substantially reduced, time of day is gone and Unreal Engine 4's enviable post-process pipeline is basically butchered to the barebones. What we're left with has to somehow work across a multitude of devices with big variations in their CPU and GPU capabilities
To help get a playable experience, the mobile version has low, balanced and high settings with the game suggesting a preset for you when you first boot it. Balanced didn't seem to do much for us, but the low setting kills texture filtering, disables shadows, removes light sources and pulls back detail. Curiously, the visual quality settings also have an ultra mode, but this was not accessible on either of our Android devices. Regardless though, in a straight head-to-head between the Samsung Galaxy S8 and Razer Phone, the latter clearly provided an improved experience - even if its signature adaptive sync display is hardly going to be pushed with the title's mediocre frame-rates.
But the inclusion of quality settings isn't the whole story. What we found fascinating is that the quality of each preset varies depending on the phone we tested. For example, the high setting on the Razer Phone resolves improved texture quality and filtering compared to the same preset enabled on our Exynos edition of the Samsung Galaxy S8. Perhaps this version of the S8 isn't fully supported (though the ultra-wide aspect ratio is) and a closer match in parity will arrive further on down the road. This seems a touch unlikely though, as .ini tweaking didn't seem to make much difference - perhaps the developers have hard-locked presets on the most popular handsets.
While we've tested on high-end devices, there are options designed to stabilise performance on lower-end phones too, beyond image quality. Three frame-rate presets attempt to lock the game at 20, 25 or 30 frames per second. We're not entirely sure how useful PUBG's frame-rate limiters are though - Android seemingly has no facility for even frame-pacing, and all of the options available deliver horrible stutter, the least worst being the 'max' 30fps setting. In truth, we'd be leaving this area of the settings along and running unlocked, which seems to be the standard set-up if you leave the performance options alone. We used the Razer Phone's internal OS-level frame-rate counter and found that it ran the game on the default high settings at around 33-38fps.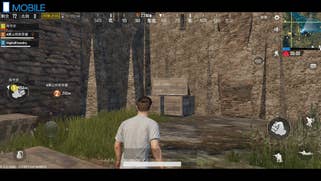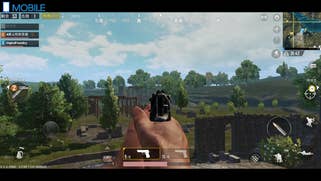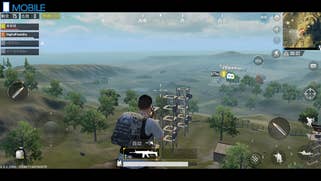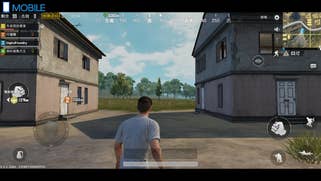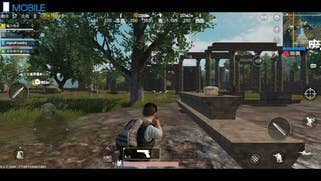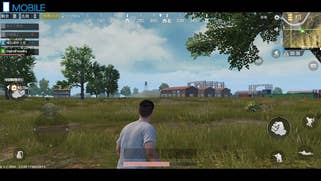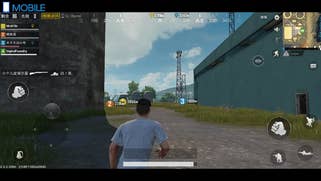 Regardless of how powerful your mobile hardware is and how fast you're able to run PUBG mobile, the downgrades compared to the existing versions is substantial, as the comparison shots above illustrate - but perhaps surprisingly, this may well be for the best. Simplifying what is a very busy game is essential for getting PUBG playable in handheld form on a tiny screen. Some of the cutbacks bite hard, like losing almost all of the detail from building interiors. However, intelligently paring back environmental detail, simplifying lighting and essentially decluttering the scene makes exterior action much easier to follow on your phone. That said, opponents are still very difficult to spot on a mobile screen (they're very, very small) meaning that tablet users will have an advantage. Touchscreen controls are obviously far from optimal, but the inclusion of auto-aim is a great leveller and actually makes the game significantly easier to play in some respects than the full-fat version.
And it's what PUBG mobile retains rather than loses that is the key to its success. Based on our comparison points, the size of the map and the key architectural details - right down to landmarks and buildings - are the same comparing desktop to mobile. Despite the size of the open world, there's no in-game loading either. Remarkably, if you know PUBG, this version is close enough that you have transferable skills and knowledge that will work in the mobile game. It's instantly familiar and easy to get into, and the Battle Royale concept remains as compelling as ever. If it feels a touch jerky or somewhat rough and ready, PUBG veterans from the game's beginnings may well feel right at home.
So, with the template laid down, what more can we learn from this mobile version of PUBG? Firstly, while it's currently available only in China, the decent quality of the port suggests that a worldwide roll-out is likely. Beyond that, there have been some vague rumblings about the PUBG Corporation wanting the game on platforms, presumably including the Nintendo Switch. The concept of a PUBG Switch port seemed highly unlikely based on the issues we've noted with the Xbox One and even X versions of the full-fat game, both of which seem to struggle with CPU-based limitations - an aspect that would only be amplified on Switch.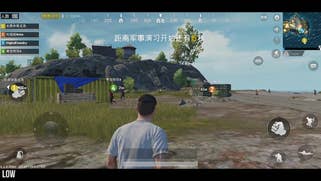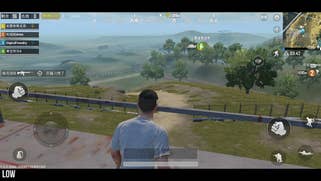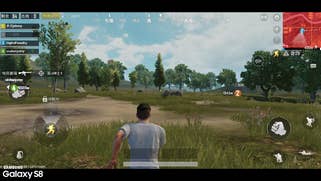 What we've seen of PUBG on mobile is a bit of a game-changer though and presents a route to viability for a potential Switch conversion. At the very least it demonstrates that in handheld play, graphical reductions can have a positive impact on making the gameplay work on a smaller screen - something that would be crucial for Nintendo's hardware. Secondly, while the CPUs in the likes of the Galaxy S8 and the Razer Phone are a generation or two ahead of Switch's ARM Cortex A57s (with significantly higher clocks to boot), Tencent's approach to scaling back PUBG does result in much less capable hardware managing a 100-player Battle Royale game with a performance level that is obviously higher than the Xbox One game in its most notorious trouble spots. It's not hard to believe that this approach could benefit the Switch too.
In terms of setting a graphical threshold for what a potential Switch version could deliver, this port probably isn't the best evidence. Although Nintendo's console is indeed based on a mobile chipset that has hosted the same OS, the conversion tested here has to run on an extraordinary diverse range of lower power devices, using an OS and graphics API that is notorious for under-delivering on the core hardware's potential. While aspects of the work here may prove helpful in helping to address problematic aspects such as the CPU question, Switch developers would have the advantages of targeting a fixed platform with a superb 'to the metal' development environment that has now proven itself many times over. Put simply, if PUBG does arrive on Nintendo's hardware, we should expect more than a straight port of the Android game - but from our perspective, a lot of thought would need to go into a different, more bespoke execution.
But the potential suggested by PUBG's mobile conversion is tantalising in other respects. The cutbacks may look savage, but by and large they work without compromising the gameplay. And with that in mind, surely Unreal Engine 4's creators - Epic Games itself - must be looking at the work here and considering mobile or Switch ports for its excellent Fortnite. Possibly the CPU optimisations made for its new console 60fps mode could lay the foundation for a 30fps Switch conversion? We'd love to see it...