Face-Off: Dead Rising Remastered
Baffling frame-rate issues impact Capcom's latest PS4 and Xbox One remasters.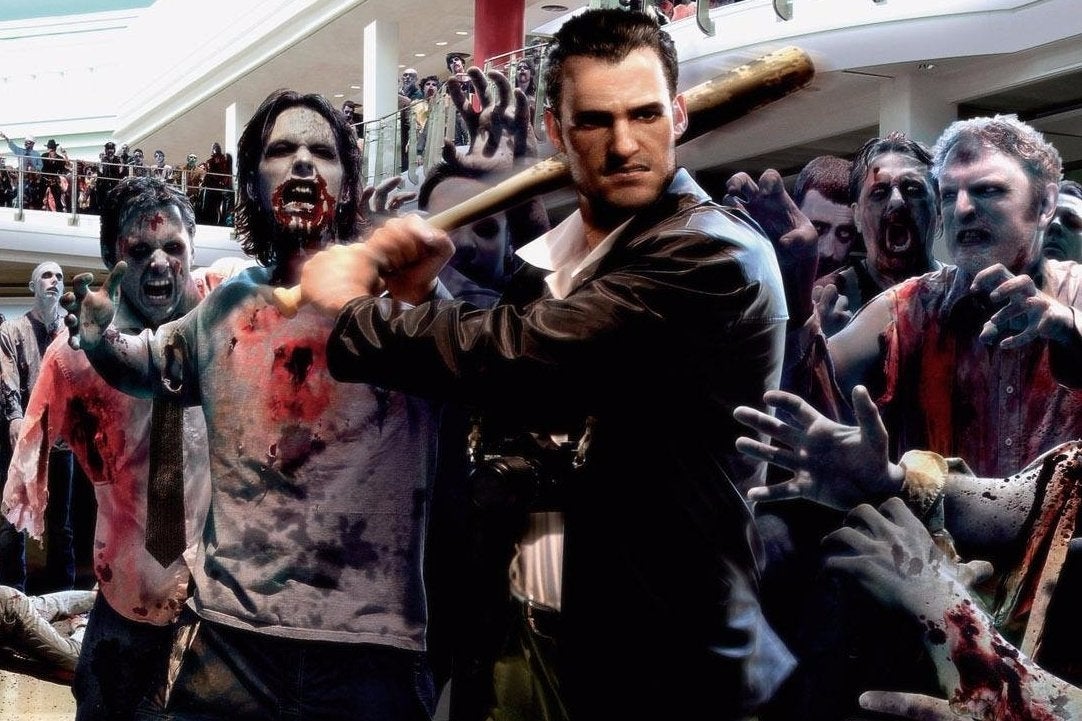 With Capcom gearing up to release new series entries for both Resident Evil 7 and Dead Rising, the firm has spent much of 2016 revisiting its back catalogue of games, porting them over to the latest console hardware. Dead Rising, Dead Rising 2 and its Off The Record spin-off arrived this week for both PS4 and Xbox One - with 1080p60 gameplay targeted for both systems.
We went into this one with limited expectations - the Resident Evil 4/5/6 triumvirate of remasters turned out to be somewhat limited in scope, with sparse enhancements in terms of upgrades to the actual artwork, and with only the most minor of tweaks to the presentation (tweaked gameplay cameras, for example). The approach from Capcom seems to have been to centre on authenticity - simply to upgrade resolution and performance, as opposed to lavishing the kind of extreme care and attention to the experience as we've seen in titles like Gravity Crash Remastered and Uncharted: The Nathan Drake Collection.
In the case of Dead Rising and its sequel, however, this may not be a bad idea because both titles had issues with their presentation on original hardware. The series debut targeted 30fps on Xbox 360 but exhibited some of the most intrusive screen-tearing we saw back in the day. Meanwhile, Dead Rising 2 launched on both PS3 and Xbox 360 - it wasn't bad on the Microsoft console, mostly hitting its 720p30 target with v-sync engaged, but PS3 was somewhat messy - 1024x576 (!) with v-sync off. Not good.
First up, let's talk remaster image quality. Both titles operate at native 1080p on both consoles, though there is a difference in anti-aliasing quality: PS4 operates with a 2x MSAA multi-sampling approach, while Xbox One favours a simpler post-process technique. The end result is that while assets and resolution are identical, the Microsoft platform possesses a slightly softer look overall. It's an interesting decision in light of the AA method deployed on the original game - as per several earlier titles based on Capcom's MT Framework engine, anti-aliasing switched from 2x MSAA to 4x MSAA depending on engine load.
There are no new assets that we could find in the Dead Rising remaster - it's all original artwork, simply running at a higher resolution. This does present some issues - asset quality was built around a 720p pixel count, so at close-range the texture art lacks detail and can look rather blocky. It's a little odd sometimes, seeing the
Dead Rising 2 seeing completely parity in terms of the title's visual make-up. Jaggies are dealt with utilising a post-process anti-aliasing effect - hardly state-of-the-art but certainly more than capable of doing the job bearing in mind the somewhat simplistic art style. Upgrades are minimal to say that least - we spotted some higher resolution textures and these are based on the original PC version of the game, the most likely candidate as the basis for both of the ports. One interesting downgrade compared to the originals comes from anti-aliasing. This was originally 2x MSAA on the last-gen console builds - both PS4 and Xbox One operate with post-process anti-aliasing instead. Thankfully, the vast resolution boost is much more of a defining factor in the overall presentation.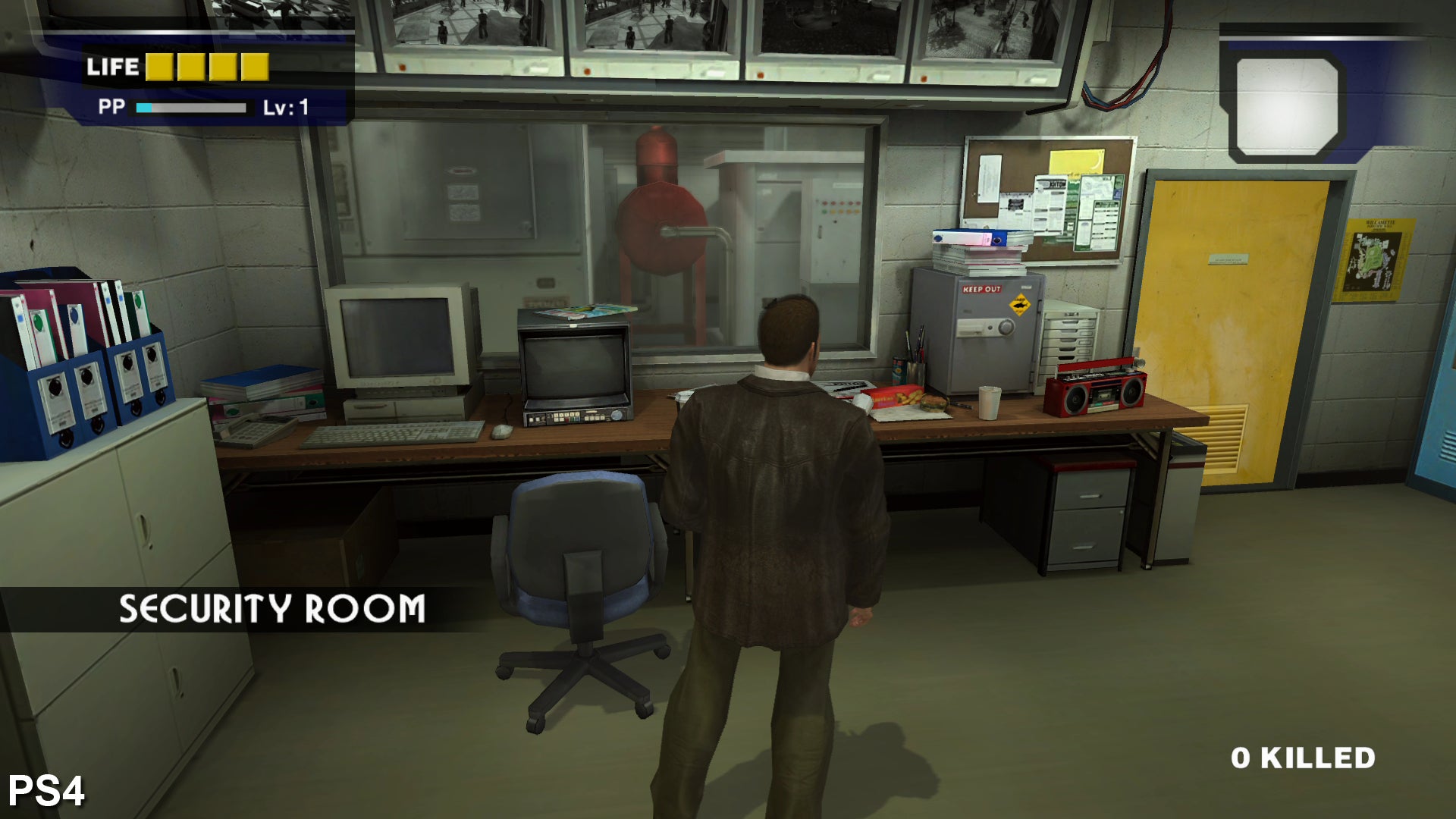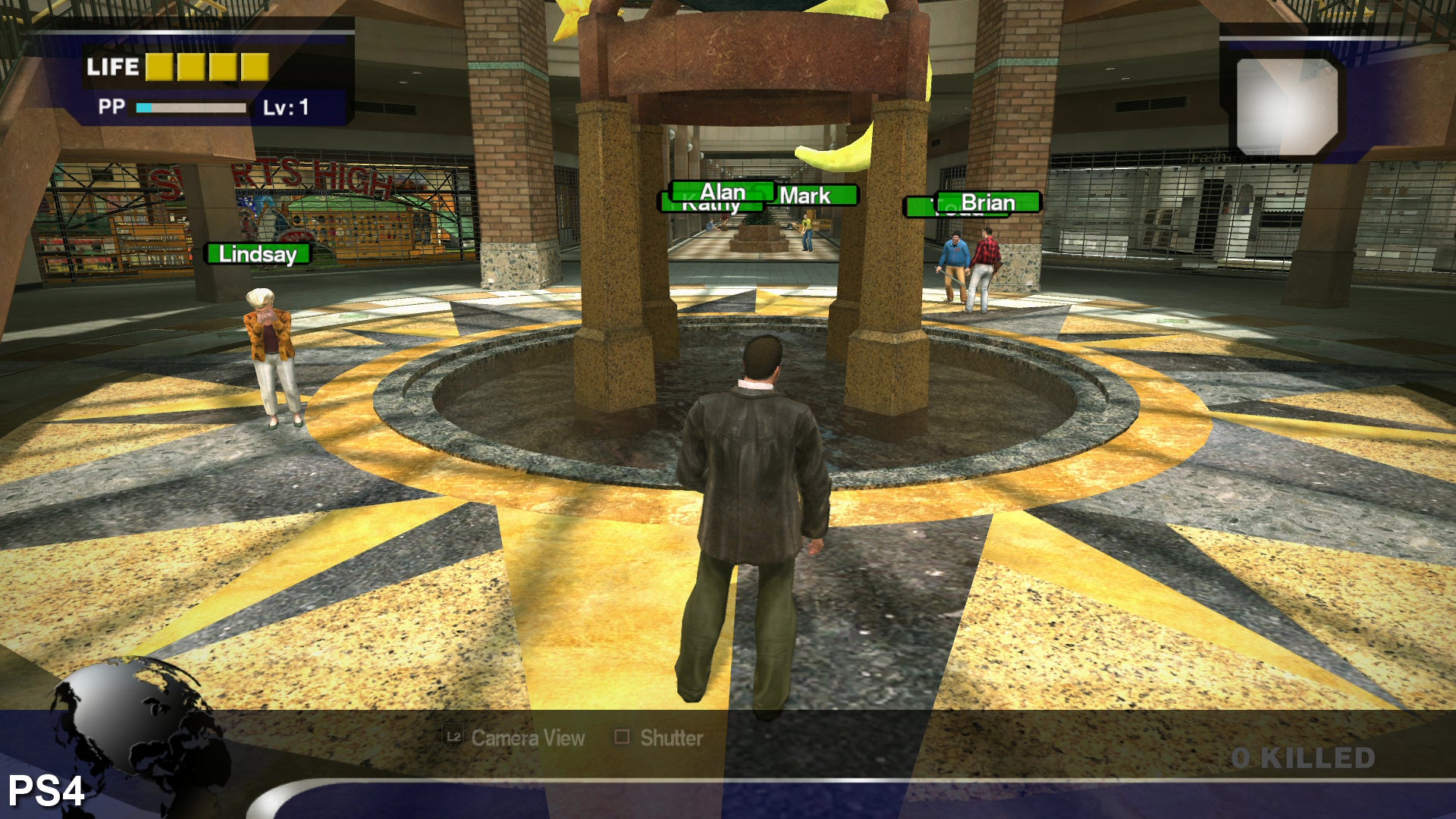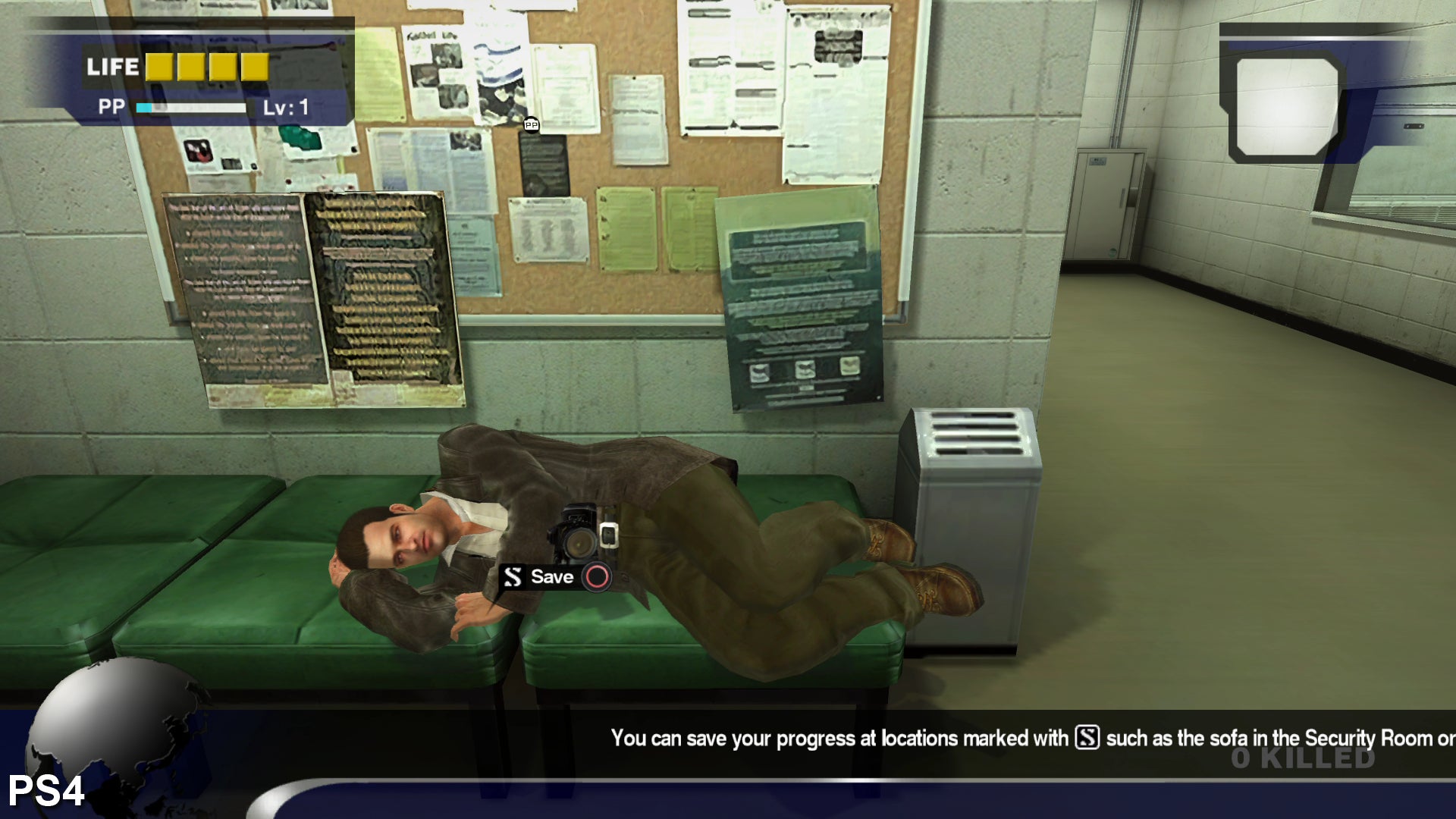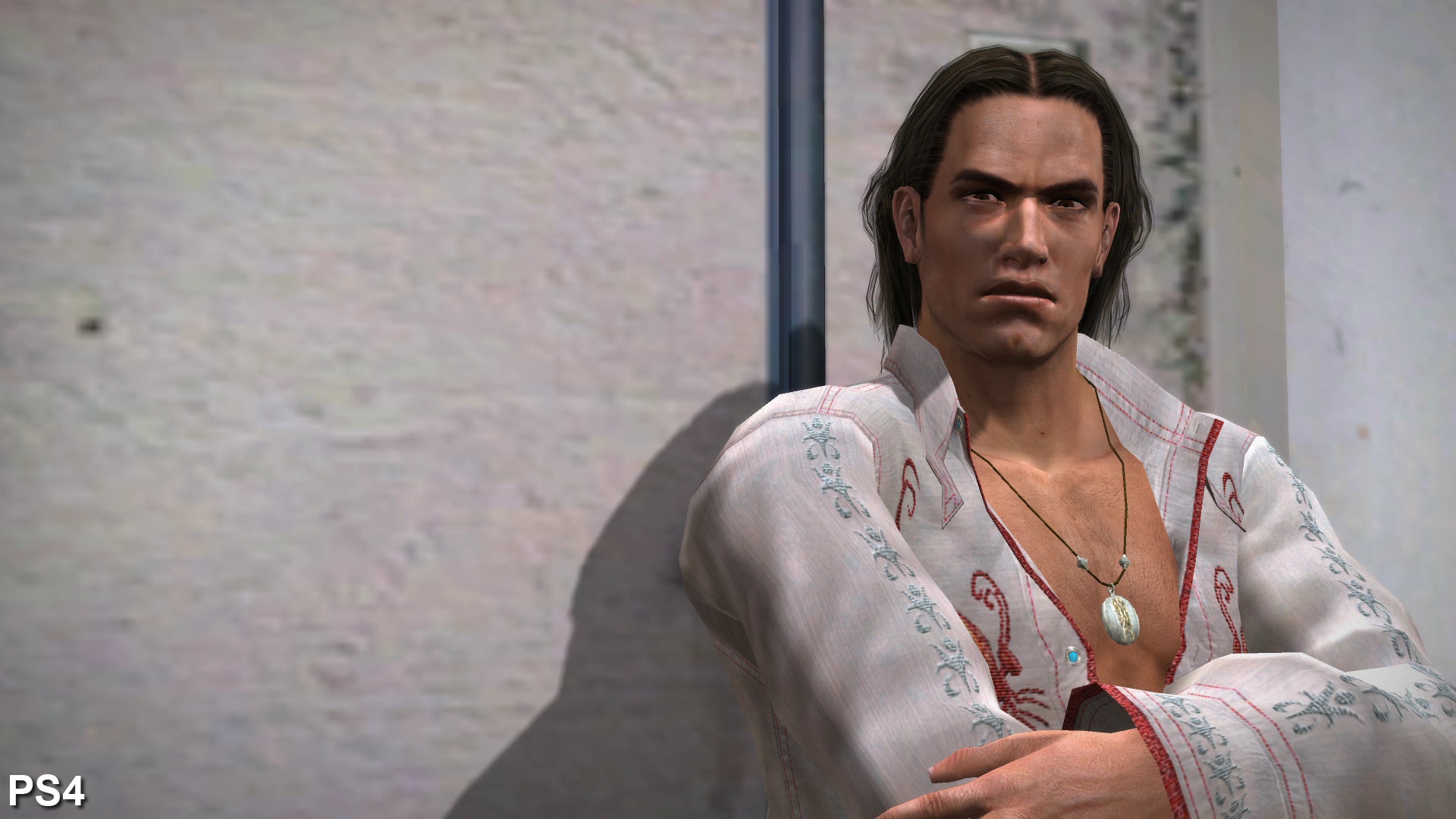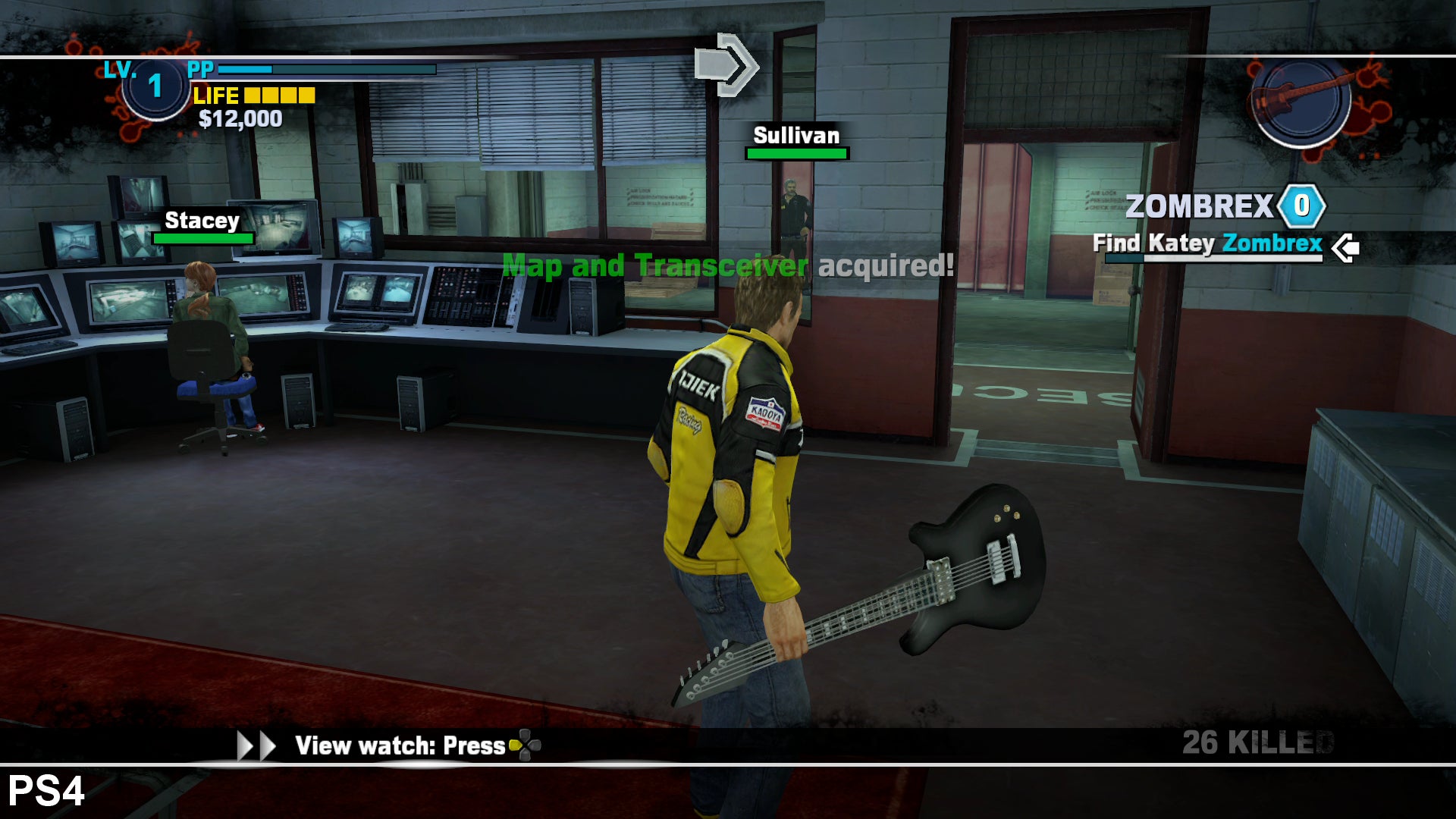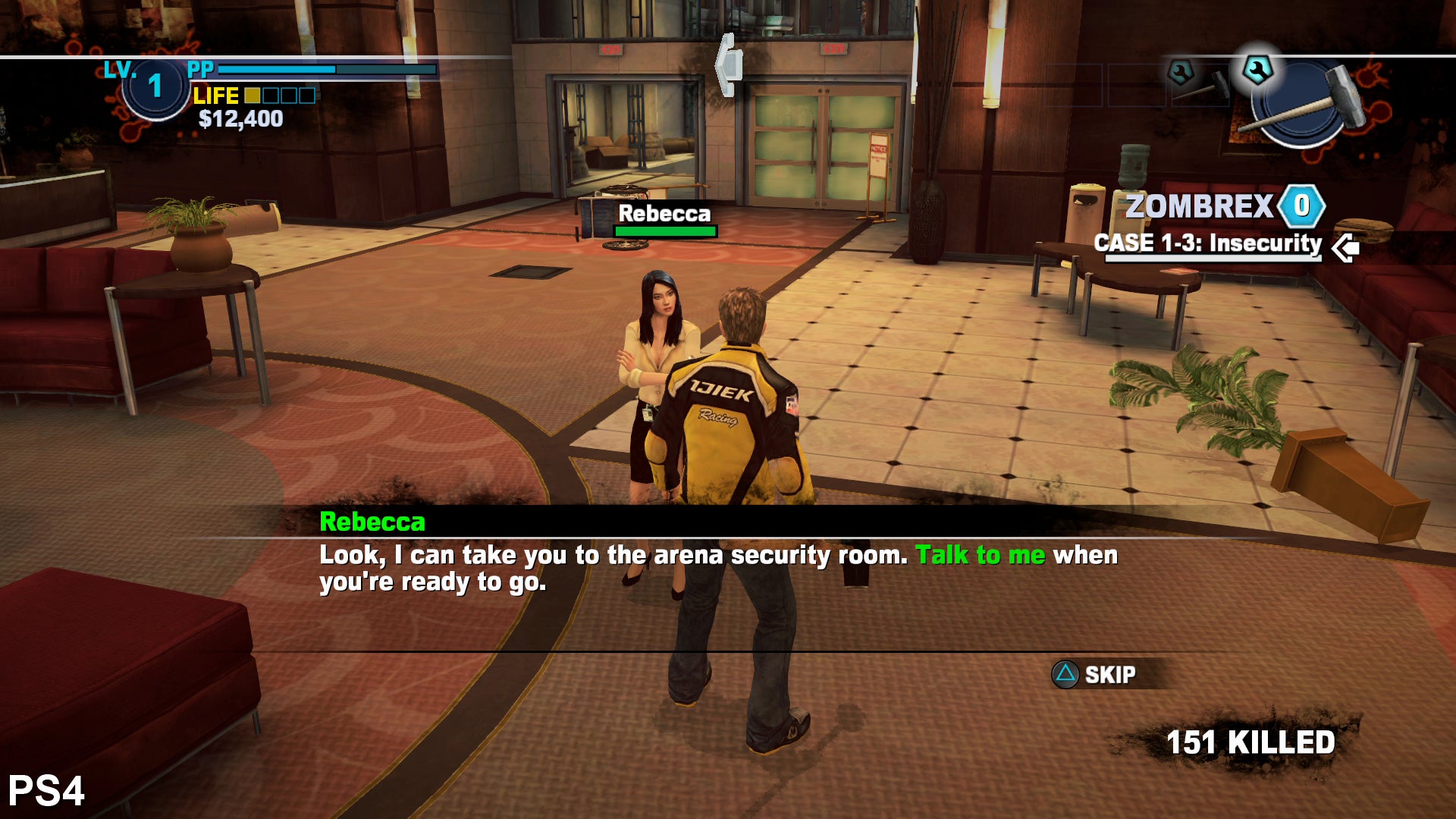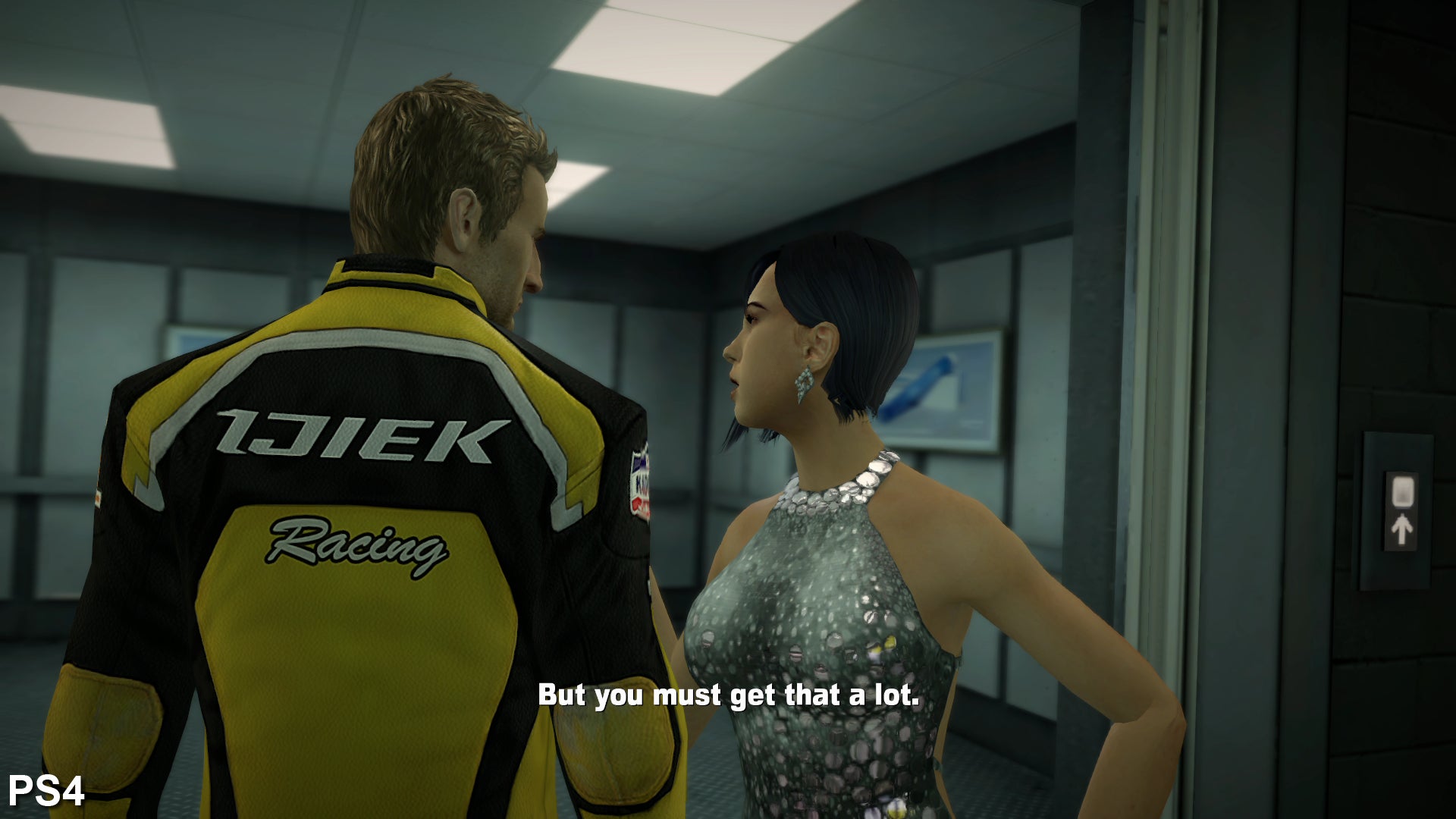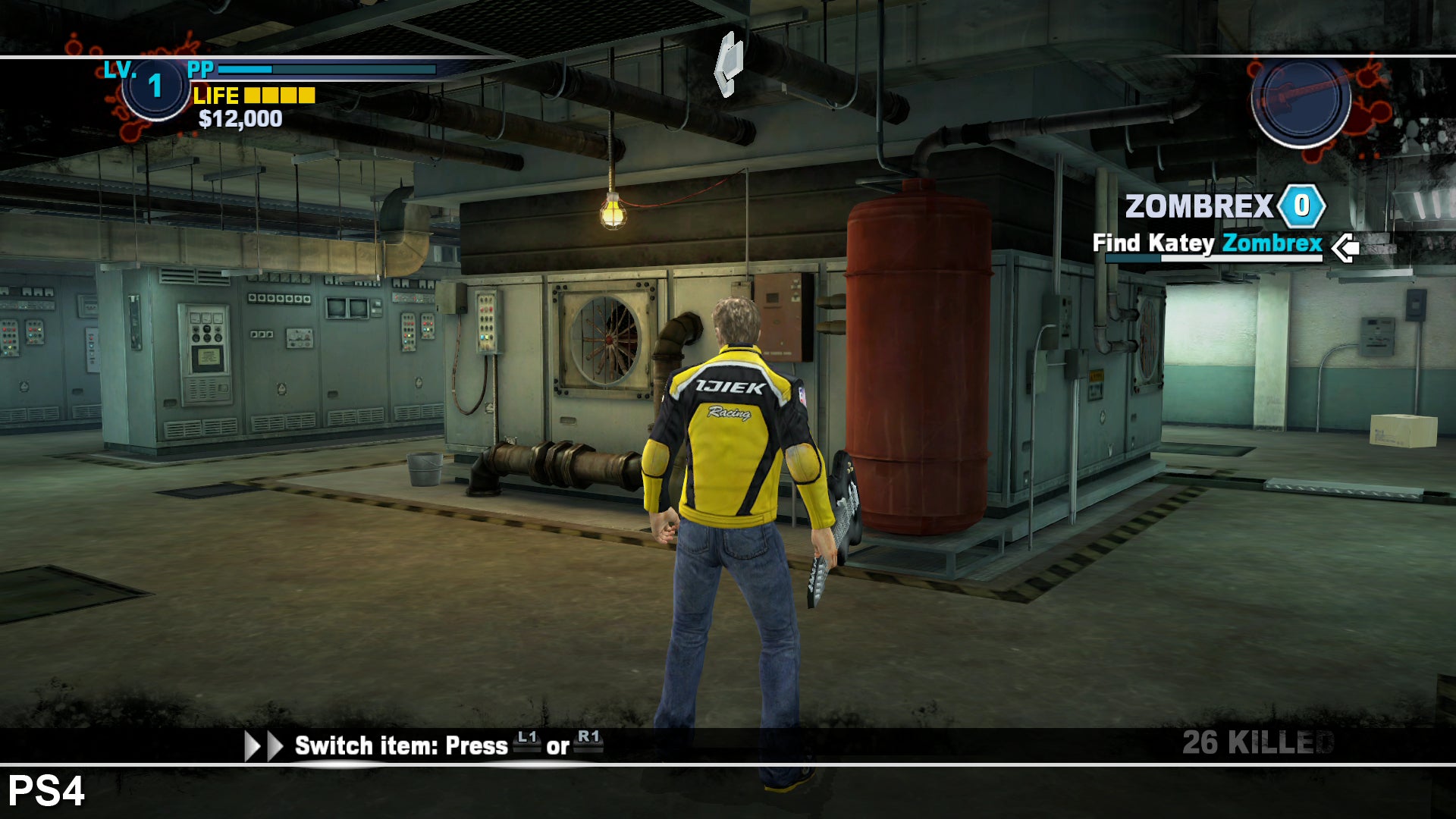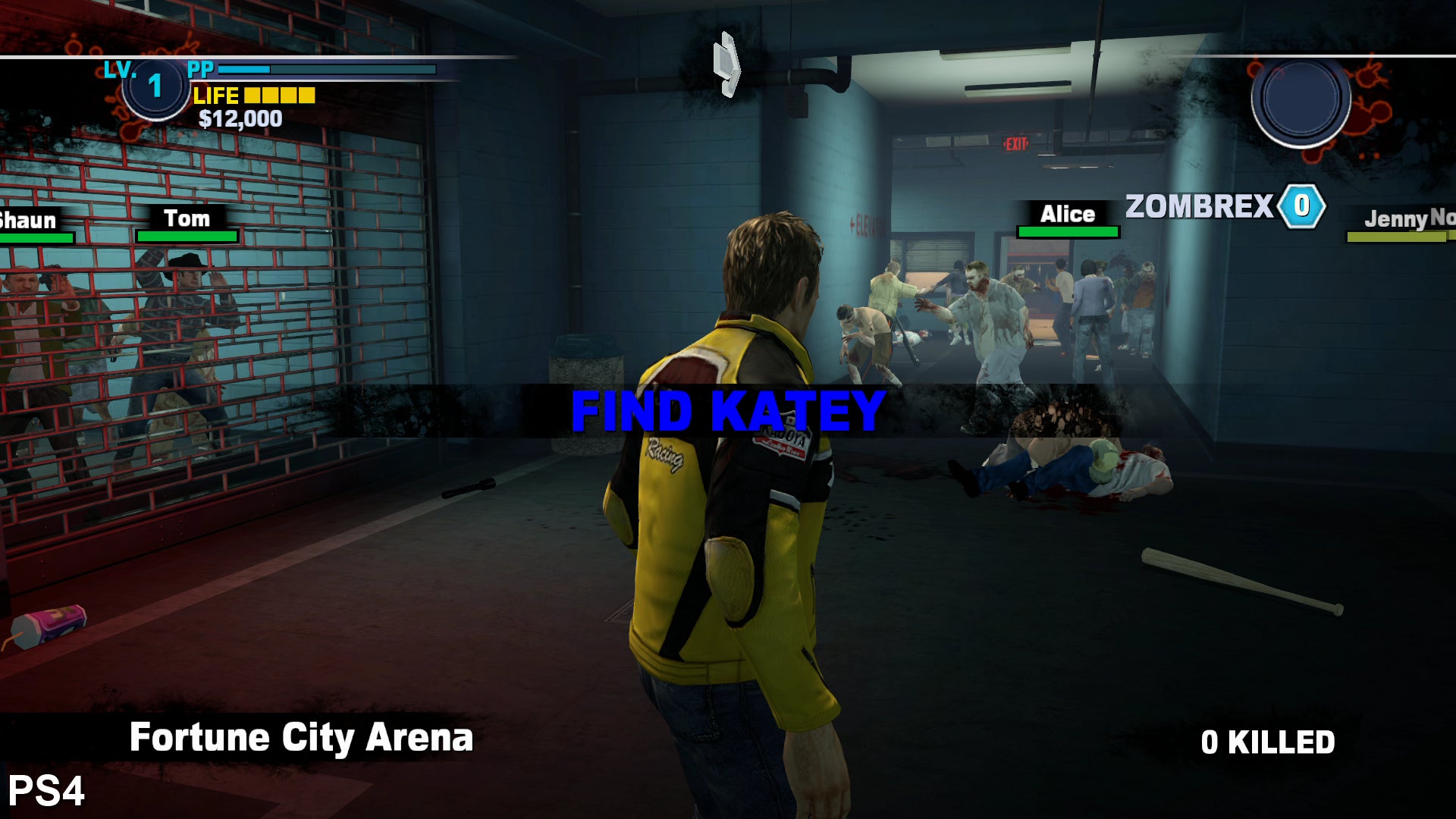 As things stand, both Dead Rising remasters are essentially fairly basic ports of the original releases - image quality is cleaned up significantly, but the real question is the extent to which each title hits its 60fps target - and this is a tricky one because while the original Dead Rising has a definite advantage on PlayStation 4, curiously the sequel operates significantly more smoothly on Xbox One.
Looking at the first game, while performance is mostly in the 60fps ballpark, what's clear is that the overall readout isn't completely stable. Scenes heavy on zombies impact frame-rates significantly - especially on Xbox One. The Microsoft platform employs a hard v-sync, meaning that there's significant on-screen stutter when the engine can't meet its render targets. PlayStation 4 also sees dips in performance but the overall outlook is improved on two counts: firstly, frame-rates stick more closely to the target 60fps and secondly, an adaptive v-sync is in play, meaning we see some light tearing when the engine is under load.
It's an interesting strategy, and probably the right one, bearing in mind the relative performance of each version of the game - Xbox One's frame-rate dips are more persistent, meaning that tearing would be far more noticeable and unsightly if the developer had adopted the same strategy seen on PS4. Meanwhile, the overall higher frame-rates seen on the Sony console make the tearing less intrusive in the moments where it is an issue.
One slightly strange performance aspect seen in both versions of the remaster concerns a momentary hitch whenever you hit a zombie - there's a three frame pause whenever you make contact. We thought perhaps that this would be an affectation designed to highlight the impact (pretty much every 3D Zelda title does this) - however, the Xbox 360 original has a similar hit-pause effect that doesn't rely on dropping frames.
An obviously less thoughtful performance implementation is in place for Dead Rising 2. Both versions run at a capped 60fps with v-sync enabled, but the performance level fluctuates significantly at virtually any given point, resulting in a very choppy presentation overall. An optional 30fps cap would have been useful, especially as the cutscenes - which lock at the half-rate refresh - run mostly without issue (curiously, there are some minor frame-pacing issues here).
Perhaps the biggest surprise with Dead Rising 2 performance is the fact that Xbox One commands a significant lead over the PS4 version of the game - anything up to 15fps in certain like-for-like scenes. Perhaps what's most frustrating here is how quickly performance can dramatically shift in the same scene - and sometimes it's difficult to pinpoint why exactly. Panning around a small room really shouldn't see a 20fps plunge in frame-rate. Both versions can suffer from these alarming dips in frame-rate but it's obvious that PS4 is more overtly impacted. One thing we should note is that the Xbox One version has received a post-release update - PS4 remains unpatched at the time of writing. In truth, it seems that both consoles get a pretty raw deal here - these are old titles that should run flawlessly on much more modern hardware. The fact that they don't is very concerning.
Dead Rising Remastered - the Digital Foundry verdict
As things stand, it's hard to recommend one particular version of this collection over the other. While the Xbox One version is adequate, the PlayStation 4 version of the original Dead Rising is the preferable choice - though PC trumps both. Meanwhile, with the sequel, the tables are turned and it's the Xbox One version of the game that commands a clear advantage. Perhaps an upcoming patch will see the performance differential comprehensively addressed.
Also, it's fair to say that both Dead Rising titles haven't aged in a particularly graceful manner, though there is a certain level of retro charm remaining - particularly on the original game. But these are very old games: the original Dead Rising launched a decade ago, very early on in Xbox 360's life-cycle. Meanwhile, the sequel is six years old now and was hardly pushing back the boundaries of technology even at launch. With that in mind, the notion of either PS4 or Xbox One having issues running the code seems rather bizarre.
Bearing in mind the barebones nature of the ports, PC is the best way to go - Dead Rising 2 has been around for years of course, but the original title also received a PC debut this week. We gave it a short test and a GTX 950 paired with an i3 can run this maxed at 1080p with 8x MSAA while barely breaking a sweat, meaning that even lower level hardware is capable of handing in a console-beating experience. With that in mind, and factoring in the variable quality on PS4 and Xbox One, PC seems like the best option in revisiting these classics, while we hope that Capcom revisits the console versions with a view to getting performance locked at the required 60fps.
Will you support the Digital Foundry team?
Digital Foundry specialises in technical analysis of gaming hardware and software, using state-of-the-art capture systems and bespoke software to show you how well games and hardware run, visualising precisely what they're capable of. In order to show you what 4K gaming actually looks like we needed to build our own platform to supply high quality 4K video for offline viewing. So we did.
Our videos are multi-gigabyte files and we've chosen a high quality provider to ensure fast downloads. However, that bandwidth isn't free and so we charge a small monthly subscription fee of £4.50. We think it's a small price to pay for unlimited access to top-tier quality encodes of our content. Thank you.
Support Digital Foundry