Devolver made a Call of Duty documentary called CODumentary
And it's out next month.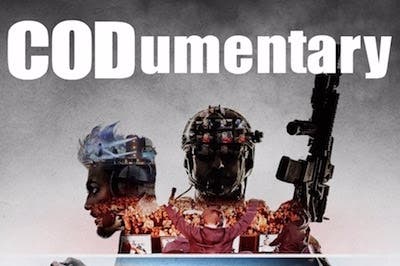 Devolver is perhaps best known for publishing edgy indie video games such as Hotline Miami, Not A Hero and Strafe. But it's also dabbled in filmmaking - and it's next project is a pretty surprising one.
Devolver Digital Films has announced a Call of Duty documentary called, wait for it, CODumentary. It's due out 19th September 2017 on VOD platforms worldwide and on the Steam Store.
The 93-minute film, created in the UK by Jonathan Beales, explores how Call of Duty became one of the biggest entertainment franchises ever. Here's the official blurb:
"The documentary details how Call of Duty, created in 2003 by Infinity Ward, faced strong competition in its early days from a host of similar high quality WW2 games yet managed to rise to the top and sustain its position with a growing global fan base."
And here's the official trailer (in it a developer reveals Tour of Duty was the name of the game before the team came up with Call of Duty).
CODumentary is an unofficial documentary, which means it wasn't commissioned by Call of Duty owner Activision. Hopefully this means it actually gets to the inside story behind the series' success - warts and all.