Cristiano Ronaldo's famous "Siiiiii!" celebration is in FIFA 18 and it sounds hilariously bad
Wild boar.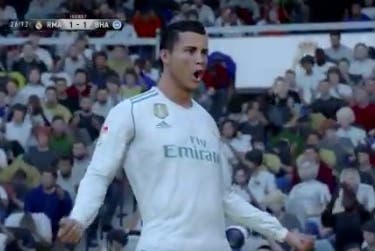 Cristiano Ronaldo, one of the greatest footballers of all time, has a trademark celebration. When he scores he runs off to jump, twirl, plant his feet with his hands by his side. Pretty much all football fans have seen this.
What I didn't know is that Ronaldo actually screams a particular sound when he does this. He makes a "Siiiiii!" noise.
Here's Ronaldo embarrassing himself by screaming "Siiiiii!" at the Ballon d'Or in 2014. Note the kill me, now clapping from the audience.
Here he is doing it in a post-match interview to camera.
And here's a 13-second compilation of Ronaldo doing the "Siiiiii!" because why not?
Now, EA Sports has put Ronaldo's "Siiiiii!" noise in FIFA 18, since he's the cover star, but it sounds, well, awful.
Here's a goal I scored while playing as Real Madrid. To do the celebration, wheel off as you do, then press X on PlayStation 4 or A on Xbox One to do Ronaldo's trademark finisher. This triggers a short cutscene in which the goal machine does his thing. And you can hear the "Siiiiii!".
The in-game "Siiiiii!" sounds wrong to me, and it's completely jarring. I see what EA was shooting for here, but the developers have missed the mark. It's hilariously bad.
FIFA fans have already compared Ronaldo's in-game "Siiiiii!" to the noise a wild boar makes. It's not a great comparison, but like Ronaldo and a football, I'll run with it.
I expect we'll see plenty of Ronaldo "Siiiiii!" celebrations online when FIFA 18 launches proper at the end of the week. It's certain to go down as a troll move, this year's dab.
Perhaps EA needs to get Ronaldo back in the recording studio for a second take. That won't be an expensive thing to do at all.
While you're here, why not check out our FIFA 18 review?