Cities: Skylines 2 studio delays expansion pass content to continue fixing main game
Pledged to improve performance before releasing paid DLC.
Cities: Skylines 2 developer Colossal Order has delayed the release of scheduled content within the game's expansion pass, while it continues to improve the main game's performance.
The studio posted an updated roadmap to Steam, and Colossal Order CEO Mariina Hallikainen expanded on the decision to delay the DLC in a new developer diary.
"We are committed to bringing the marketed DLC content to you," Hallikainen wrote, "but it will not be landing in the originally promoted schedule." Instead, the studio is focusing on improving the game's performance on PC before working on the delayed console release and DLC packs.
The game's first asset pack, Beach Properties, has been delayed from Q4 2023 to Q1 2024, and both the Urban Promenades and Modern Architecture creator packs have been pushed back from Q1 to Q2 2024. The three extra radio stations which will be included in the expansion pass are now planned for Q2 2024.
On Steam, the expansion pass currently can't be bought separately but is bundled into the Ultimate Edition of the game, which costs £75.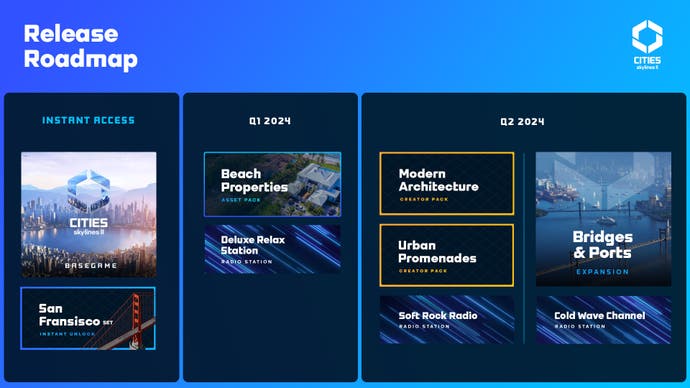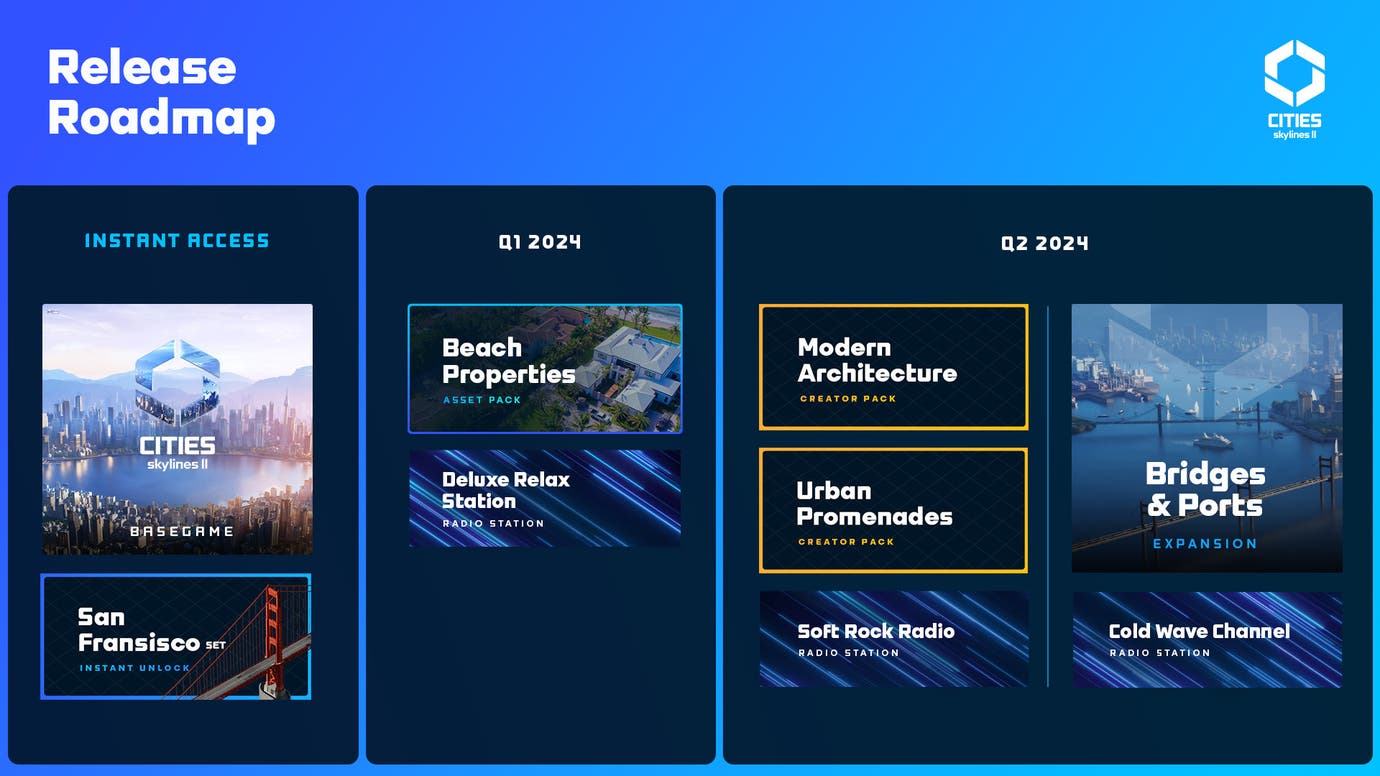 At the beginning of the month, Colossal Order pledged to not release paid DLC for Cities: Skylines 2 until it has managed to fix its performance issues "to our standards", and Hallikainen apologised for the delay.
The priorities for Colossal Order are performance improvements, bug fixes, and modding/Editor support, Hallikainen added, but work on implementing the first asset pack will begin "after the asset fix and performance work are completed to our satisfaction".
The recent developer diary notes there will be less frequent updates to Cities: Skylines 2 as Colossal Order shifts its efforts from hotfixes to larger patches. The initial release for modding tools is expected to take at least a couple of months, Hallikainen said last week, but the developer doesn't have a "concrete timeline" yet.