Call of Duty: WW2 dataminers discover mention of weapon supply drops
Sparking pay-to-win concern.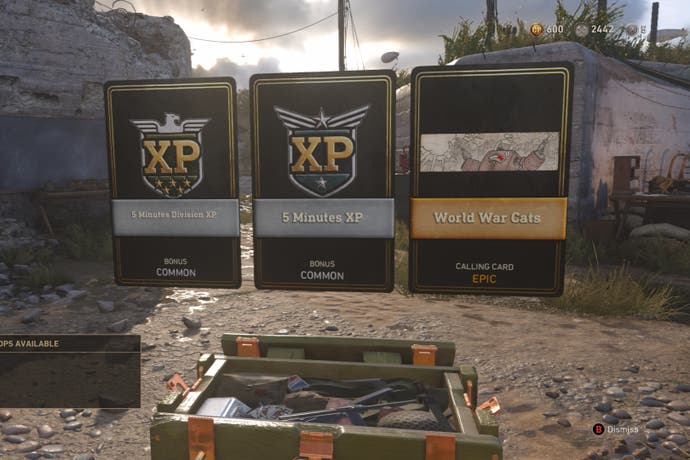 As expected, Call of Duty: WW2's microtransactions have gone live, but concern that loot boxes containing weapons would be made available to buy with real world cash has been assuaged - for now.
Last night Activision added the option to buy COD Points to Sledgehammer's shooter. You can buy COD Points in various denominations, from £1.99 for 200 to £84.99 for 13,000.
Fans had worried loot boxes containing weapons - and thus a potential pay-to-win element - were headed to Call of Duty: WW2 after dataminers discovered a raft of unreleased weapons in the game files and then mention of so-far unreleased supply drops: a legendary supply drop, an epic supply drop and a weapon supply drop. You can see all the unreleased gubbins rounded up on the Call of Duty: WW2 subreddit.
At the launch of its microtransactions, however, Call of Duty: WW2 lets you buy rare supply crates only. There's no sign of legendary, epic nor weapon supply crates.
I spent 500 COD Points on the Starter Bundle, which gave me a couple of rare supply drops and some XP boosts. The supply drops gave me a raft of cosmetic items, including calling cards and emotes, as well as XP boosts.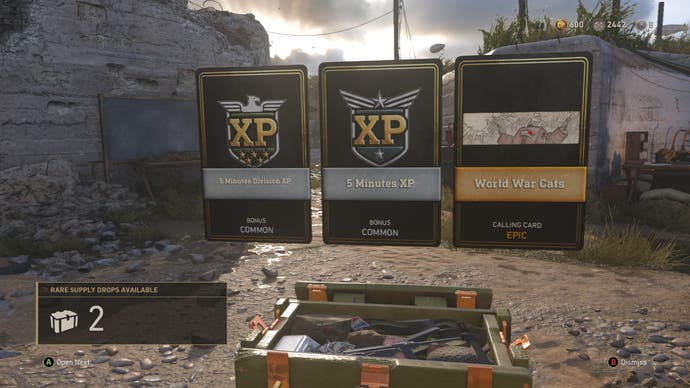 The expectation is these legendary, epic and weapon loot crates will eventually hit Call of Duty: WW2, and while you'll be able to grind them out, Activision and Sledgehammer face a tricky job convincing the Call of Duty community they don't make the competitive shooter pay-to-win.
Meanwhile, Sledgehammer announced a raft of updates coming to the game. Call of Duty: WW2 has suffered an array of online issues since launch, including dodgy servers and a lonely social space. Dedicated servers have returned to all platforms now, and my experience since has been a stable one. However, "as a gesture of our thanks", Sledgehammer is activating double XP for all MP modes starting 6pm today, 22nd November, until 6pm Monday 27th November.
Elsewhere, Sledgehammer announced the Winter Carentan map, a season riff on the existing Carentan map exclusive to season pass and digital deluxe owners, will be free to all players during the Winter Siege community event, which starts at 6pm on Friday, 8th December and runs until early January.
This is particularly welcome as one of the big complaints with Call of Duty: WW2 right now is it doesn't have enough maps. The game launched with nine, not including Carentan (which really should be made free to all players sooner rather than later), nor the War mode-specific maps.
And finally, a big update is due next week, which contains "many important changes including map exploit fixes, UI improvements, fixes to issues with Party, connectivity optimisations, and more", Sledgehammer said in a blog post.
As part of this update, flinch will be reduced. This is another welcome change. The Call of Duty community has complained about WW2's weapon flinch (the phrase used to describe the movement of your targeting reticule when you're shot) since the beta. In short, players reckon the game's flinch is too extreme, and want it toned down. It sounds like Sledgehammer's listening on that point.
Here's the note:
"Listening to fans and looking at global match data, we adjusted the BAR (increased recoil), reduced the flinch-reduction in the Primed Basic Training, fixed the 'snaking' exploit while crouching and proning repeatedly, and fixed an important bug with the smoke grenade.
"We are currently play-testing a reduced flinch over all weapon primaries, and will look to update once we verify the balance across all weapons remains."