Breakdancing ghosts and cowboy corruption - a Frog Detective retrospective
Unravelling my mysterious island jaunts with the world's second-best detective.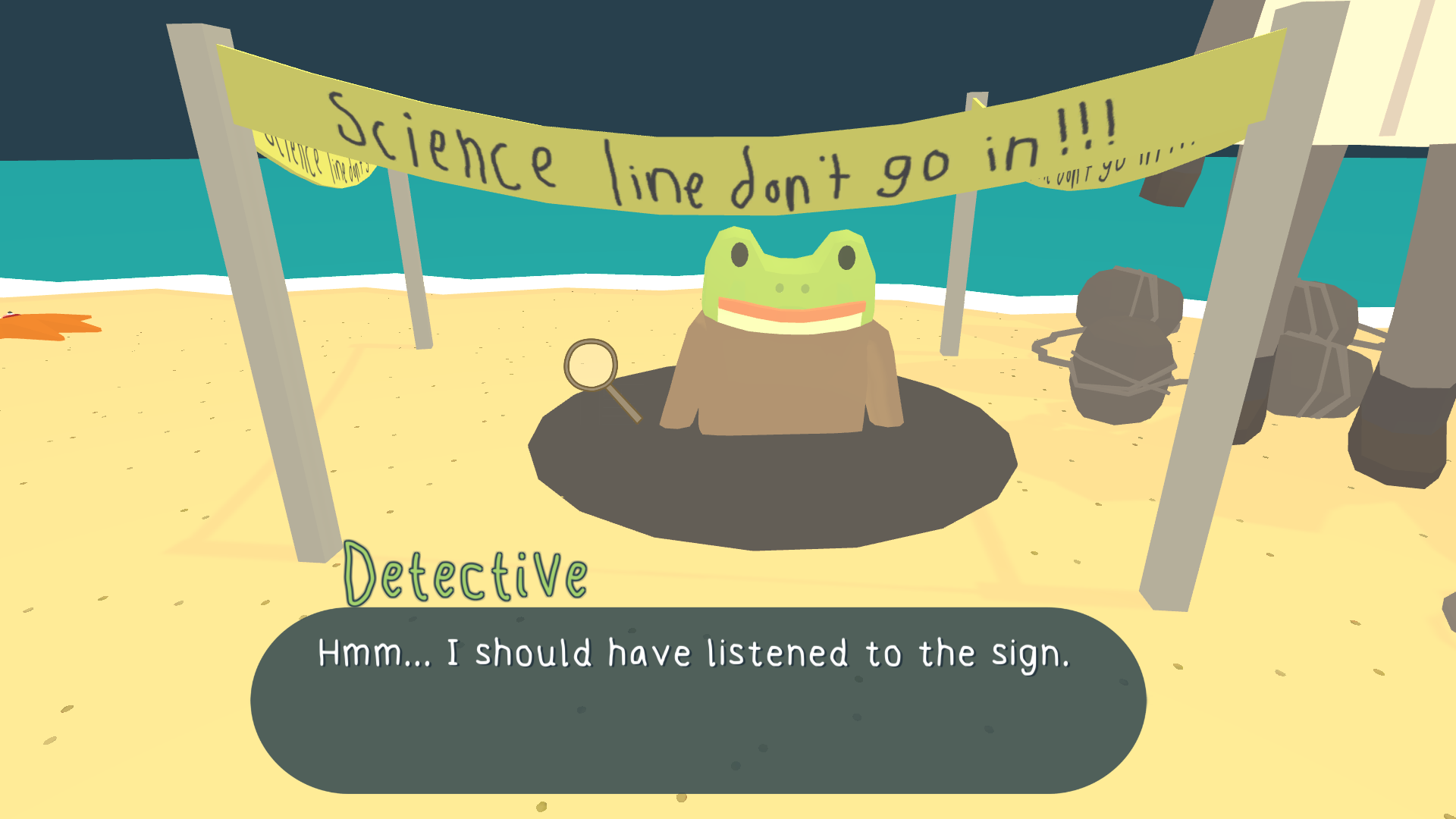 Something I love about clay modelling is that you can see your fingerprints in the final product. I'm not very good at modelling, so I couldn't remove the marks even if I wanted to. But because of this, no matter the shape or ambition, each little thing I make feels distinctly my own. Indie games have this same quality. Filled with carefully crafted art and personal writing, each one feels touched and moulded, so much so that you can tell one artist's work from another within only a few minutes. Frog Detective, a pocket-sized series of interactive mysteries from the minds of Grace Bruxner and Thomas Bowker, is covered in these digital fingerprints.
If you're new to the world of Frog Detective, let me defer to the Steam page topline to provide the elevator pitch: You're a detective and a frog, and it's time to solve a mystery. From a gameplay perspective, that means you explore colourful 3D environments, spin cheeky yarns with anthropomorphic animals, collect items, take notes, establish motives and connect those most delicious of dots to solve curious mysteries of Haunted Islands, Invisible Wizards and Cowboy Corruption. Each game takes about an hour to complete, but they use every minute well - to be honest, I usually give at least a quarter of an hour to sticker-stacking my froggy friend's notebook anyways. As a protagonist, they're worryingly naive and well-meaning, often to a fault. Proudly the world's second-best investigator.
Worm Club has published three Frog Detective games since the green gumshoe's debut in 2018, the design depth and irreverence growing with each confident iteration. The third game, Corruption at Cowboy County, launched in late 2022 and features a sick ridable scooter and a much larger map. Alas, per recent interviews promoting the sleuth's swan song, Bruxner and Bowker are ready to move on to a new story. And fair enough! A fitting box set of the trilogy recently landed on Xbox Game Pass - the project Bruxner had once referred to as 'an experiment' is now a fully-fledged indie hit. With that in mind, now feels like a good time to look back at the series and investigate my own relationship with it.
Even while booting up the first mystery of The Haunted Island, Worm Club's charm offensive is already in motion. A typical configuration window pops up, but the graphics settings are proudly swapped out for the lyrics to Flo Rida and T-Pain's 2007 hip-hop anthem, 'Low'. Not that I noticed any meaningful effect on the game's visuals, but it's worth noting that I played on 'boots with the fur'. The sequel doubles down on this gag with Vengaboys lyrics.
Worm Club's application of irreverent comedy is an unpredictable force felt throughout the studio's games, a lineage that began with Bruxner's early experimental dioramas Alien Caseno and The Fish Market, which pretty much are what they say on the tin. The trilogy frequently left me boisterously laughing at my desk, begging my partner to come look - but it's one of those things where a second layer of tongue-tying silliness arrives when you try to explain it. A game like this demands to be played to be understood.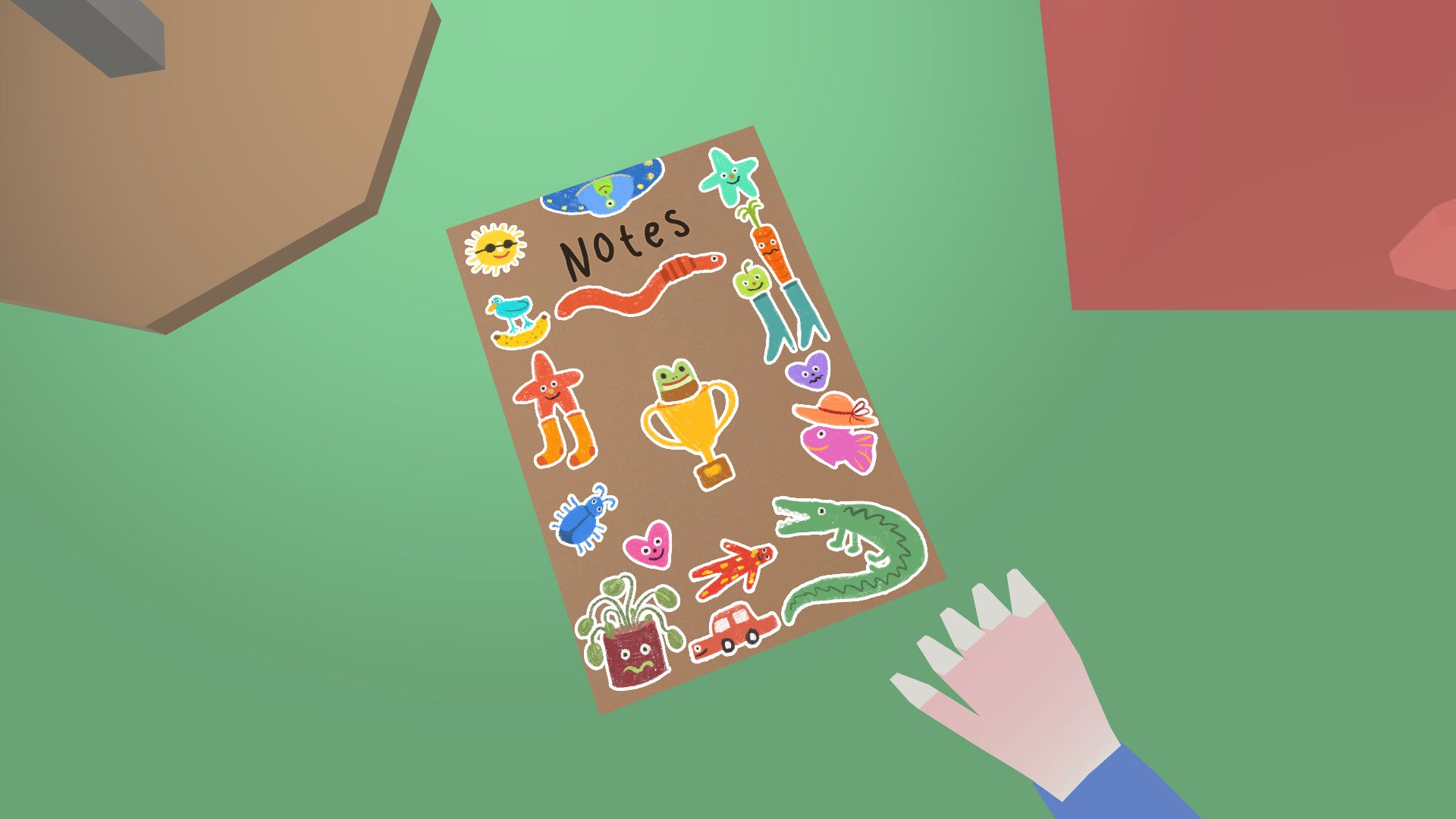 My favourite moment in the trilogy arrives during Worm Club's purple-toned sophomore story, The Case of the Invisible Wizard. With some optional exploring, you can buy a hyper-realistic picture of a dog from a zebra vendor for '3 Money'. But if you do, the scene fades into an expository cutscene starring Bruxner, who explains the game's currency system. There is only '5 money' in the entire game, and you need all of it to solve the titular mystery. Benevolent but out of pocket, Bruxner kindly gives the player another three money so that you can continue, but not without reminding you that they had the power to roll credits then and there.
This deadpan humour feels distinctly Australian to me... an Australian. Characters in Frog Detective remind me of the people I grew up around in my rural North Queensland town. Many people would tell jokes and deliver facts so earnestly that it became hard to pick apart what was actually true. Bruxner's games speak to that honesty in a way that feels authentically antipodean.
I returned home to Australia for the first time in several years this Christmas and took the opportunity to pilfer through the art books of my childhood. Amongst them, I found a short story. The written work was charming but determined and abrupt in that special way that reminds you of your own youthful imagination. The drawings were less grounded in reality, but you could see what I was going for even so. It reminded me of Frog Detective - how it feels and what so many get wrong about it. It's not childish, but honest. Bruxner's work is a reminder that the world doesn't need to be taken so seriously. As a kid, I believed pretty much anything, and so does our fair detective. Even with that dangerous naivety, he finds a roundabout way to get the job done - and there's an undeniable sweetness to that.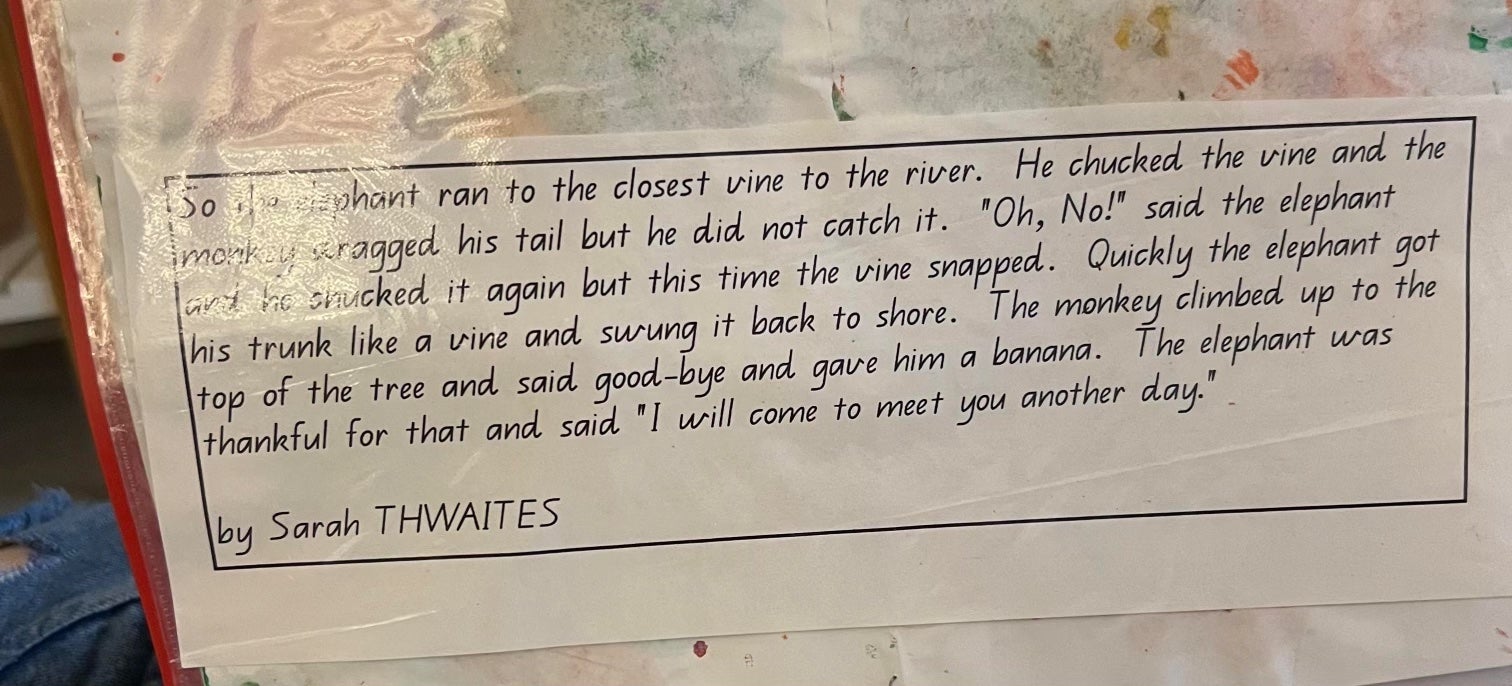 In life, it's easy to feel like you're the world's second-best detective. Always the bridesmaid, never the bride. But that doesn't bring this deductive amphibian down. They know their limitations, and they own them, and this candour extends to the rest of the cast. Martin, King of The Haunted Island and a sloth by nature, exemplifies this perfectly in very few words. When asked about the genesis of their regal title, Martin explains there was no one else, so they thought it would be good, plus they look good in gold. It doesn't go any deeper than that - In a world of smoke and mirrors, I want to be more like Martin.
I'd be remiss to mention the jazzy undercurrent that follows the Frog Detective throughout their adventures. It's composed by Dan Golding, whose percussive rhythms can be heard in other Australian indies like Untitled Goose Game and Brendan Keogh's Putting Challenge. Catchy syncopated sounds persist throughout the mysteries, cementing a sense of noir intrigue. Golding's ability and commitment to the theme adds a layer of seriousness to the games that brilliantly summons the opposite - managing to provoke even more silliness from its charming core.
As the Frog Detective series has grown, its influence has spun out into the real world as more fans have entered the fold. Glaswegian comedian Limmy delivered a fantastic narrated version of Corruption at Cowboy County on Twitch that was as fun to watch as it was to play, and Glass Embroidery has put together a 'Shreddin' and Detectin' crew neck (with pockets, unbelievably) that feels like a Comic Sans coda to a series I've come to love with my whole heart.
But, regardless of how much I enjoyed playing each iteration, there comes a time to hang up your trusty magnifying glass and pick up something else. Bruxner puts it best, saying to GamesHub, "If I make Frog Detective forever, the world will never see the next thing I come up with. Electric Eel Park Ranger or something. Hitman 4. I dunno." After uncovering breakdancing ghosts, questioning magical posties and scootin' their way through the wild wild west, the world's second-best detective has proven himself, and so has Worm Club.