Beaterator
Rockstar gets musical.
As visitors to Rockstar's Kings Road office are constantly reminded, there are many benefits to producing the world's most successful videogames. You can afford an office on the Kings Road, for starters. You can fill it with giant plasma tellies, powerful surround sound systems and leather sofas bigger than most living rooms. You can put a special shelf up in reception just to hold your BAFTA trophies, and line them up in a long row to wink at visitors while they wait.
But perhaps the most important benefit is less obvious. Being so successful means you have more freedom to explore different ideas and go off on the odd whim, as Rockstar has demonstrated. You can decide to develop a tie-in for a 25-year-old cult film, for example, or produce the first adults-only title for the DS, or make a game about table tennis. In fact, if you're Rockstar, you don't have to make a game at all.
"Beaterator is something a little bit different for us," says the Rockstar chap conducting our demo. "It's not a rhythm action game. It's not even a videogame. There's no storyline, there are no goals or objectives. It's about music creation, pure and simple."
So there are no drug deals, shoot-outs or drive-bys either. There isn't even any table tennis. Instead there is Timbaland, the award-winning super-producer who's generated hits for everyone from Ludacris to Lindsay Lohan. It wasn't all his idea, though - Beaterator actually began life as a flash application on Rockstar's website back in 2005. A simple interface allowed users to mix their own eight-track tunes, mixing loops and sounds from established artists.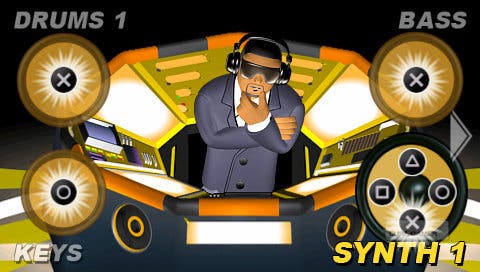 It proved so popular Rockstar began working on a standalone product, and then came the discussions with Timbaland. "He's one of those people we've always wanted to work with. We could have easily just put some of his songs in a GTA or a Midnight Club, but we wanted to do something mutually creative," says Mr Rockstar. "Once Timbaland saw where we were coming from there were no two ways about it. He wanted to be a part of it."
Timbaland certainly has a prominent role in Beaterator. He's contributed around 1700 loops to the in-game music library, including drum beats, basslines, vocal stabs and more. A cartoon Timbaland is seen operating the various soundbanks in Live Play mode, looking sharp in a suit and shades. He also guides you through what could the funkiest tutorial ever created, complete with super-smooth voiceover ("Have fun, baby") and background music so catchy you'll be humming it days later.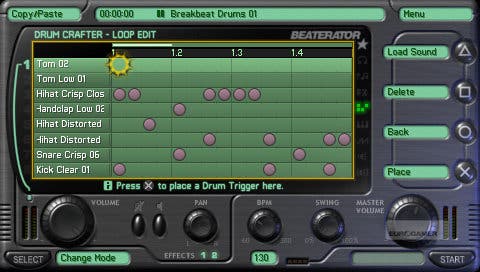 As Timbaland explains in the tutorial, Live Play is one of the three parts to Beaterator. It's designed to get you making music quickly, "Using ready-made loops played kinda by me, kinda by you." You begin by selecting a genre from options that include not just hip-hop but pop, rock and drum and bass. Then you use the d-pad and face buttons to play around with the various sound-banks, selecting a bassline, drum pattern, string section, vocals and so on. If you've got a PSP-3000 or PSP Go, you can use your handheld's mic to record your own samples and stick them in too.
The Live Play interface is intuitive and simple to use. The sounds you pick are mixed in automatically, so you don't have to worry about BPM or matching up beats. It's really about listening to what's going on and trying out the different sounds you can throw into the mix. There's no waiting for samples to load so the process of experimentation feels fluid. Even if you've got very little musical skill, it's easy to create something that doesn't sound nearly as terrible as it ought to.