Battlefield 3's upcoming "Matches" feature aims to organize multiplayer
"Create, control, and track directly competitive online play."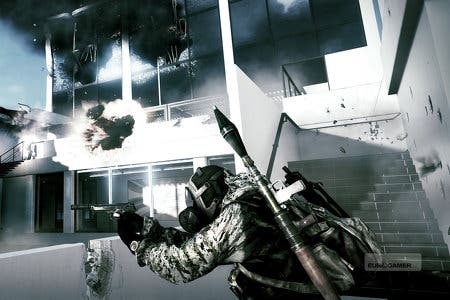 A new "Matches" feature is being added to Battlefield 3 that will allow players to select the time, server, game settings, and roster for their rounds, EA has announced.
Players renting dedicated servers will be able to customise such variables as the Match name, start time, game mode, team size, map rotations, friendly fire, 3D spotting, squad-leader spawning, kill cam, health regeneration, and more. Once the preliminary settings have been made, they'll remain fixed for the match.
When the Match settings are in place, players can create their rosters from their list of friends and platoon members. A rival team leader is then chosen to do the same.
Before each match begins, players are treated to a "Warm-up Phase" where they can practice without points or kills being recorded.The round will not start until everyone has confirmed they're ready.
After each Match, players can check out the results on Battlelog, letting them know the number of rounds played, what maps were used, who won and other pertinent info.
"With Matches, Battlefield 3 players will be able to create, control, and track directly competitive online play," said EA on the company blog. "Platoons, friends, and rivals will be able to put their teamwork to the test in controlled environments laying claim to definitive superiority and creating new grudges."
This news comes in light of complaints that Battlefield 3 online multiplayer was a "roll of the dice" and the rules surrounding private servers were too vague.
Matches will be available on PC, PS3, and Xbox 360 through the Battlelog. No release date has been announced.