Astro's Playroom is full of PlayStation deep cuts
Fan service.
One of the most pleasant surprises we've had with our first few days with the PlayStation 5 is the pre-loaded Astro's Playroom - an entertaining, innovative 3D platformer that could well be one of the standout titles at launch early next month. It's already wowed Digital Foundry, who used it to put the new DualSense controller through its paces, and the plethora of classic PlayStation references has really impressed me.
We're only allowed at present to talk about one level, though I think it's okay to give some minor context - Astro's Playroom is set within the PS5 itself, each of its four areas representing a different part of PlayStation's history. The level we can talk about - Cooling Springs - is an ode to the dear old PlayStation 3, and within it you'll find artefacts like the Move Controller, or its associated gadgets and gimmicks (there's even a Move Gun attachment, accompanied by the nicely sardonic line 'Met With Resistance'), and a lovely little putdown to Uncharted as a gaggle of astrobots gather round to play something called 'Dude Raider'.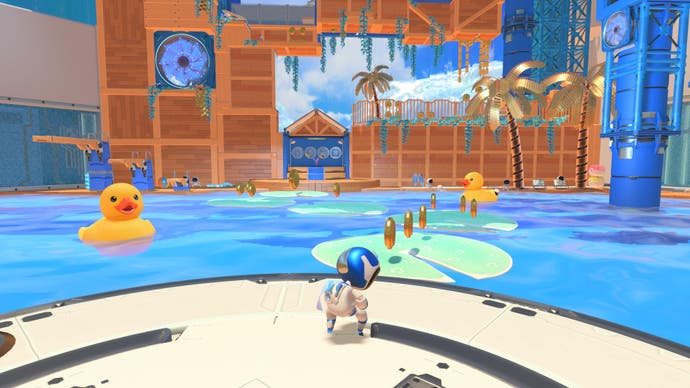 The deepest cut, though, is one that you might miss, so I hope you don't mind me pointing it out. In the first area you'll explore, there's an area full of bobbing yellow plastic ducks - a neat reference to the ducks demo that accompanied our first looks at the PS3 back at E3 2005 and 2006, and would later go on to become Super Rub a Dub. It's indicative of the kind of detail you can find in what's an exquisite little game.
There are more explicit references too, and as you explore the levels you'll occasionally see little astrobots holding cameras as the other bots re-enact famous scenes from PlayStation's past, from Fat Princess through to... Well, you should discover most of them for yourself. I've included a small batch below for the truly curious, but if you want to go in fresh best not scroll past the spoiler warning.
---
SPOILER WARNING - DO NOT SCROLL BELOW HERE IF YOU WANT TO AVOID EASTER EGGS IN ASTRO'S PLAYROOM'S FIRST LEVEL