Assassin's Creed 3 set in American Revolution - report
Tomahawk-wielding hero spotted.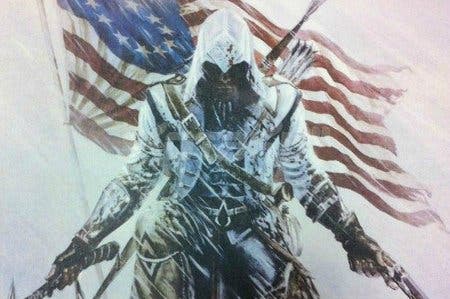 Assassin's Creed 3 will be set during the American Revolution, leaked artwork for the game suggests.
Ubisoft's latest entry in the cloak-and-dagger adventure series launches on 30th October 2012, and is coming to PC, PlayStation 3, Wii U and Xbox 360. It will star a new assassin, pictured here armed with a tomahawk, arrows and a pistol.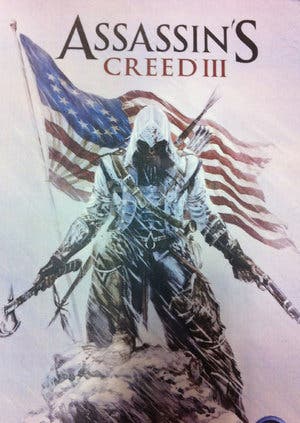 The Assassin's Creed 3 artwork was snapped by a Best Buy employee (posted online by Kotaku), along with information from the retailer that a full reveal was imminent.
The foreground of the picture suggests the game will feature, at least in part, a snowy setting. The assassin hero sports some fetching animal fur trousers and models a military coat that closely resembles 18th-century military wear.
The flag on display is the "Betsy Ross" 13-starred variation of the US design, used from 1776 and throughout the Revolutionary War.
Adding weight to the report, Ubisoft yesterday mentioned "a major announcement from Assassin's Creed" was "only days away" via the series' official Facebook. The page's cover photo also now depicts a snowy and bleak setting.
GameInformer appeared ready to confirm the fresh details last night via an advertising banner posted on its site. Images show the new assassin standing next to American revolutionary leader George Washington. That banner, shown below, has now been taken down.
Ubisoft previously included the option of an American Revolutionary setting in a public poll on where future Assassin's Creeds should be set. That poll took place last November, and Ubisoft has claimed Assassin's Creed 3 has been in development for three years, meaning the option to visit "the confrontation between British colonists and native Americans during The American Revolution," was likely there just to double-check interest.

So no doubt we'll be the helping the glorious American republic triumph against us foul-breathed Englishmen, right? Well, probably not, as Assassin's Creed lore has already branded the Founding Fathers as evil Templars.
We already know that American revolutionary leader George Washington managed to secure one of the legendary Apples of Eden, devices which can control people's minds. He used this to keep order while president and then passed it down to his successors.
Presumably it's in the hands of Obama now.