Games Convention 2005 Round-up
Europe gets the major event it deserves.
We love Germany very much. We'd live in Berlin if we could. Germany's good at loads of things, such as sports, for example, and art and beer and bread. But in the last week, we've come to realise that Germany, as a whole, is incredibly good at three things in particular.
Erstens - Smoking. An odd thing happens to British smokers when they arrive in Germany. "YES," they inwardly shout. "YES. Not only can I smoke virtually anywhere, but there are loads of other people smoking as well! Which means I don't feel like a leper for doing it!" After this they proceed to smoke 200 fags before 10am and turn green, causing German people, enjoying a morning coffee and cigarette, to look at them like they're weirdoes. Germany: doing smoking well.
Zweitens - Meat. [SFX: The opening of a notepad followed by a brief, brisk scribble.] "Have you chosen, sir?" "Yes. I'd like some meat, bitte." "A wise choice, sir. Any particular variety?" "I think I'll start with a bowl of pork soup with an entire, whole sausage in it, please. Followed by pork, deep-fried, on a bed of broiled pork. Dribbled with a pork jus. In a veal cone." "Any meat on the side?" "A small portion of meat, danke. You can never have enough meat." [SFX: Leather-bound menu clapping shut.] "Genau, sir." Seriously, if you're into meat, Germany has all the pork products you could ever need. Germany: meating very well indeed.
Drittens - Putting on a continent-beating video games show that is not only useful to every single person brought into contact with games on any level, but is also absolutely enjoyable and is about as likely to disappear as Germany is to stop liking pork and Marlboro any time soon.
The crux of the matter. Here's why.
Deutschland, Deutschland, über alles
Games Convention, held in Leipzig, Germany, came of age this week. Microsoft saw to that by putting it firmly on the world stage with a global next-gen hardware pricing announcement. It's testament to the importance of the event in the gaming calendar now that Microsoft made the move instead of waiting for the Tokyo Game Show or X05, one of which will almost certainly play fiddle to the last piece of the Xbox 360 launch story, the console's release date.
But while the German announcement from Microsoft was significant, it really is only part of GC's success story. Yesterday, the first consumer day of nearly a week of events, 28,000 consumers marched on the Leipziger Messe to see pretty much every major 2005 Christmas release from every major video games publisher in the market. The show was major news in Germany, making national TV broadcasts and hitting newspapers wholesale. And this is after the Games Convention Developer Conference, which began on Tuesday and ended today, which drew speeches from key developers and industry figures of the likes of Bill Roper and Kamar Shah.
And to top all that, the venue's simply fantastic. But, whatever. Everyone's here for the games, right? Here's what was on offer.
Die Männer
A show like Games Convention can only be successful if all the format holders turn up. Not only did all the console manufacturers attend GC, but they built stands the like of which is only seen elsewhere at E3, and one of them chose the venue to price its next hardware, giving the global media reason to attend on Wednesday: a proper press day for the proper press.
Microsoft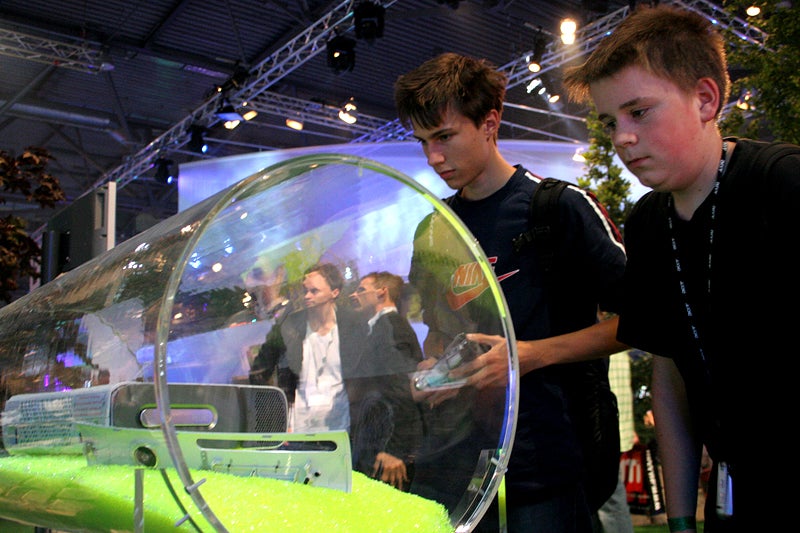 Xbox 360 stopped the show. In a dramatic turnaround from what really can only be described as a weak E3 showing (all the main stuff having been officially unveiled in advance), Microsoft announced global pricing for its soon-to-be-released baby - a key part of its launch strategy in that two packages will be available at retail - and showed enough products on its capacious stand to make even the most hardened cynic believe there's life in the old dog (Xbox) yet.
The company's show-floor amphitheatre was packed to the gunnels with press on Wednesday and consumers yesterday. It was hard to get near it. Xbox 360 was not only viewable in glass cases around the stand, but console cases were strewn all about the place in plant pots. People didn't stop picking them up, pressing the buttons, weighing them in their hands, tapping them, squinting at them. The main package announced for £279.99 was a gift; the cheaper package of the console and a pad for a staggering £209.99 is sure to attract plenty of interest too.
No 360 games were playable, but Gotham 3, DoA4, NBA Live '06, FIFA '06, Gears of War, Ghost Recon 3 and the rest of the usual suspects were being played on videos all over the booth. Kameo's play-test in the press conference looked a world away from the game shown at E3, and the immediacy of hearing prices, seeing the machine and knowing launch is only a few months away, coupled with all very cool iPod and camera connectivity shown on Wednesday, is suddenly making for an exciting prospect.
On the current-gen side, Microsoft's booth was adorned with third-party offerings for Xbox from the likes of SEGA and EA (FIFA, Monkey Ball Deluxe, SSX On Tour, and so forth), and a large section of space was taken up with PC games, as you'd expect at a German show. Fable: The Lost Chapters, Dungeon Siege II, Rise of Legends: Rise of Nations, Age of Empire III and Zoo Tycoon II were all getting a damn good testing yesterday. Microsoft in general was looking far happier than it did at E3. Why do you keep doing that, Microsoft people?
Sony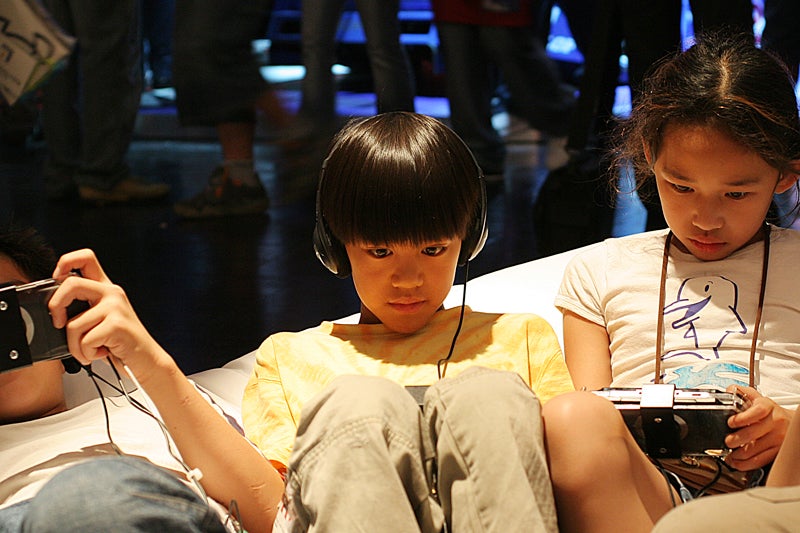 Three letters: PSP. PS2 had practically been relegated on the enormous Sony booth, with literally only a few PS2 games making any kind of major show at all. EyeToy was prominent, with Play 3 and Kinetic fully on show, and SOCOM 3, Buzz and 24, all playable, made up the bulk of the rest of the first-party PS2 line-up on display. That's obviously not to say that there were dozens of third-party PS2 games in the rest of the show, but still.
The rest was PSP. Hundreds of the handhelds were hanging from the ceiling, arranged on stands, linked together and were being beamed onto screens all around the booth. Red and white cushions were full of men, women and children lying around, laughing, playing against each other as the reality of the force of Sony's launch power was shown in full light. What games were they showing? Everything, from the look of it. Sony reiterated that ten first-party games would be available at launch on Wednesday, and they certainly weren't the only titles being played on the booth's PSPs. There were no tags identifying anything, and even if there were, we would have lost count. Not long to go now, Europe.
Nintendo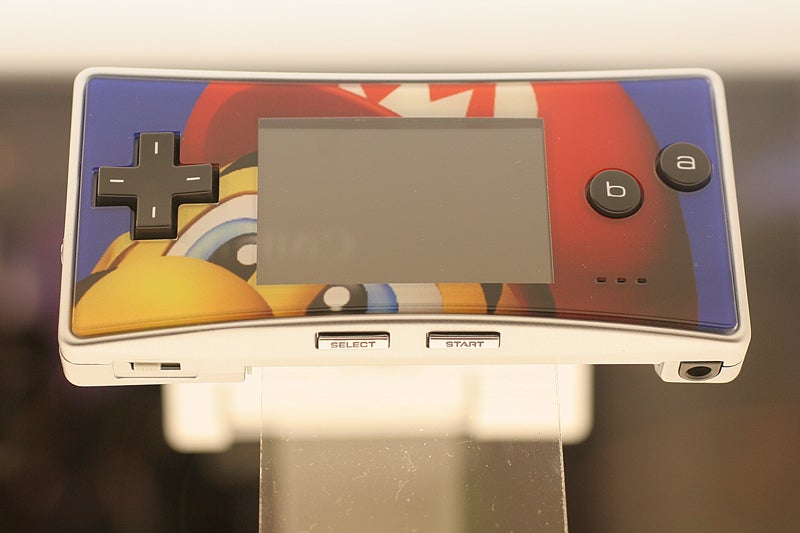 "Product," as those in the industry are given to saying, and lots of it. The Legend of Zelda: Twilight Princess was the obvious star, showing levels seen in the E3 demo, and was proving extremely popular with journos and punters alike. Nintendo chose to use GC as a platform for delaying the GameCube title until next year, again an indicator of the event's growing importance.
There were plenty of GameCube games on display, but the little purple man was looking a little sickly. Mario Smash Football, Mario Baseball and Dancing Stage: Mario Mix were all playable, the latter looking great fun, natch. Geist, Hulk: Ultimate Destruction, Viewtiful Joe: Red Hot Rumble and The Sims 2 made up any "mainstream" contingent to be found, with Fire Emblem: Path of Radiance, Yoot Sanitos Odana, Shadow the Hedgehog and Chibi Robo writing the word "niche" on the GC show-floor with a nuclear pen. The DS stuff looked far more exciting, in general.
Nintendogs was proving a huge hit, and Metroid and Advance Wars: Dual Strike made up a pretty much indestructible trio for DS's Christmas '05. Aside, obviously, from Mario Kart DS, which was looking "a bit keen". A separate stand had been given over to the racer to show off the wireless multi-play, pushing the concept of people playing against each other in Berlin and Rekyucik. You couldn't get near it. Have DS, will drop bananas in the path of someone on the other side of the world.
Lastly, Game Boy Micro made a muted appearance at the back of Nintendo's stand, racks of them behind glass showing some extremely desirable faceplates. Want one. See the pictures. Want one.
Die Kinder
If the men turn up, the boys always follow, although in this case the third-party publishers were more like pissed teenagers. There weren't many surprises, but some new games did show up in the rest of the show, and the scale of the stands was fantastic. Only at E3 and Tokyo Game Show will you see any equivalent. Get the picture yet?
The end of the beginning
And there we have it. Leipzig has arrived. Any show that is implicitly useful to a five-year-old child playing Yu-Gi-Oh! and the president of a major entertainment company alike, not only to the makers of gamers, but to the people who make sound cards for PCs and staff who sell advertising to magazines, will not only survive but will thrive. Microsoft's announcement of Xbox 360's pricing proved beyond all doubt that next year, the year Sony brings PS3 to market, Leipzig will not only live up to its moniker of the "European E3", but that it has the potential to become so much more. All those gamers, their parents and the entire industry descending on this small German city with its gigantic convention centre will see to that.
Right, we're off to eat some meat. Danke sehr.