A DOA Xbox One, Microsoft support and a paperclip
A week of next-gen customer service.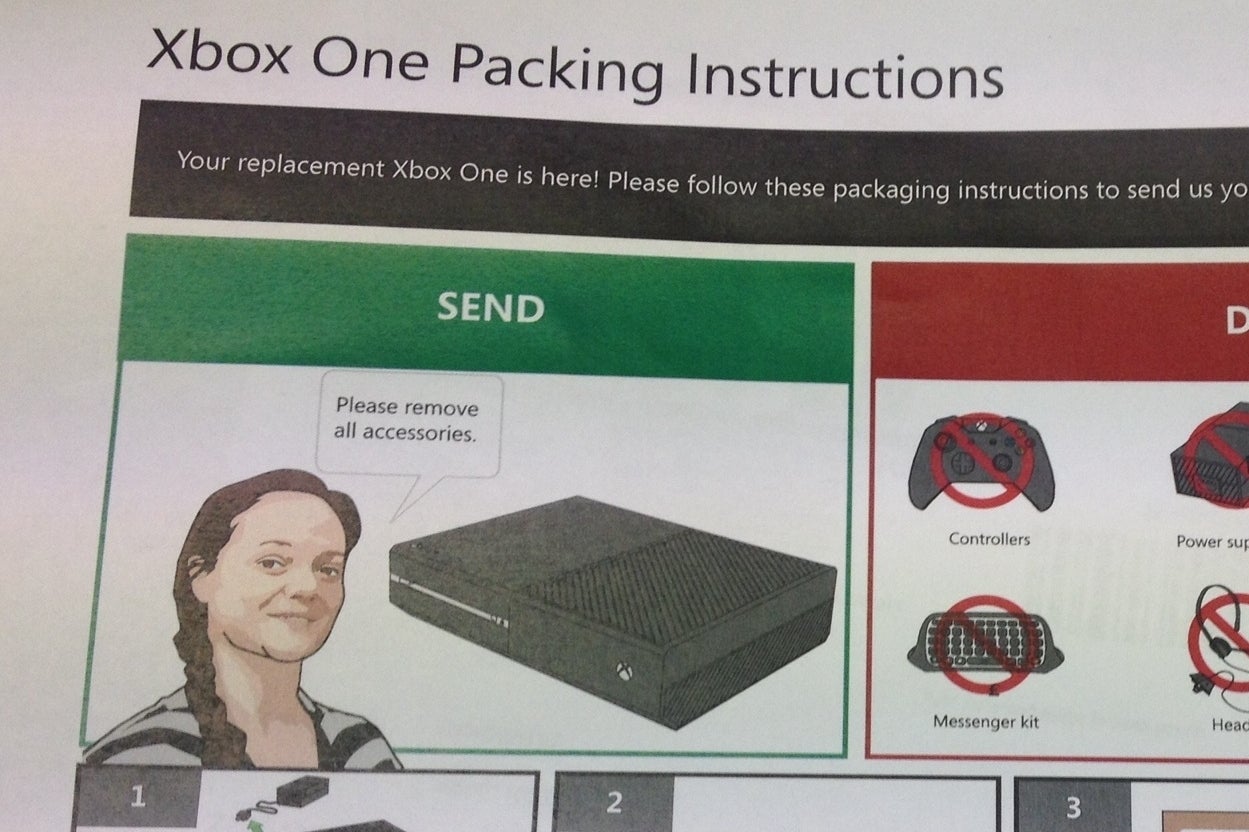 It was 9am on a Saturday morning and I was hunting around my flat for a paperclip. I needed a paperclip because that is Microsoft's chosen tool for manually releasing discs from an Xbox One drive. And I needed to do this because, hours after being unwrapped, my Xbox One needed to go back in its box.
I'd got my Day One Edition the night before, unwrapped it, updated it, installed a couple of things and loaded up my first game, ready to play. And at this point the console died.
My console came from Microsoft's online store rather than a regular shop or online retailer so it was pretty clear from the off I'd have to phone Microsoft's Xbox Support. I couldn't do so then, however, as Microsoft's support line had shut, so I attempted to self-diagnose the problem - and in the process discovered a few other things about Microsoft's returns policies.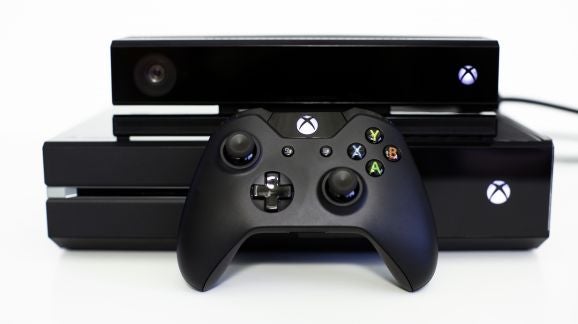 Rather than the more common disc drive error, my Xbox One was not receiving any power or switching on at all - it was now a £429 doorstop. So I looked online for details of how to obtain a replacement power brick, should that be the issue. The method is the same for any faulty Xbox accessory: you have to pack up your broken item and send it off for repair/replacement - in the Czech Republic.
I was stunned - this was the only place in Europe you could get a piece of Xbox equipment repaired? Delivery and return would take up to 28 days from when they received your broken item, Microsoft's website explained, and there was apparently no way to speed up the process.
Worse, Microsoft's online support website automatically refused my console's warranty - meaning I'd need to pay for the privilege. It took me a while but I was able to eventually circumvent this, although only after photographing my Xbox One delivery note and uploading it to the support website's server.
Thankfully, things improved when I phoned the Xbox Support line the following morning and was put straight through to a customer service rep. I noticed that the phone line had a separate section for Xbox One users, and every time I've called I've been put straight through. This has not been the case in the past when I've had to contact them about other things, and it was my first clue that Microsoft was taking seriously any early adopters with broken Xbox Ones.
The method is the same for any faulty Xbox accessory: you have to pack up your broken item and send it off for repair/replacement - in the Czech Republic.
I spoke for about half an hour with an extremely helpful rep, Karl, who seemed genuinely sympathetic, knowledgeable and was able to guide me through the returns process. The usual method would be to send off your console for repair, he explained, but Microsoft was expediting the matter for early users with issues and just ship me a new Xbox One via UPS within three working days.
I could then send back the broken console in the new one's box with a provided UPS label to ensure shipping was free. It meant only a few days wait for a replacement and I was confident the matter was now being dealt with - after stressing and angry social media posting the night before it was a huge relief.
One thing Microsoft did ask for was my debit card details - this was so a hold could be put on my card. If I didn't ship back the broken unit within two weeks of the new one's delivery I would be automatically charged for a new one, I was told. But I suppose Microsoft has to have a way of stopping anyone scamming the system on the hunt for a freebie.
I asked what the most common issue Xbox Support's team were dealing with was, and apparently lots of customers had been calling up who had been unable to download the console's day one patch. Several people had asked Microsoft to pick up their consoles and redeliver them with the day one update installed. Whether the company would actually do this or not I wasn't told, but it is interesting to note after Microsoft removed manual update instructions from the Xbox Support website and tried to pretend they hadn't been designed for use in the first place.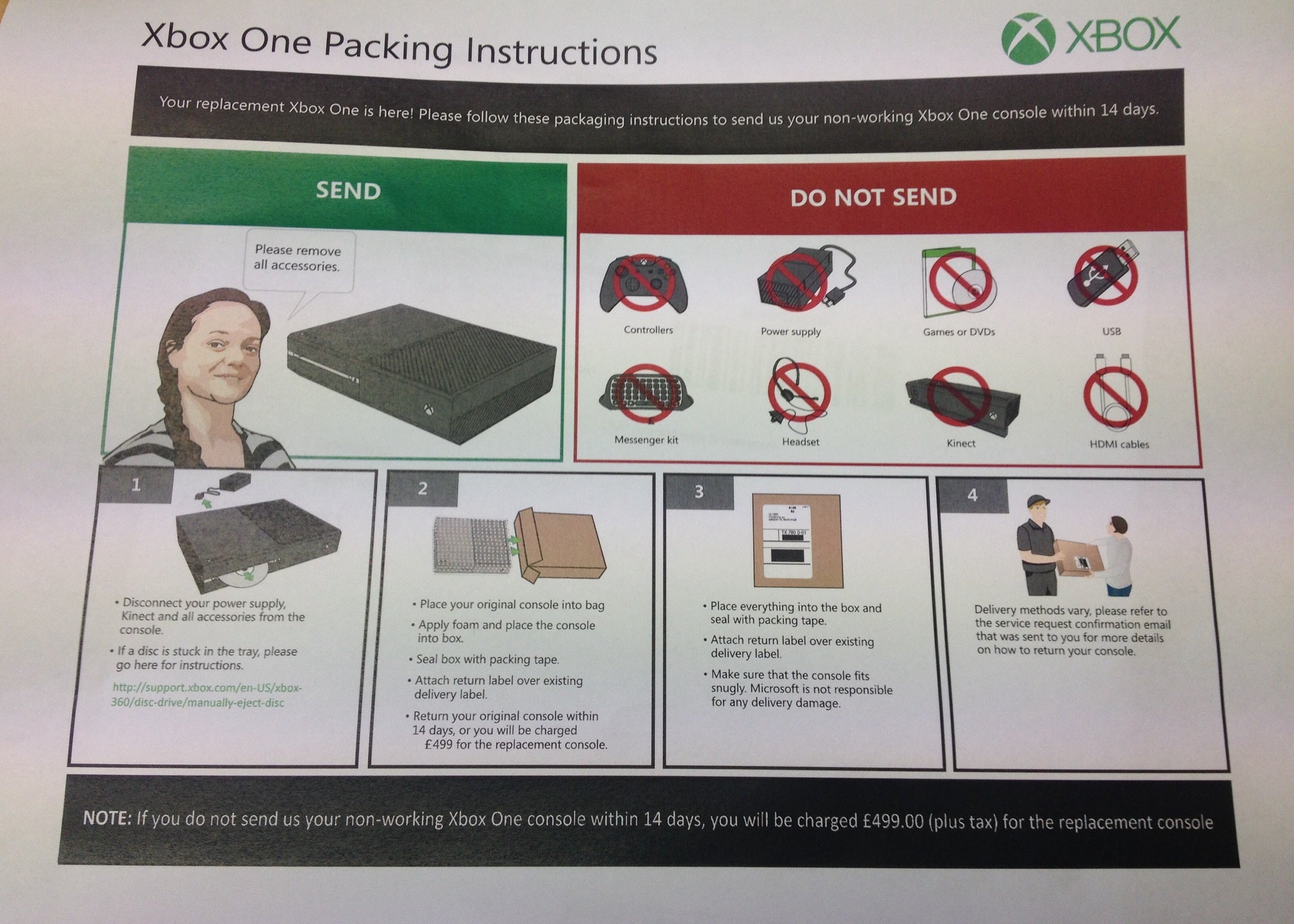 Two days later - Monday morning - and I was contacted by Microsoft with the offer of a free game: the company's make-nice offer to anyone with early issues. I was at first offered a digital download "to play while I waited for a new console" as the rep believed I had been a victim of the disc drive issue. I re-explained that my console did not work at all, and the rep said I'd hear instead from the company via email about a code for use when I got my fresh Xbox One delivered. This happened the following day, and I was able to choose from Forza 5, Ryse, Dead Rising 3 and Zoo Tycoon. I chose Dead Rising 3, and the code was with me within another 24 hours.
It was Wednesday when I received a dispatch notice on my new console and Thursday when UPS delivered it (although, not so hilariously, the tracking code Microsoft provided did not work, so it was a surprise when the delivery driver dropped it off here at the Eurogamer office). Inside the box was a fresh Xbox One console unit, shiny and - when I got it home - thankfully working.
My final call (fingers crossed) to Xbox Support was to find out how to arrange pick-up of my dead unit with UPS. I would have to do this through the delivery company, I was told, but the customer service rep was happy to provide me with the UPS' direct number. As the rep hunted for the phone number I overheard chatter in the background from one of his colleagues. "So it won't turn on at all? Is there a light on the power unit?" For someone else, the process was just beginning.
The fact a console - or any device - can break so soon after launch is a fact of life. What's annoying is the slow realisation that you're going to have to spend hours sorting and more days waiting for something which up until a few minutes ago you were planning on spending all weekend enjoying. And yes, I realise this past paragraph could be linked to on Twitter with the hashtag firstworldproblems.
But it's hard to see how Microsoft - once contacted through Xbox Support - could have done much better. The company managed to get me a new console in four working days, and the offer of a free game was a nice touch. It's important to note that this process is unusually expedited - the amount of bad press a spate of early, broken consoles can stir up is a PR's worst nightmare - but for now at least it's good to know that Microsoft has early Xbox One owner's backs.