Wooting one review: gaming's first analogue mechanical keyboard
Is it worth an upgrade?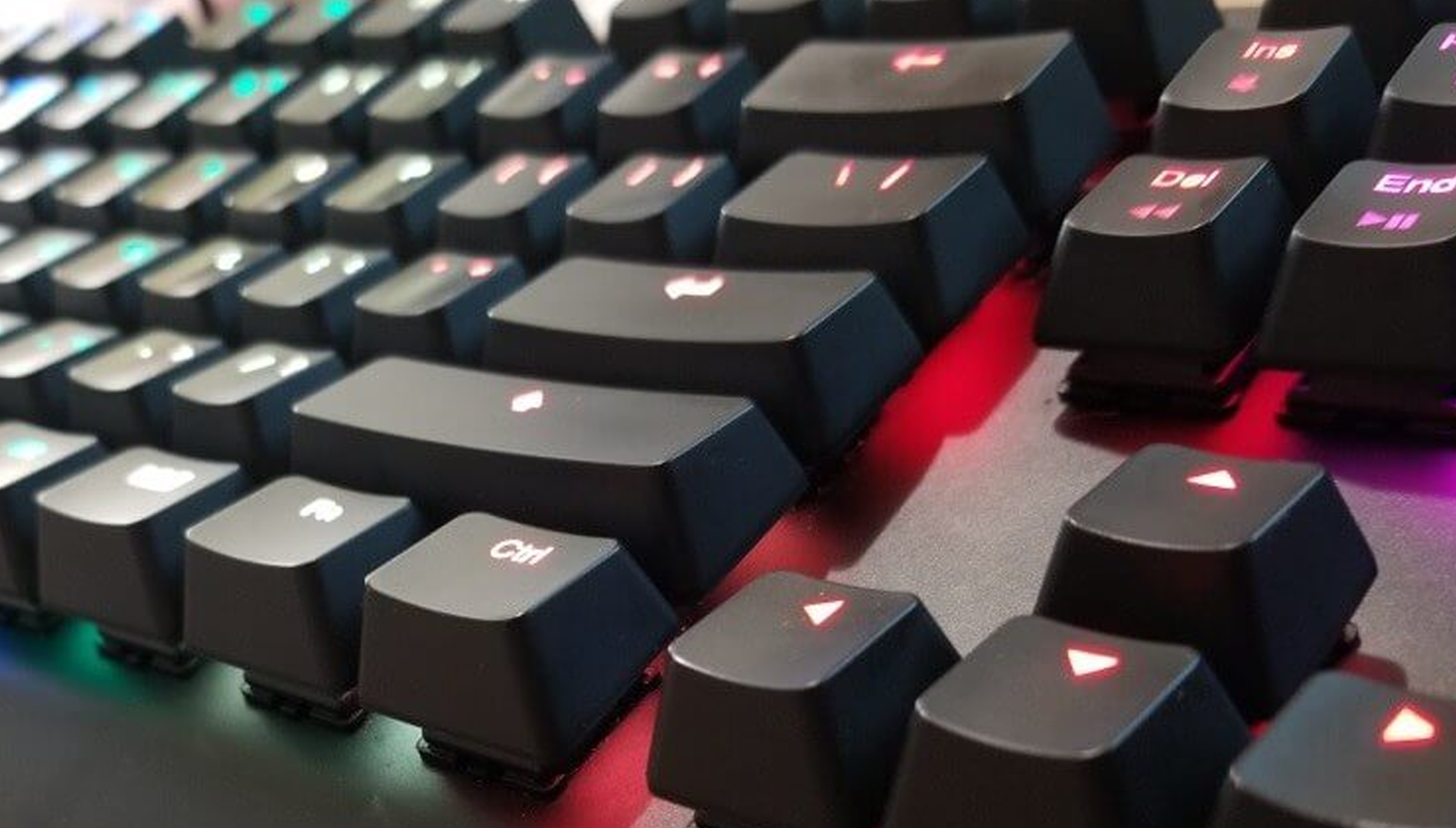 These days, there are countless options for mechanical keyboard out there, each with their own unique features, key switches and other gimmicks. With this in mind, it might be easy, at first to dismiss the idea of an analogue keyboard as just another such gimmick. If you did, though, you'd be missing out. Wooting, a small team based out of the Netherlands, succeeded in Kickstarting its idea and has created something a little special with its first mechanical keyboard offering - the Wooting one, the first commercially available analogue mechanical keyboard.
While mechanical keyboards, for the most part, operate in a binary state - on and off - the Wooting one differs. Instead, the Wooting one's keys are entirely analogue, offering users the ability to activate keys as they press down rather than after they press down.
Similarly to a DualShock's analogue triggers, the harder you press down on a key, the bigger the reaction will be. Although the analogue nature of the keys offers little to those just wanting a keyboard to type with, where the Wooting one really comes into its own is during gameplay. Make no mistake, this is a gaming keyboard first and foremost, and the impact of its analogue tech will vary depending on the games you tend to play, but it's definitely noticeable.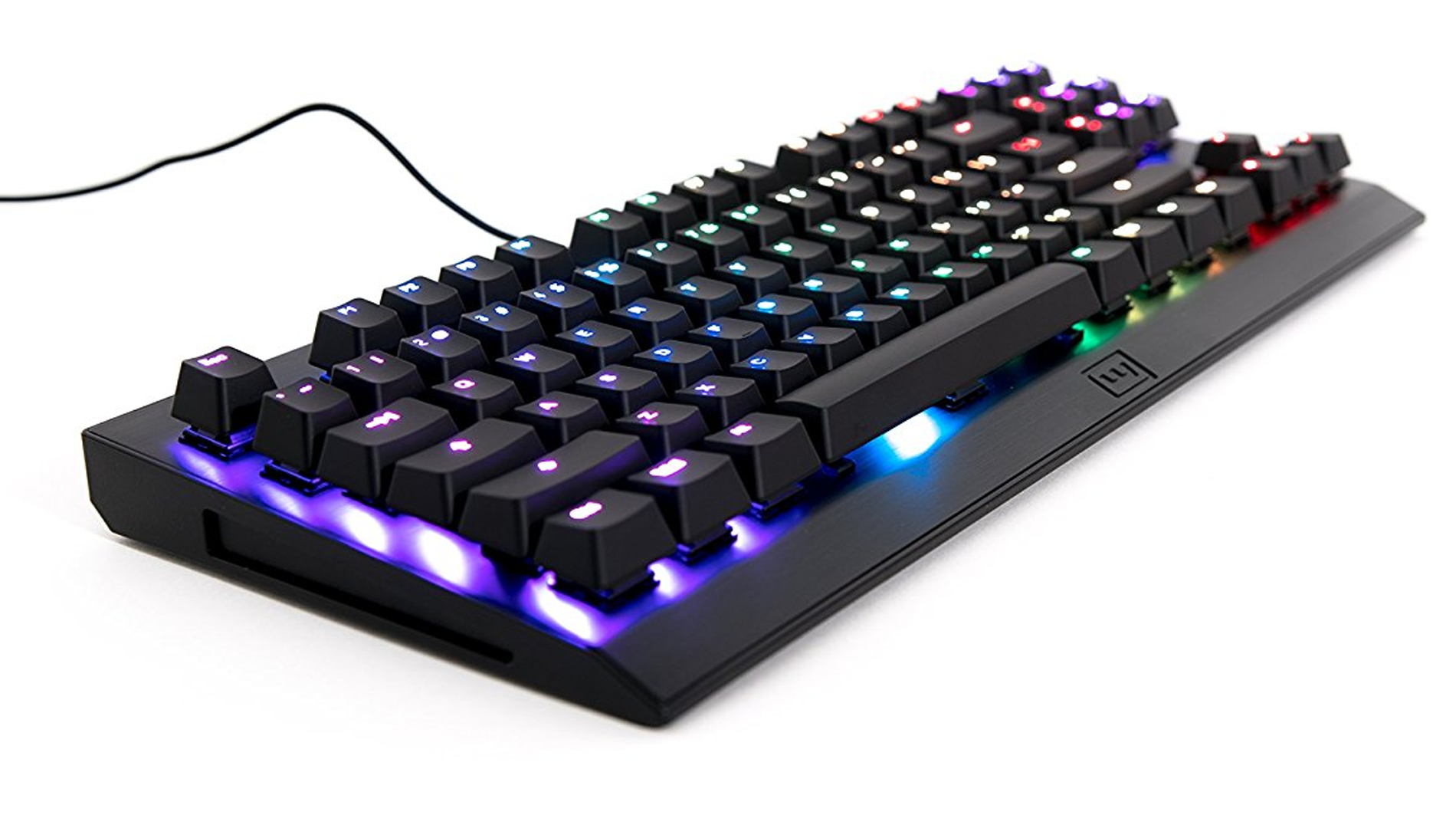 Taking advantage of Flaretech optical switches - available in both Blue and Red variants - the Wooting one gives the user a whole new layer of control over their gameplay. Analogue switches mean you can decide between spinning an in-game steering wheel 90 degrees or nudging it gently to one direction. It means that, in games like Dishonored 2 where stealth is key, you can effectively sneak up behind enemies using only the standard WASD keys. It's a feature that quickly becomes second nature once you get used to the new dimension of control.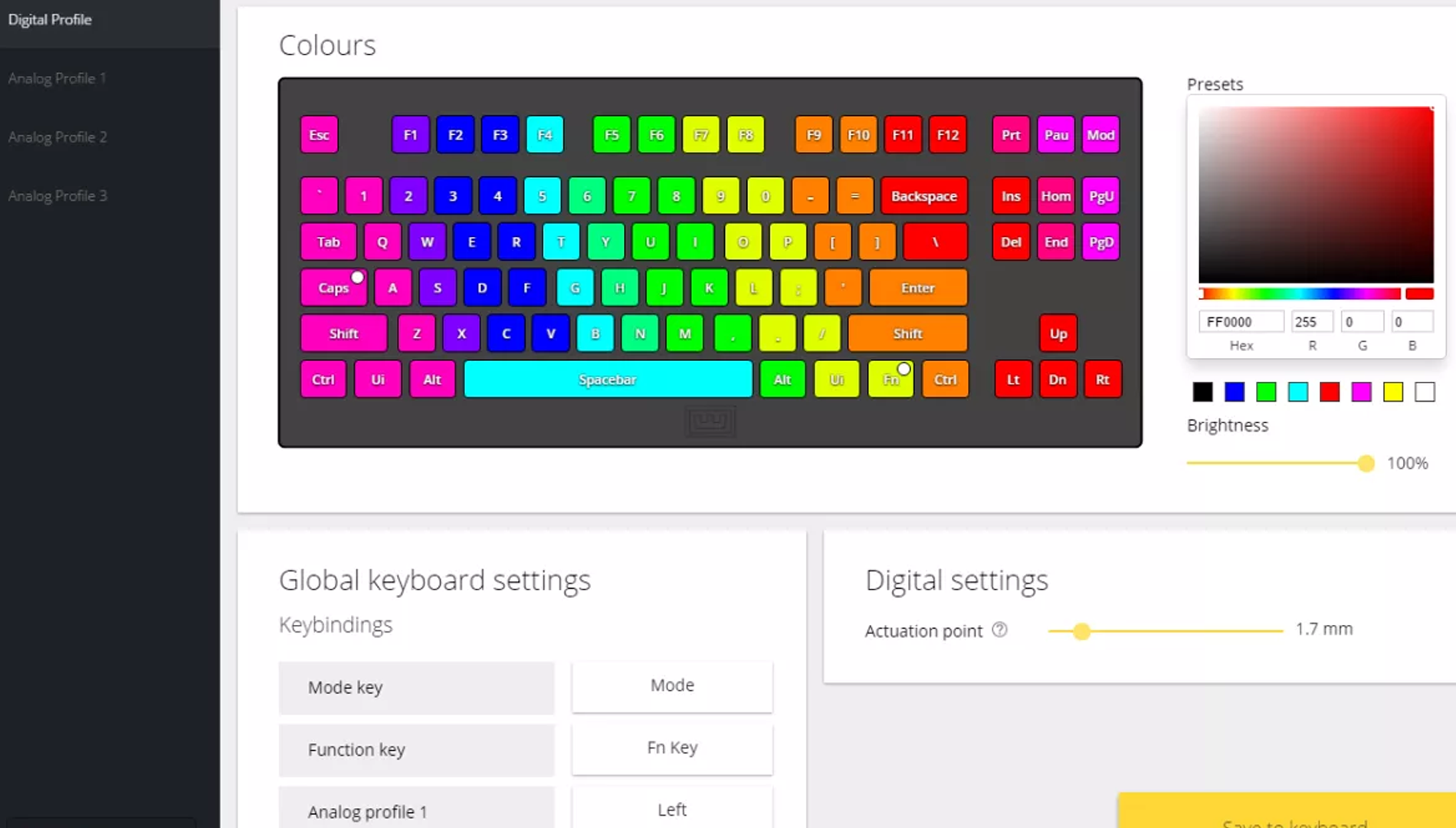 As a user, you have complete control over the scale and sensitivity of the analogue keys as well as many other of the keyboard's features - including the full under-key RBG lighting. The company's proprietary software (known as Wootility) is simple to use and can store up to four separate profiles, which is useful for quickly switching between games or having a dedicated profile purely for typing. You can, of course, turn the analogue features off entirely when not gaming and the keyboard returns to being a very solid, high-quality mechanical board instead.
In terms of the design, the Wooting one is a brilliantly put-together tenkeyless mechanical keyboard - a tenkeyless being a board that lacks a standard number pad, for those not in the know. The build is strong and solid and the frame is sleek and smooth, with a minimalist look interrupted only by a black-on-black Wooting logo below the space bar.
Inkeeping with most gaming keyboards, you'll find a full set of vibrant RGB lighting under the keycaps here, which work to stunning degree, especially while using the default rainbow configuration. In addition to the generous set of features is the Developer portal, which gives users access to constant updates and information regarding the Wooting one and any future improvements and products.
The Wooting one's keycaps mirror the rest of the board's design - the keys feel precise, sturdy but not too weighty. There is a satisfying clack with each keystroke while typing and gaming alike. If you happen to be someone who types at a high WPM rate, you'll take extra solace in the fact that the board is set up in such a way - and at such an angle - to minimise mistakes and typos. Perhaps surprisingly for a gaming keyboard, the pure typing experience offered by the Wooting one has been one of the most impressive I've found to date.
In-game performance varies from game to game and while it can be a little fiddly to get a game initially set up to play nicely with the Wooting one, once you've got it up and running, you will undoubtedly notice a difference. As shown in one of the company's official demonstration videos, the analogue control of the Wooting one can mean a gentle key press results in a character walking or sneaking whereas pressing down harder results in them breaking into a sprint. This will, initially, feel very alien and will take some time to get used to but once you've used it for a few gaming sessions, it's an incredible feeling.
Perhaps one of the only gripes I've found with this keyboard is it's small, tenkeyless size. As a gamer and a writer, I tend to favour a full-size keyboard and I found myself missing the number bad keys quite a bit. Thankfully, though, Wooting has taken feedback like mine onboard and is, at the time of writing, in the process of creating the Wooting two - essentially the same board as the Wooting one, but a full-size variant.
In a world that is, frankly, overstocked with gaming keyboards as well as mechanical keyboards, it is sometimes hard to be able to recommend one over another. Not so in the case of the Wooting one - this is a keyboard that is crafted with a specific goal in mind but manages to succeed in so many other areas where more experienced keyboard manufacturers fail. While the analogue features will gel better with some users and certainly won't work for everyone, underneath all the gaming-centric bleeding edge tech features you have one of the most satisfying typing experiences on the market right now.