Wii U launches in Europe on November 30th
Mass Effect 3, FIFA 13, ZombiU and New Super Mario Bros U all available on launch day.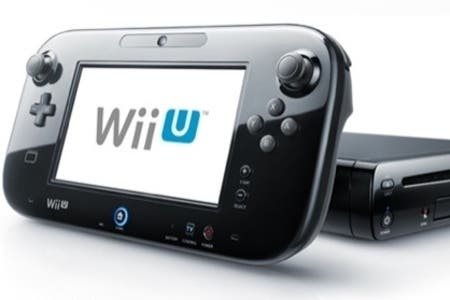 The Wii U will launch across Europe on November 30th, Nintendo has confirmed. That's twelve days after America, but a week before Japan. Merry Christmas.
In terms of content, the bundles on offer in Europe are much the same as the ones already announced for Japan, with a basic package containing a white console and gamepad, and the premium black console coming with extras such as a charging cradle and stands for both gamepad and console.
One key difference is that the European premium bundle will come with NintendoLand as a pack-in. That's the family compilation that Nintendo clearly hopes will repeat the success of Wii Sports. Zelda, Pikmin, Metroid, Mario, Luigi, Animal Crossing, Yoshi, Game & Watch, Donkey Kong, Takamaru's Castle, Ballon Fight and F-Zero are the Nintendo properties getting the minigame treatment. If that all sounds a bit twee, you'll be able to opt for a more grisly ZombiU premium bundle.
As usual, Nintendo is being frustratingly coy regarding price, insisting that it's up to local retailers to decide how much to charge. First into the fray was Amazon, asking for just £199 for the basic model, while ShopTo.net has jumped in with a £279.85 price tag for the premium bundle. Expect other retailers to fit their prices in between those - we'll bring you an update when more prices go live.
UPDATE: Amazon UK has now quietly dropped the £199 price from its pages but eagle-eyed Eurogamer reader carlosvandego has spotted that Gamestation in Redditch has Tweeted: "Basic edition £210 Premium edition £250. Preorder in store NOW £20 deposit!"
The full launch day software line up consists of: New Super Mario Bros U, Rayman Legends, ZombiU, Darksiders 2, FIFA 13 and Mass Effect 3. Downloadable games available at launch are an exclusive version of Trine 2, Toki Tori 2 and trippy twin-stick shooter Nano Assault Neo.
Looking further ahead into the ambiguously defined "launch window", the big news from Nintendo's announcement was that Bayonetta 2 not only exists but will be exclusive to Wii U. Platinum Games will also serve up the bright and breezy superhero game The Wonderful 101, which has a very distinctive Viewtiful Joe style.
It was so heavily rumoured that it could hardly be called a surprise, but Call of Duty: Black Ops 2 will be coming to the console. You'll be able to play local multiplayer using the TV and touchscreen for each player. Also sure to please hardcore gamers was the reveal that Monster Hunter 3 Ultimate will be available on both Wii U and 3DS, and you'll be able to share save data between the two. Nice. That's coming in March 2013.
Also due in the first few months of the console's life are Assassin's Creed 3, Tekken Tag Tournament 2, Scribblenauts Unlimited, Epic Mickey 2, Ninja Gaiden 3, the Armoured Edition of Batman: Arkham City, Warriors Orochi 3 Hyper, Sonic & Sega All Stars Racing Transformed, NBA 2K13 and Lego City Undercover. That last title, developed by TT Games, will come in a limited edition pack with a free Lego minifigure of the game's hero, Chase McCain.