We Sing
We get drunk first.
With the SingStar and Lips series now firmly established, it's about time the Wii joined the karaoke party. The Boogie titles don't count as they were a) rubbish and b) designed for small children. As everyone knows, videogames aren't for kids - they're for sophisticated adults who are mature enough to understand the artistic value in blowing up a Nazi's face.
We Sing is aimed at an older demographic, as you can tell by looking at the photographs on the front cover. Specifically, they suggest it's aimed at 24-year-old white people who enjoy smiling and wearing baseball caps back to front. They do have one black friend but he's only in one of the pictures and he's been shoved right to the back. One of the other pictures features a dog. Unfortunately it's a headshot so you can't see how he's holding the mic.
In the main picture six people are attempting to sing into a single microphone, which suggests the photographer has missed the point of We Sing. This karaoke game is compatible with four USB microphones, allowing up to four people to sing together. That's the best reason to buy We Sing. Don't buy it because you want to download songs or upload videos or be judged on whether you can sing rather than make any kind of noise at all for a few minutes, because We Sing doesn't boast any of those features.
The game is available as a standalone disc or bundled with two Logitech microphones. An extra bundle comprised of two more mics is also being offered. There are 30 songs included on the disc and it's a decent selection, though the emphasis is more on naff old cheese than timeless classics. There's some great eighties stuff such as Karma Chameleon, Hungry Like the Wolf and Red Red Wine. You also get a big batch of recent chart-toppers - Poker Face by Lady GaGa, Lily Allen's The Fear, Tears Dry on Their Own by Amy Winehouse and I Predict a Riot by Kaiser Chiefs, to name but a few.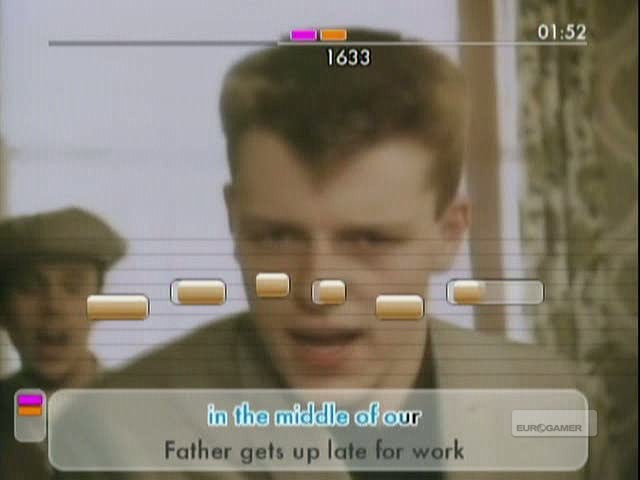 There are a few karaoke standards (Delilah, I'd Do Anything for Love, Take Me Home, Country Roads) and an oddly disproportionate number of songs by nineties-tastic one-hit wonders (Chesney! Charles and Eddie! Shampoo! Tasmin Archer). The full tracklist is available to view over on the We Sing website. Overall, there's a bit too much emphasis on novelty value and not quite enough cast-iron classics. However, the mix of genres and decades is pretty good and there's enough here to keep you entertained for a few hours.
But not much longer than that. Once you've exhausted the selection of songs on the disc, that's it - there's no option to visit an online store and download more. In these days of the SingStore, the Lips library and karaoke machines which come with thousands of tunes pre-installed, this is disappointing.