Watch: We tried VR Porn at E3
Expert anal-ysis.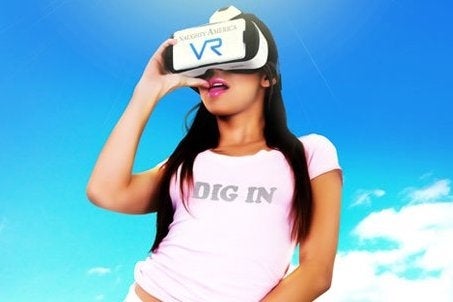 A few weeks ago, Eurogamer received an invitation to visit Naughty America, a long-standing subscription-based pornographic production company and distributor, at their booth on the E3 show floor. For reasons unknown the invite was addressed to me specifically, but I'm sitting out this expo, so who better to take up the mantle of Eurogamer's premiere porn correspondant than our own Chris 'like a deer caught in headlights' Bratt?
Here's what Naughty America's VR porn offerings are all about, in the company's own words: "You've watched thousands of Naughty America fantasies in High Definition and 4K, but now you're going to experience them like never before with VR Porn. Combining virtual reality technology with Naughty America fantasies, including those with horny MILFs, naughty schoolgirls, seductive teachers, threesomes and taboo office sex, will now immerse you right in the action. It's an experience like no other, moving you light years ahead in turning your fantasy into a reality.
"Get ready to live your dream at Naughty America with VR porn."
Doesn't that sound lovely? Now, let's see Chris Bratt live his dream, which apparently constitutes scores of sweaty convention attendees watching him as he's forced to say the words 'anal beads' on camera. Bless.
(For the record, I've tried VR porn before and Chris isn't entirely alone in thinking it makes everyone look massive. At the moment, it's a bit more unsettling than it is erotic).