Watch someone discover Prison Architect's hidden 3D mode
UPDATE: Introversion may improve 3D now it's discovered but it won't replace 2D.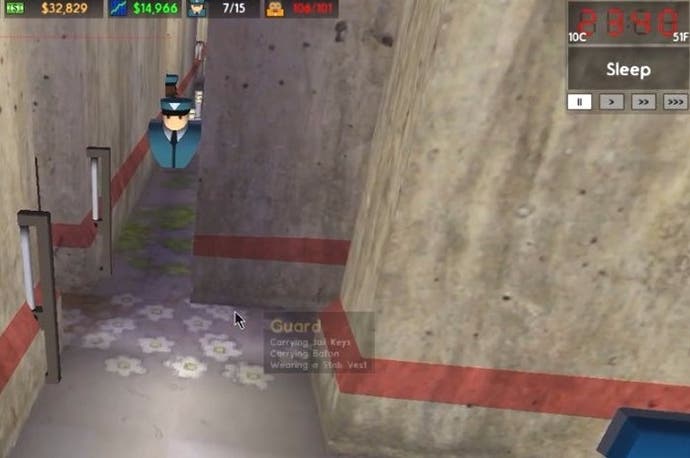 UPDATE #2 9TH MARCH: Introversion's chief game maker Chris Delay has told Eurogamer he was "astonished" it took the community so long to find 3D mode, because it had been in the game since version 1.0 arrived in October. He thought it would be discovered in days, he said.
3D mode was an experimental visualisation being worked on in alpha but never reached a high enough standard to be properly included, though it was never quite excluded either.
It's not meant to replace the top-down 2D view, he said, which he believes works much better anyway, but now that 3D mode has been found it may be improved a bit.
Here's what he said:
UPDATE 8TH MARCH 10AM GMT : Five months it's apparently taken the community to discover 3D mode! That's according to Prison Architect developer Gary Chambers, who replied to our Tweet about this story, this morning.
ORIGINAL STORY 8TH MARCH 9.30AM GMT: One budding builder has made a startling discovery in Prison Architect and found a hidden 3D mode in the game. It, as you might expect, turns the top-down world 3D, allowing you to zoom right down into the corridors as if you were standing next to the, um, hovering, triangular guards.
The option-box you check to turn 3D view on is nearly invisible. It's in the Extras menu pushed up against the bottom left corner, totally out of alignment with the rest of the options on the page. A faded grey outline frames the box but blends with other grey marks and is only really noticeable when hovering over it, which darkens the outline slightly and suggests you can interact with it - which of course you can.
3D view takes a while to load, perhaps understandably for larger prisons, so give it a minute. When it does, you're free to play from your new perspective, although not everything is correctly modelled for the view. Beds and pool tables remain 2D images, for example, and shower heads, although 3D, are fixed to the floor.
What does it all mean? Is this a sign of things to come, or remnant development code hidden as an Easter egg? I've asked developer Introversion for a bit of clarification and will let you know if I get any.