Warhammer 40,000: Space Marine
Multiple Orkasm.
It's here that we get a moment to savour the animation work. As the remaining pack charges you, they assume a character that goes beyond an allergy to your reddening reticule; they look and feel like charging barbarians, their faces twisting and contorting with hatred as they clamber towards you.
Throughout the level there's a wonderful feel of industrially gothic architecture, high-reaching roofs and an almost tangible smell of grit in the air. The music is tribal and the ambience is deadly.
Despite their bleak but detailed beauty, it comes as something of a relief to break away from the more industrialised areas of the game and embrace the cold, dusty desert canyon that forms the next level. Purple plasma glows over the hilltops while flashes crackle in the sky. Beautiful smoke effects ebb and swirl overhead as you work your way towards the first encounter with the Chaos forces of Warhammer.
Where the Orks lumber and snarl their way across the landscapes, very much filling the grunts-with-guns role, the Chaos forces dart with a flammable blur from spot to spot, a style of fighting that comes as a shock to the system after the more traditional corridor crawl through the factory areas.
The Psykers in particular bring a welcome change of pace to the fight. Crackling with magical, electrical malevolence, they teleport across the landscape, spawning new packets of enemies and forcing a more frantic, nerve-tightened response from the player. There's only the briefest moment to locate each Psyker at their current position and unleash a few volleys before concentrating on the fresh wave of evil summoned from the skies.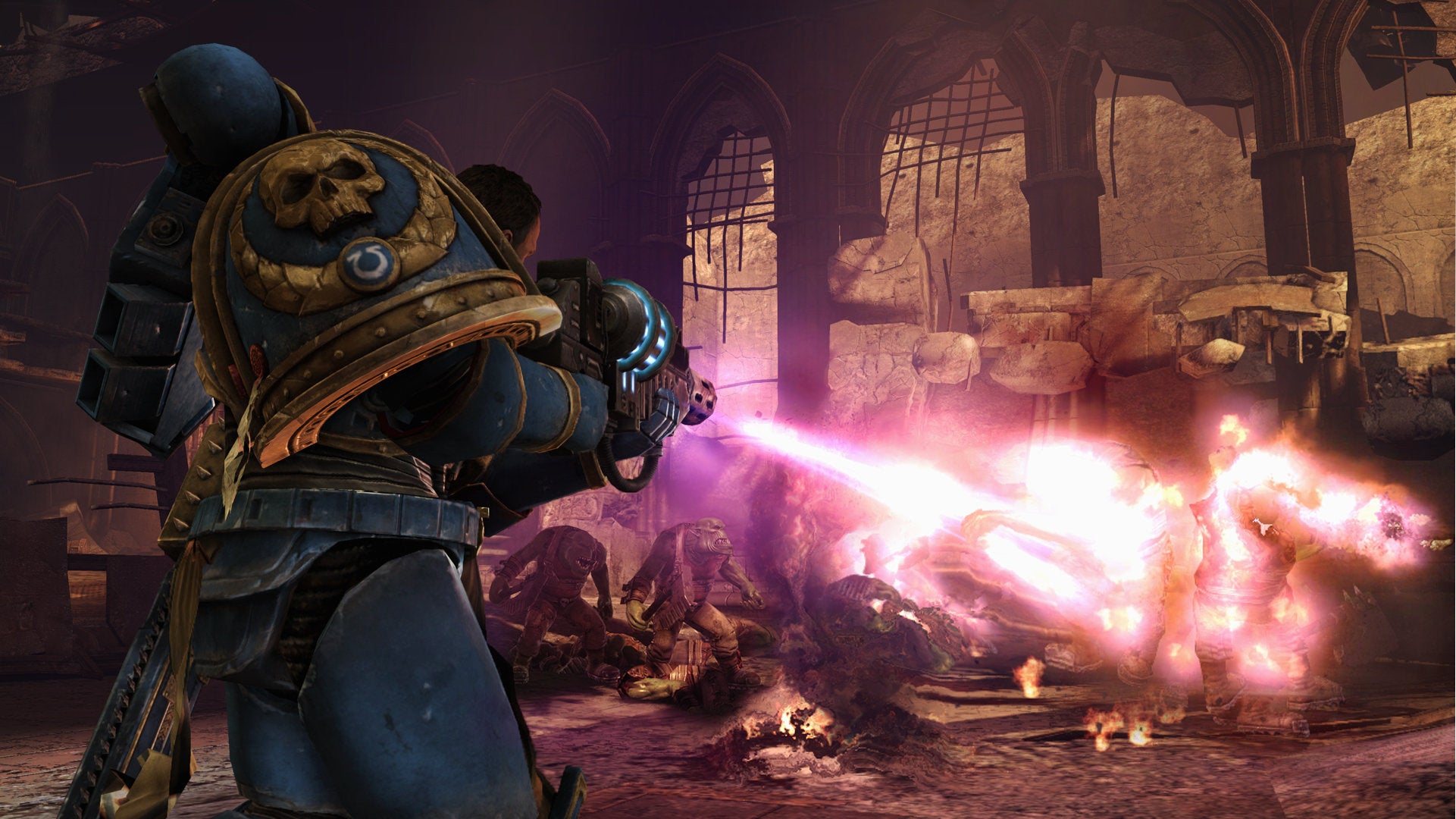 As well as pin-sharp dedication to the finer points of the Warhammer universe, Relic's reputation for attention to detail in voice-acting is once again on extravagant display in Space Marine. Notably, the Orks are brought to chuckling, dumbfounded life with the same talent employed for the developer's other franchise releases.
In the role of Captain Titus, Mark Strong delivers a wonderfully British, stiff-upper-lipped take on the ass-kicking marine – a refreshing change from the growling doom that pours from the mouths of Marcus Fenix and friends. In moments of high-drama there are even hints of Withnail in his delivery, as though at any moment he might begin frantically musing over his next drink as he edges closer to alcoholic panic.
It's true that he struts familiarly around the industrial floors like a man with something excruciatingly uncomfortable in his trousers, and his lieutenants possess the same air of outraged British sensibility. They're not quite at the level of shaking their fists angrily at the kids playing football outside, but my goodness these chaps are jolly cross.
Even despite the overly dramatic dialogue, it's an interesting point that these well-heeled commandos are more engaging and far less hammy than their po-faced, yippee-ki-yay genre contemporaries.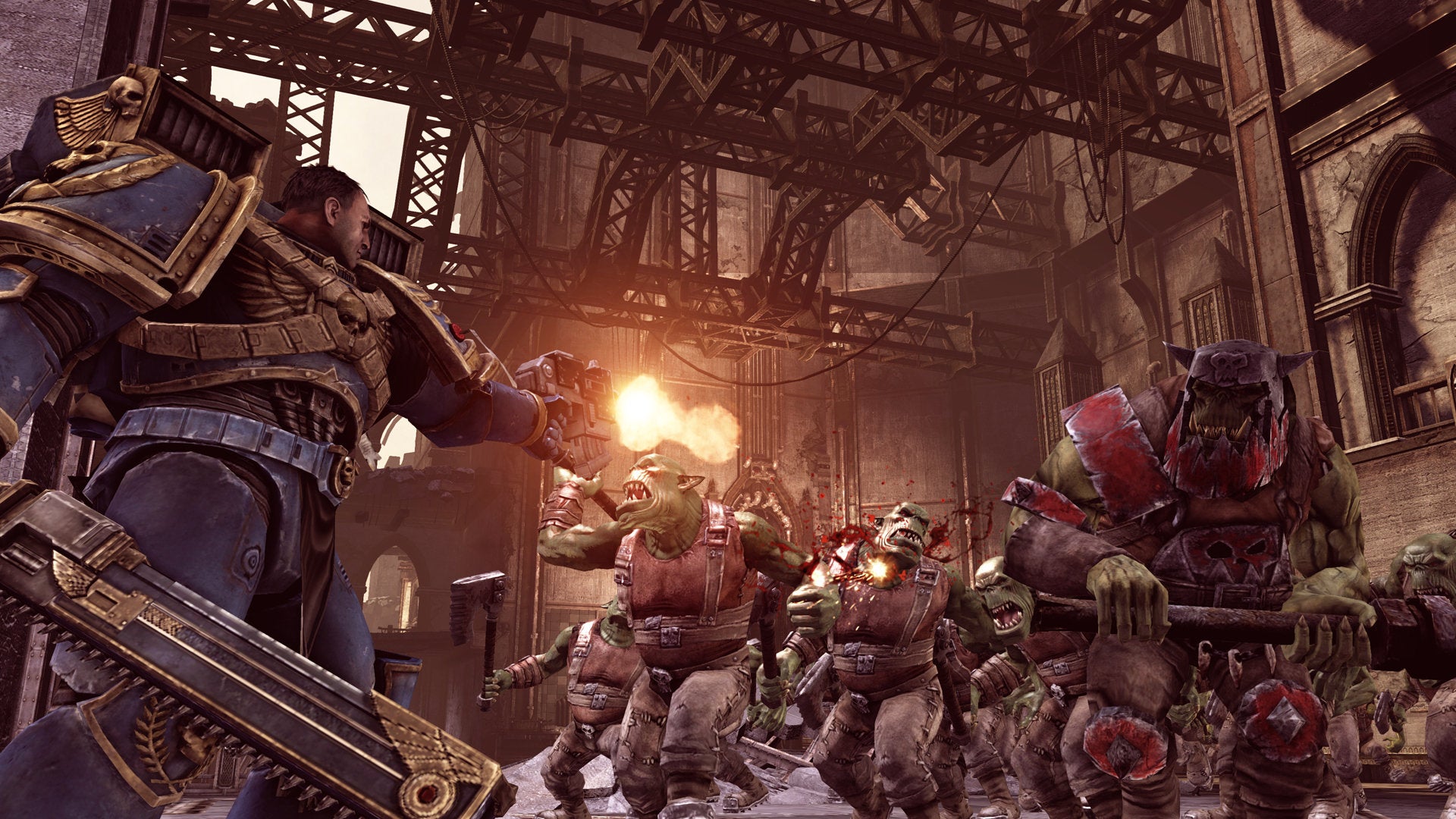 Back inside an industrial complex where skulls adorn the metallic railings and pillars, you find yourself fighting solo to relocate your squad. Delicate use of the evade system is required here as a fumbling Ork rocketeer fires explosive charges at you. Slow to turn as he is, the timing of your movement is critical in order to catch him mid-aim and vulnerable and offer a response of your own.
Space Marine is shaping up to be a rare gem. On the one hand, it is familiarly visceral in its explosive, breathlessly violent action. Yet at the same time it kicks the crutch away from developer dependency on one-dimensional, brooding war heroes and embittered veterans – a shallow portrayal that's mistaken all too often for an unspoken depth of character.
With that in mind, if development continues at its current pace and approach, this tribal tale of survivalist extermination won't so much compete as co-exist happily with its more traditional brothers-in-arms when it releases in summer this year.
Will you support Eurogamer?
We want to make Eurogamer better, and that means better for our readers - not for algorithms. You can help! Become a supporter of Eurogamer and you can view the site completely ad-free, as well as gaining exclusive access to articles, podcasts and conversations that will bring you closer to the team, the stories, and the games we all love. Subscriptions start at £3.99 / $4.99 per month.