Then there's cyberspace, an underused alternate dimension that Baldur is able to access through special magical wells. In this bucolic virtual realm, where ones and zeroes conjure up pastoral tranquillity, Baldur must use a trio of gradually-revealed powers to push, lift or burn items in order to open new areas back in the real world. Push a tree over a gorge, for instance, and a bridge is activated in reality. It's not unlike the reality-shifting elements of Soul Reaver, the Legacy of Kain sequel that found Silicon Knights suing former collaborators Crystal Dynamics, and it's a touch trite, perhaps, but there's potential here for some clever puzzling and a nice change of pace. Sadly though, often you just have to stroll for a bit, push something over, and stroll back. While there's an attempt to use this area to add a subplot to the game, it's a boring and long-winded way of achieving a simple aim, and you're always aware that you could just as easily have pressed a button in the real world instead.
But what of the much-vaunted RPG depth we were promised? Well, there's certainly a role-playing mechanism behind the scenes but, compared to any other entry in that genre, it's nothing to get excited about. Weapons and armour can be modified by attaching runes, while Charms enable additional benefits if you can complete their relevant "quests". It's a misleading use of the term, since the requirements are things like "Kill 200 enemies" or "Find 2 secret areas". Things you'd already be doing, in other words, not genuine quests that take you off the beaten path.
Rounding out these auxiliary powers are three special moves and abilities, unlocked by cashing in your skill points every time Baldur levels up. Spiders are robotic allies who can be dropped in battle to deliver damage in various ways, or even to provide a roving healing station. They're time-limited and Spiders must recharge before you can use them again. Battle Cries are status buffs by any other name, boosting your stats or weakening the enemy when activated. They use up your combo meter, and the higher the meter the stronger and more long-lasting the effect. Finally there are Sentient Weapons, an extremely useful ability and by default the last item on your skill tree. Set off by depressing both thumb-sticks, it sends a spooky copy of your current weapon floating into battle alongside you. Sentient Weapons take a long time to recharge, but can rack up your combo meter in seconds. They also look funny.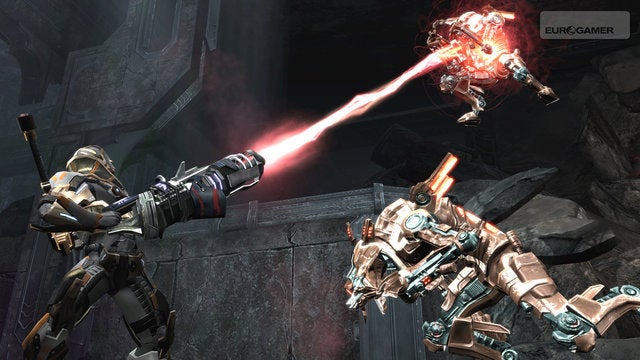 All three elements are unavoidable choices on the rather simple six-tier skill tree, which restricts you to a trio of fixed development paths per class. As half of your options are already taken up by the different forms of the aforementioned support abilities, that doesn't leave a whole lot of room to experiment and as you can reassign all your points on the fly, you'll easily be able to try all the abilities before you reach level 20. Roughly halfway through the game, another layer is added as you get to choose between becoming cybernetically enhanced or following the organic human route. Both open up an additional, smaller skill tree, with Cybernetics maximising damage and Humans favouring improved combo efficiency.
It seems like a lot of options in theory, but in gameplay terms it's all rather narrow in its focus. Unlike the different skill-sets and character classes in Mass Effect, another apparent influence, there's not enough to drastically alter the way you play. Because the game is built around melee brawling, there's just no incentive to try a different approach - because you'll only end up tackling each battle in the same way, albeit with slightly different stats and auxiliary abilities. Out of the five initial classes, only the Bio Engineer feels noticeably different, with the others more like variations on a tired theme - one that's already been covered by Warhammer 40,000 among others.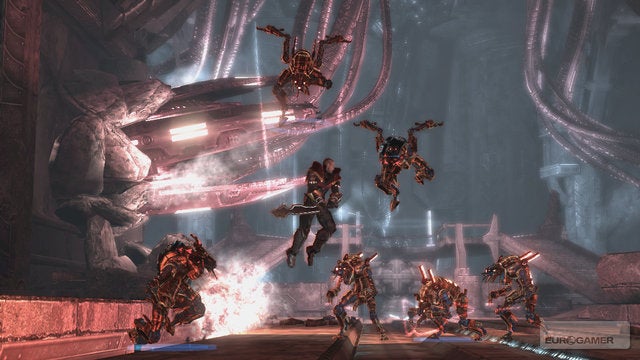 Even basic elements like an item inventory are absent. The game will happily slurp up runes and trousers called Proficient Web-Brace Greaves of Toughness by the dozen, but there's no way of stockpiling a simple health orb. Nor are there any items to counteract the various status effects that enemies inflict on you. This means that when your health is low, all you can do is plough onwards and hope that you get some health in a loot drop. If you find yourself poisoned with low health, you might as well just wait to die - there's nothing you can do. Oh, and when you die? I hope you enjoy the unskippable 30-second animation of a cyborg valkyrie descending from the sky and lifting you to Valhalla. You'll see it a lot.
Except you don't go to Valhalla. You're immortal, and so you respawn at the last save-point while all the enemies remain as they were. Provided you keep swapping your weapons and armour for better versions, progress is never all that taxing. This means the game is both frustrating and easy as long you've got the patience to keep plugging away. You'll rarely have to resort to such methods, but just knowing that death has no lasting consequence automatically lowers the stakes. And, yes, BioShock did much the same thing, but Too Human is no Bioshock.
Will you support Eurogamer?
We want to make Eurogamer better, and that means better for our readers - not for algorithms. You can help! Become a supporter of Eurogamer and you can view the site completely ad-free, as well as gaining exclusive access to articles, podcasts and conversations that will bring you closer to the team, the stories, and the games we all love. Subscriptions start at £3.99 / $4.99 per month.