TNA iMPACT's Kurt Angle
A chat with one of wrestling's biggest stars.
"This is going to be the biggest hit of any videogame ever." It's a bold claim and it's coming from a big man. Kurt Angle is an Olympic gold medallist, a former WWE superstar and champion of newly established wrestling league Total Nonstop Action. He's in London to promote TNA iMPACT!, in development at Midway for PS2, PS3, Wii and Xbox 360. And he's wearing a suit made out of enough material to cover a sofa and still have change for a small marquee.
Everything about today's event, apart from the canapés and the shorts the ring girls are wearing, is big. There are giant banners splashed with larger than life images of Angle - and considering how large life is, that's big. There are huge plasma screens showing the game in action. There are thick packs of press releases peppered with big words like LOCKDOWN and SLAMMIVERSARY. But it's clear what, or rather who, is having the biggest impact.
According to his website, Kurt Angle is "Perhaps the greatest professional wrestler in the world today." Born in Pennsylvania in 1968, he's been involved with the sport since high school. He's the only professional wrestler with an Olympic gold medal under his title belts, having picked it up at Atlanta '96. (He's been quoted as saying he won the medal "with a broken freakin' neck", of which more later.)
Angle joined the WWF in 1998 and was still there when the name changed to WWE. He became one of its biggest stars, winning stacks of titles and, he claims, making more money than anyone else. "I was the highest paid wrestler at WWE, regardless of what you hear from other individuals or over the Internet," he tells the packed press conference.
Changing teams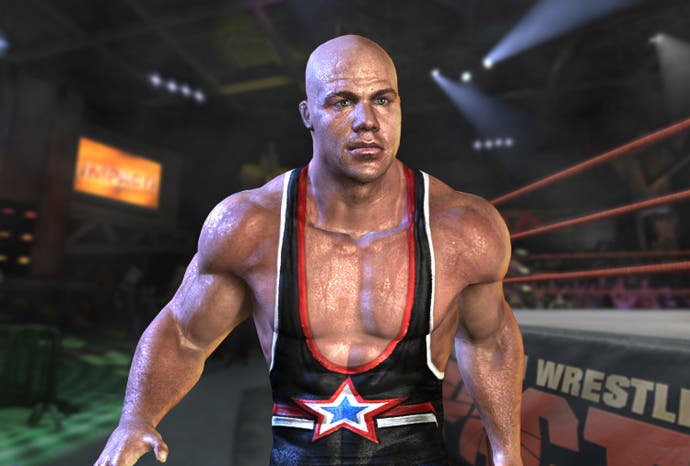 Then why, in August 2006, did Angle leave? At the time, it was said to be for "personal reasons". Today, Angle says it was a combination of burnout - he was working more than 300 days per year - and frustration with how the WWE was being run. "I was made to help ignite other people's careers and make them look good," he explains. "It became stagnant, it became boring. It was the same old thing every week."
Angle is grateful to WWE boss Vince McMahon for allowing him to leave even though he still had five-and-a-half years left on his contract. "Vince gave me my release because I lost it in a meeting. I told him I couldn't be there any more. He was a very good man about it."
Before there's time to wonder what it's like to be in a room with Kurt Angle when he loses it, he's launched into his Total Nonstop Action spiel: "I wanted to be a part of something special, I wanted to make history." In practical terms, Angle became by far the biggest star on the roster when he moved to TNA and was able to negotiate shorter working hours.
Nearly 18 months after the switch TNA is still trailing behind WWE in the ratings. However, Angle says, viewing figures are rising by between 40,000 and 50,000 per week. He predicts that within two years TNA will be the biggest wrestling company in the world, with WWE in second place.
I, robot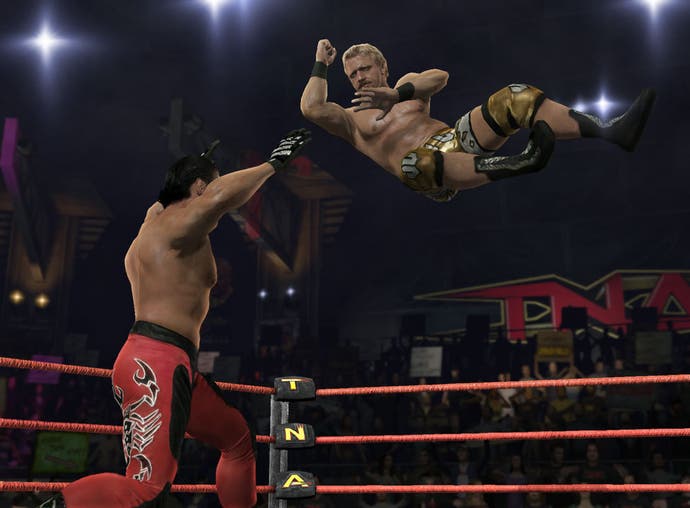 Midway must be hoping he's right, and hoping the TNA game generates huge profits in the same way the WWE titles have for THQ. According to Angle, little of those profits are invested back into improving the games' quality. Discussing his own involvement in their development he recalls, "All they would do is come in and tell you to sit down and they'd scan your head. Then you'd stand up and they'd scan your body. Then they'd tell you to give a mean face, then they'd tell you to leave, and that was it. So in the game it just looked like two robots going at it."
Apparently TNA iMPACT! is being developed with a different approach. The wrestlers are dressed in body suits with sensors and asked to fight as they would in a real match. "Midway spent countless hours interviewing us, getting to know our personalities, scanning us, having us go through the wrestling moves - it was a crazy experience. WWE would never do that," claims Angle.
"I didn't even care about it. Midway made us all care, they made us realise how important the videogames industry is for our sport. WWE doesn't care, they just want to put something together, they hurry up and put it out there just to make money."
TNA and Midway have put "millions of dollars" into iMPACT!, Angle says. "God willing, we're going to get it back, but we spent a lot of money to make this the most authentic wrestling game ever. And we did it."
Sensitive subjects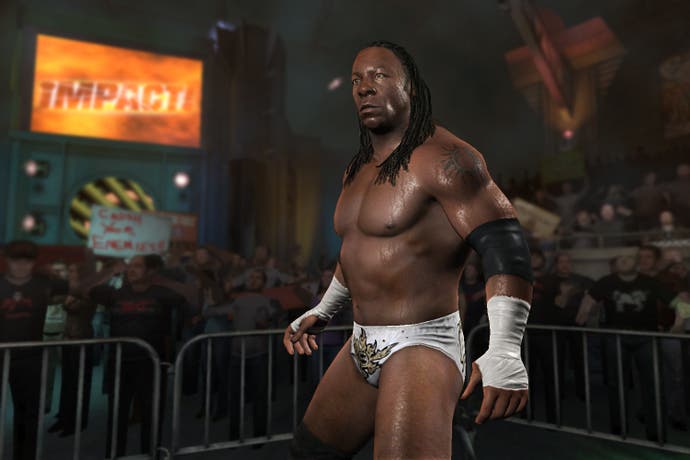 But it's Angle, not the videogame he's here to promote, who is the focus of the questions at the press conference. A pre-event briefing warned us to avoid asking him anything about two topics: steroids, presumably because of the addiction allegations Angle denies, and Chris Benoit. A former WWE rival of Angle's, Benoit murdered his wife and seven-year-old son before killing himself last year.
Sure enough, one journalist can't resist. He asks Angle for his best memory of Benoit. The wrestler doesn't hesitate to answer and gives a surprisingly revealing response to such a gentle question. "Chris started to lose the love of wrestling because he was overworked," he begins.
"I don't blame Vince McMahon for Chris's death. I don't blame the WWE, because as an individual you have a contract in front of you and it tells you exactly what you have to do. If you sign the contract, you need to do that; If you want out, then you need to quit."
As for his favourite memory - the cage match which left Angle with a damaged knee and out of action for six weeks, while Benoit injured his neck and was unable to wrestle for a year. Who knows what his worst memory must be like.