This week on Outside Xbox
Farming, Minecraft Pictionary and Fictional Games.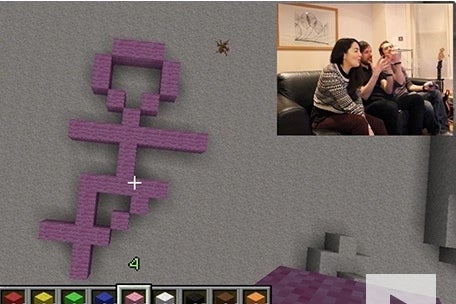 Welcome to your Outside Xbox update on this momentous week for video games, in which we had our first look at the future of console gaming: Farming Simulator on Xbox 360.
Its peaceful working of the land might not have the big-budget thrills of Call of Duty, but the Xbox 360 audience is packed with the same pre-teen boys that brought Farming Simulator 2013 million-selling success on the PC. The game's first-person sandboxery, strategy and budget price put it on the inside track to Xbox success. Watch on for details of this "platinum edition" console port.
Speaking of first-person sandboxery, we hadn't played Minecraft for a while, so we we jumped back in with a rousing session of Minecraft Pictionary, a game we just invented which you play like regular Pictionary, only instead of drawing the thing on the card you clumsily build it in Minecraft. Turns out it's a lot harder than the original.
Remember the arcade dance machine from Scott Pilgrim? It was like Dance Dance Revolution but with ninjas and two-player co-op and sometimes you had to do flips over each other. It's fictional games like these that have us looking enviously to TV and movies, wishing we could get our hands on them.
Without the restrictions of common sense or actually having to make the game work, you can put together some excellent ideas. Here are the six we most want to play, ranging from a full-immersion shooter from The X Files to a survival horror from terrible movie Stay Alive ("You Die In The Game - You Die For Real"), by way of adorable candy kart racer Sugar Rush Speedway, as seen in Disney's recent Wreck-It Ralph.
For all this, plus our Metal Gear Rising: Revengeance-themed Show of the Week, and what the biggest news of the week, the PS4 reveal, means for Xbox, head on over to www.outsidexbox.com.