This week on Outside Xbox
Knitwear, more BioShock and dodging the apocalypse.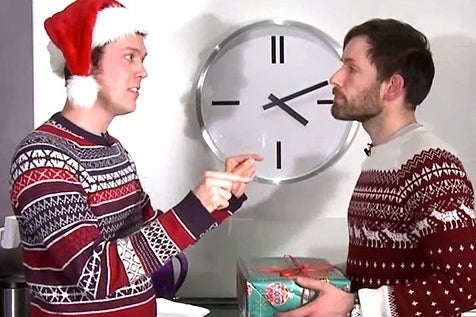 Happy holidays, Eurogamer! Over at Outside Xbox we think we've finally nailed down the true meaning of Christmas. It involves commandeering the family television for hours at a time so you can save the world/galaxy/universe, eating your own weight in tree decorations and wearing the most obnoxious Christmas jumper you can possibly find.
It's with that timeless message of greed, gluttony and fashion crime in our hearts that we embarked upon our Christmas-themed Show of the Week, your number one source for Xbox-themed entertainment delivered in eye-boiling festive knitwear.
Elsewhere on the site, Andy credits his survival of the Mayan apocalypse to a bunch of tips he picked up playing video games. It might be an unfashionable position to hold, but we suspect the apocalypse doesn't give a monkey's about calendars, Mayan or otherwise, so it pays to be constantly prepared. If you watch this video, survive the end of the world and then rob us of our clothes, food and shoes we're going to be really upset, by the way.
Finally, after our interview with Ken Levine went and hit the headlines last week, we offered up our hands-on impressions having played the first three hours or so of the game. If there were some kind of Kite mark to signify that this is free of plot spoilers, it would be all over this thing. Besides, as Ken said in our interview, that plot only gets more interesting as it goes on.
If you're still hungry for more videos, do feel free to check out our journalistic investigation of Kinect Party, which is free until the end of the year, a look at what Forza Horizon's Rally DLC has to offer and a collection of the Inception-inspired honking that has been so popular in trailers this year.
However you're spending the festive season, do have an excellent time and if you're bored during the acres of spare time you accrue over the holidays do check back on Outside Xbox where we'll be continuing to rattle out videos at an alarming rate, including the last Show of the Week of the year on the 28th December. See you Outside!