The Neverhood creators launch Kickstarter for spiritual successor Armikrog
Stars MST3K's Mike Nelson.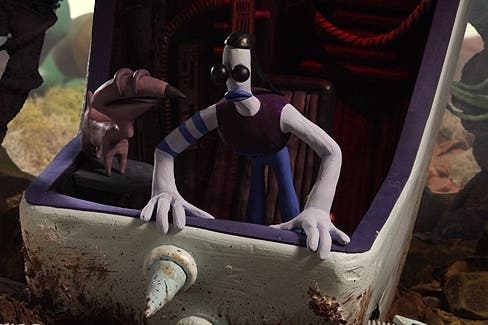 As prophesied in March, Earthworm Jim creator Doug TenNapel has launched a Kickstarter for Armikrog, the "spiritual successor" to his 1996 claymation point-and-click adventure game The Neverhood.
Developed alongside other The Neverhood and Earthworm Jim vets Mike Dietz and Ed Schofield at Pencil Test Studios, Armikrog is a point-and-click adventure that follows the exploits of a space explorer named Tommynaut and his blind alien, talking dog Beak-Beak.
Beyond the core team, Pencil Test Studios has accrued some serious talent on this project, including the voices of MST3K's Mike Nelson, Napoleon Dynamite's Jon Heder, and Rob Paulsen, the voice of Pinky from Pink and the Brain. Additionally, The Neverhood composer Terry Taylor is on board, which is definitely good news as The Neverhood contained some of the most bizarre tunes of any game I've played.
According to the Kickstarter, Armikrog will be "comparable in size and scope to The Neverhood," and completed in roughly the same time frame of one year. It will cost much less to produce than The Neverhood, though, due to advances in modern technology. Go science!
The developers have already pumped $100,000 into Armikrog's pre-production, which sounds risky, but after only two days Pencil Test Studios has accrued just over a third of its $900,000 goal with 28 days to go before its 27th June deadline.
Early supporters can guarantee a DRM-free copy of the game for $20, before it goes up to $25 after the first 10K backers claim that tier. $30 pledges come with a 100-page digital art book and some songs, while $35 comes with a digital comic-book by TenNapel.
Armikrog is due out on PC, Mac and Linux in July 2014.