SpyParty has come a long way in eight years
I see you.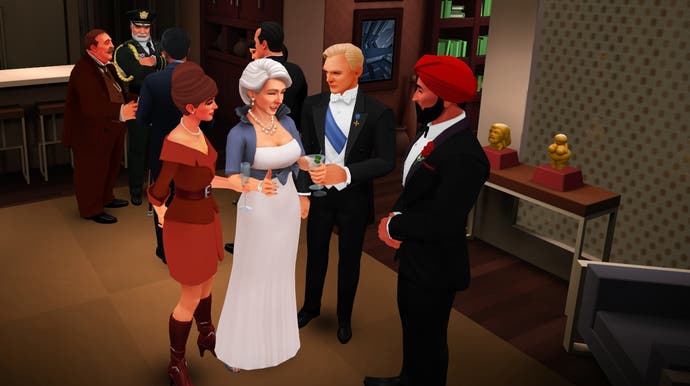 SpyParty, the two-player competitive spy versus sniper game set at an exclusive cocktail party, comes out on Steam as an Early Access title on 12th April priced £19.49.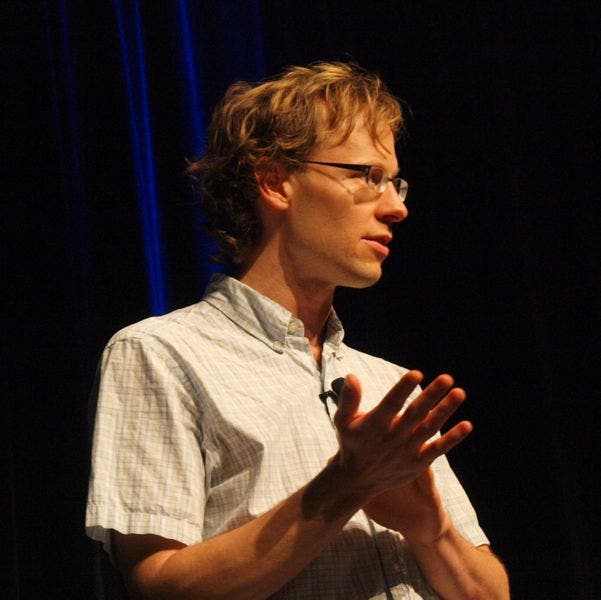 In SpyParty, one player is the sniper, the other the spy who tries to avoid detection by mingling with a crowd of fancy partygoers. The skill comes from sniffing out unusual behaviour, or making your behaviour as "usual" as possible while completing mission objectives. Games last a few minutes each, with matches usually involving 10 or 20 games.
Chris Hecker, who led the development of much of the tech behind Maxis' Spore, has worked on SpyParty for eight years. Almost 24,000 copies have so far been sold on the official SpyParty website, where there is a small but bustling community of players. Things are about to change for SpyParty, though, as it launches on the biggest video game platform on earth.
As such, Hecker has spruced up the game's visuals, with 21 new art characters with custom animations and 10 new art venues. SpyParty has a "timeless" style, as Hecker describes it, with environmental props that could have existed in multiple modern eras. The idea is the player isn't supposed to be able to work out the year in which the game is set.
The Steam release has eight missions, a replay system with over 300,000 games in its database and a 40 minute, fully narrated (by Chris Hecker himself) interactive tutorial to help teach newcomers how to play.
I had the chance to see the new and improved SpyParty in action at the recent Game Developers Conference, and it's safe to say the game has come on a long way in recent years. Take Balcony, a level with an architecture style based on a pre-war building in Chelsea in New York City, for example. Here's what it used to look like: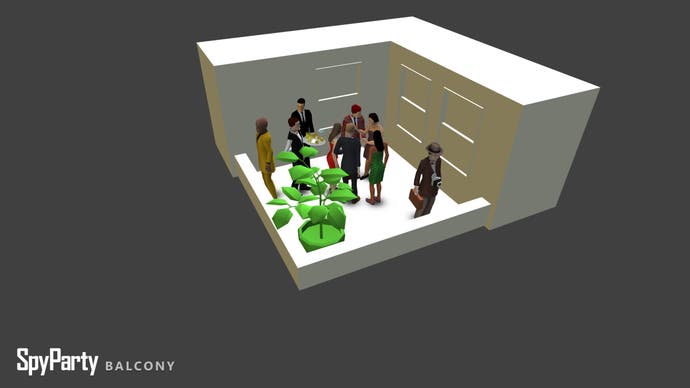 And here's what it looks like for the Steam release.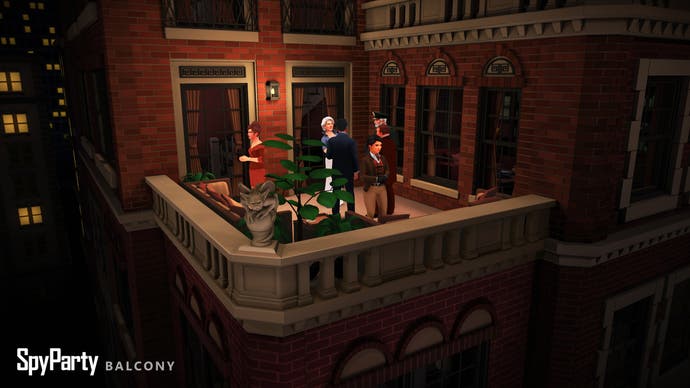 Pub is a level with a, you guessed it, pub, named after Sherlock Holmes character Irene Adler. Here's what it looks like in the Steam launch build: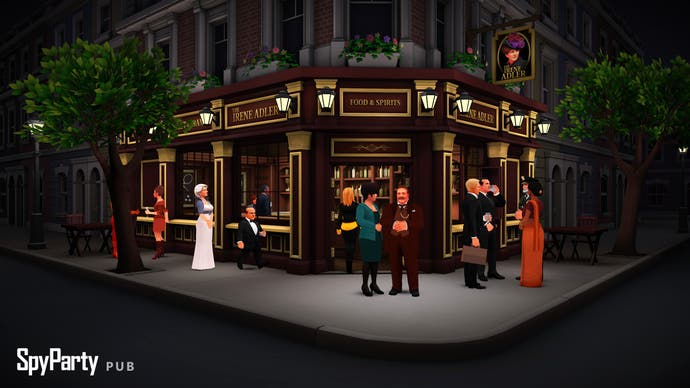 Courtyard is an arty outdoor sculptural homage to Alan Turing. The theatrical lighting has been pushed here, "like you would if you were having a cocktail party at your mansion on the outskirts of London", Hecker says.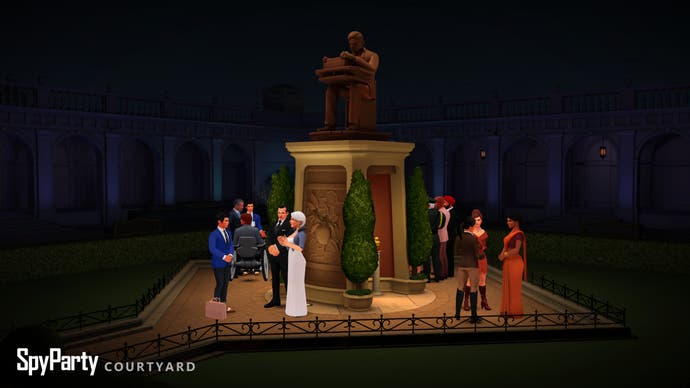 Elsewhere, the user interface has been reworked to make it fit for launch on Steam. Here's how it now looks: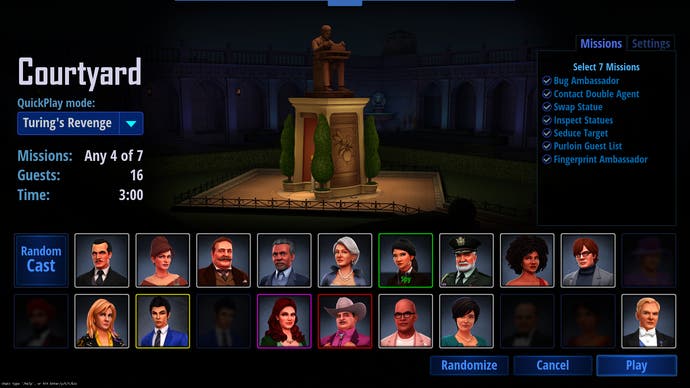 And here's a quick look at the tutorial: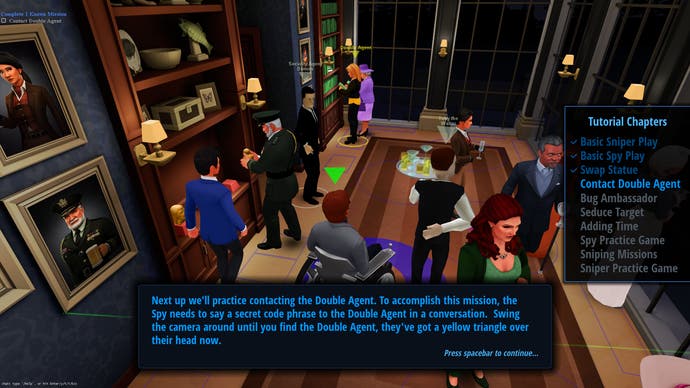 Hecker says he tried to make SpyParty's tutorial a version of the teachers who helped players at video game event PAX in bot form. It combines text and voice to teach newcomers how to play what is a hard to master competitive multiplayer game.
The Steam release comes with caveats, however. Moderne, which is based on a cliffside mansion in South Africa, is one of SpyParty's largest maps, but because it's the only map in this release that didn't have a full prototype, it is completely untested. Hecker says he has no clue how it will play.
As SpyParty is in beta, there are bugs and elements of clunky user interface. "And if you look hard enough, there are places in the game where there's still old ugly prototype art," Hecker says.
Hecker has worked on SpyParty for close to a decade, but there's no sign he'll wrap up any time soon. His goal is for the 1.0 release of SpyParty to have further improved graphics, more maps and missions and deeper competitive game mechanics. He also wants to make single-player modes as well as experiment with other multiplayer modes. Hecker reckons SpyParty will be in Early Access for about two years.
"I'm a perfectionist," he says.