Sprites at the museum: Game Masters profiles gaming's greatest creators
And it's super hands-on.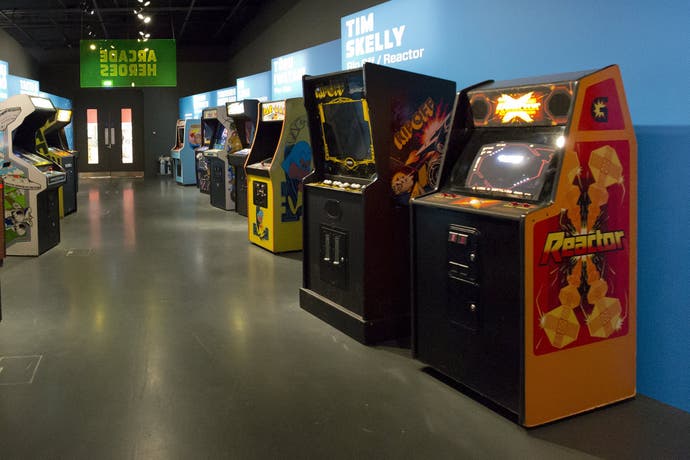 We should be getting used to seeing video games in museums. But for anyone who's been playing them long enough to see games artlessly demonised or dismissed in the mainstream media, it's still a thrill to see a long-standing cultural institution - in this case, the enormous, ancient National Museum of Scotland in Edinburgh - giving over a major wing to arcade cabinets and consoles.
Originally staged at the Australian Centre for the Moving Image (ACMI) in Melbourne, the Game Masters exhibition traces the development of the medium over the decades through the lens of some of its most influential creators. This auteur-led approach is flexible enough to cover everything from Eugene Jarvis's Defender to Masaya Matsuura's Parappa The Rapper, via PC classics and innovative tablet games.
Crucially, as well as hearing about the design process through video interviews and poring over concept art, you can play every one of the games featured to see what all the fuss is about. The exhibition space doesn't try and recreate the smoky fug or questionable odours of the dingy arcades of communal memory. If you make it past the serried ranks of original arcades at the entrance, you discover a clean and accessible layout of gaming and video pods - it's big, bold and bright.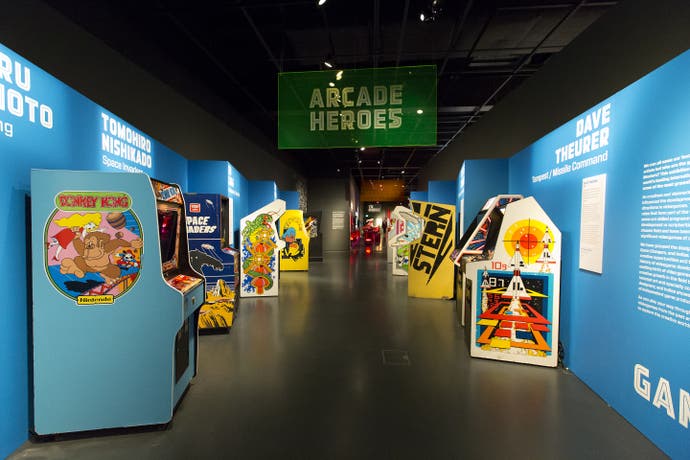 Performance games catch the eye and ear. There's an enormous Xbox Kinect Dance Central arena with pre-programmed lights that make it seem like you're on Britain's Got Talent, while Rock Band and SingStar have their own distinct snugs. Along one wall, a series of TT Games' hugely successful licensed Lego games invite co-op play with other visitors to the exhibition, while in a beanbag-and-neon-cloud indie hub there's everything from thermonuclear war sim Defcon to chaotic four-player smash-em-up Castle Crashers.
The first instinct is just to play - reacquiring some long-lost Asteroids muscle memory or discovering decades-old games for the first time. Tim Skelly's 1979 arcade game Rip-Off, a vector-graphics marvel that had somehow passed me by, turns out to be misnamed - buzzing space pirates are trying to steal your stockpile of space ore but as long as one nugget remains unlifted, you have infinite lives, which would have seemed like ridiculous value for 20p back in the day.
Slick, state-of-the-art and expanded for its European debut, Game Masters tweaks all the right pleasure centres for gamers, and seems intriguing and accessible enough to tempt neutrals into picking up a joypad. After that first great free-play rush, there's a wealth of supplementary detail to dive into, and strange artefacts to marvel at, such as DMA Design's original Lemmings sprite designs mapped out on graph paper.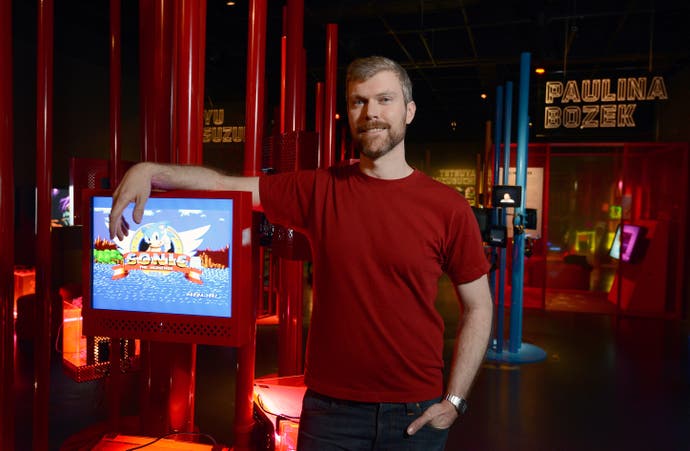 Ben Cram, a tall, affable Aussie, has the official title of touring exhibitions project manager at ACMI, and was responsible for sourcing the original arcade cabinets and hardware for the original exhibition. But he's also a sort of Mario-esque troubleshooter, ready with various toolboxes full of original components if any of the machines start to misbehave (although arguably it would be a more authentic arcade experience if at least one cabinet had a bit of A4 reading "out of order" taped onto its darkened CRT screen).
"It's the sort of thing that keeps me up at nights," says Cram. "We're running the original boards so each of those cabinets are bespoke to that particular game. So you have to keep back-up parts for everything, and they're becoming harder and harder to source. Some of these machines are 35 years old, older than me."
Cram seems relieved at how it's all come together, especially the challenge of presenting such relatively modern technology in one of the oldest museums in Europe. "The floor was redone, the wiring had to be redone, we had to re-network everything for this space," he says. "These walls weren't here four weeks ago, it's all been purpose-built. The National Museum of Scotland have done a tremendous job. You're looking at about six months' work in communications, planning, strategy, design, freighting and rights management. I'm about ready for a beer and a lie-down."
In the age of emulation, where you can play hundreds of arcade classics on your smartphone, why go to the extra effort of sourcing original machines? "It was really central to the exhibition, particularly for the arcade cabinets," he says. "Emulators can't really capture that tactile experience of playing. You can't get the feel of original leaf-switches from an Xbox 360 controller. There's also currently a lot of discussion going in a wider sense about what constitutes an artwork. If you make a digital copy of a movie, is it still the same artwork? If the colour replication is different, have you changed it in some way? So we wanted everything to be original."
Of the 130 games featured in the exhibition, Cram reckons 97 per cent are running on original hardware. But it wasn't just the original arcade machines that required special attention. "One of the trickiest games to get running was actually Grim Fandango," he says. "It was written for the PC 3D cards of the time, and the drivers just don't play nice with newer things. It took ages to get it right."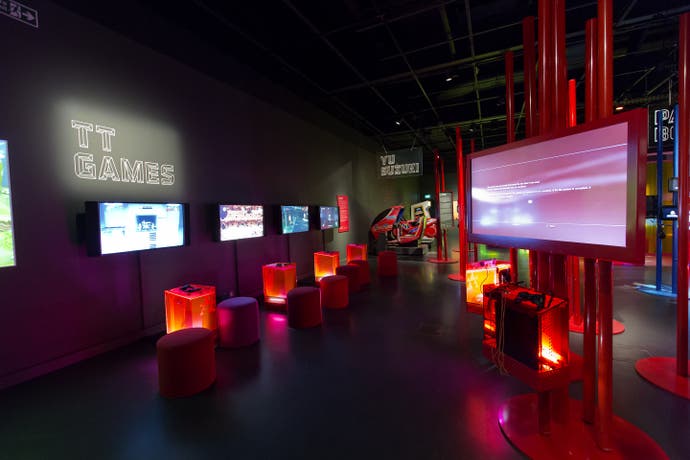 Tim Schafer and Double Fine feature prominently in the show - from original Psychonauts artwork to a Brutal Legend hot rod soapbox racer - and Schafer himself came to the original Game Masters opening in Melbourne. "He's one of the nicest people you could ever meet," says Cram. "When he saw we had Grim Fandango working he said 'I can't believe you've got that running, even I can't get that running'. I think that's why they're doing the special edition for 2015."
While the games are foregrounded, the profiles and interviews with influential creators help contexualise how far the medium has progressed. "We think it's the first exhibition to really focus in on the designers themselves," says Cram. "Everyone we spoke to was really up for it, and really quite reflective about the medium and they're work. People like Warren Spector, Peter Molyneux and Tim, they really understood and got it. I think being featured in a museum also offers a little bit of validation for what they do."
Before joining ACMI, Cram worked at Blue Tongue, a THQ studio in Melbourne, maintaining dev kits and running QA on games like de Blob and its sequel. "I thought de Blob 2 was a great little game that maybe deserved a little more attention," he says. Blue Tongue were working on an unannounced wrestling game when THQ abruptly went bankrupt in late 2012. Would Cram ever consider getting back into the games-making business? "Maybe, but I love the museological side now, and it feels like an area that's only going to expand, especially with places like MoMA in New York bringing video games into their collection."
Game Masters is on in Edinburgh until late April 2015, with tickets ranging from £8-£10, although students can get in on Tuesdays for a fiver. Running in parallel with the exhibition is an extensive programme of related talks and events, which kicked off this weekend with Rab's Videogame Christmas Morning, where writer and comedian Rab Florence evoked the nostalgic joy of discovering a new game in your stocking. There's also a pop-up shop absolutely crammed with Minecraft merchandise.
Now the exhibition is successfully up and running, Cram will soon be headed back to Melbourne. But he's left a challenge for any players who think they might be up to a Steve Wiebe/Billy Mitchell-style arcade face-off. "In the process of working on this exhibition, I discovered a whole new love for Robotron 2084," he says. "The board is set to save the high score tables, so I've got a pretty good high score on that." Sure enough, "BEN" currently sits at the top of the Robotron 2084 table with 106075 (more than double the second place score of 52127). Will it still be standing after five months? Wannabe Game Masters: the gauntlet has been thrown down.