Sony explains PS4 digital game pricing
With Knack and Killzone £53 from the PlayStation Store, why download?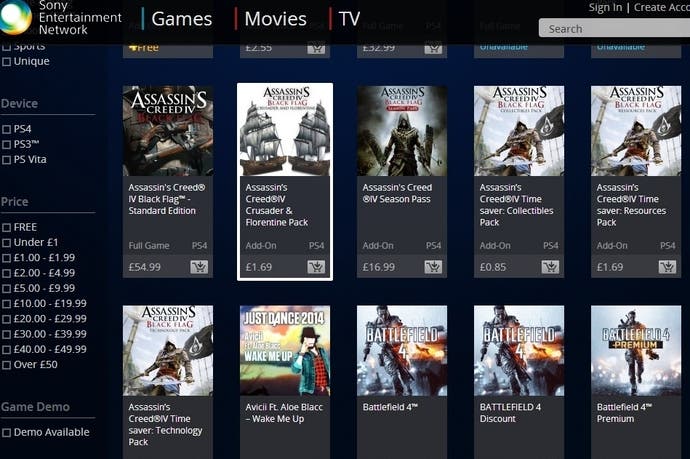 Yesterday Sony finalised its PS4 launch lineup of games and their prices from the new PS4 Store - raising eyebrows in the process.
A number of prospective PS4 owners were disappointed to see exclusives Killzone Shadow Fall and Knack for sale at £52.99 - a price higher than the disc versions from the high street and online shops. On Amazon, for example, Killzone is £48.
Given how hard both Sony and Microsoft are pushing the digital future of console gaming, and how cheap some games are on PC digital stores such as Steam, many had hoped for at least parity with the high street from next-gen.
As Eurogamer reader Old Books put it: "There is just no excuse for digital games being this expensive. This is why this method of delivery has so many cheerleaders in the industry; they just want to rip everyone off. Why should these games be £20.00 more than on Steam and the like?"
And when we compare PS4 first-party digital prices to their equivalent Xbox One games, Sony comes in more expensive. Where Killzone and Knack are £52.99, Xbox One exclusives Ryse, Dead Rising 3 and Forza 5 are £44.99 from the Xbox One Games Store.
So, what's going on? We put Eurogamer readers' complaints to Fergal Gara, who runs PlayStation in the UK. He told us that the launch pricing of games on the PlayStation Store was affected by Sony's desire to keep shops on-side during the crucial console launch period.
"Digital pricing is an interesting question to raise," he replied.
"First of all, we want to support a healthy retail channel, so it's not in our interest to go and seriously undermine retail."
Gara added that shops often price games lower than RRP in an effort to attract your business - more aggressively in the UK than in other countries.
"Let's not forget the UK is probably the most competitive retail space there is in the world. So when it comes to any recommended retail prices they will frequently choose to price significantly below them.
"You mentioned Amazon as an example. Amazon control their own pricing. We don't set the pricing. So if they decide on some crazy low prices they'd like to charge their customers, that doesn't mean it's appropriate for the PlayStation Store to match or follow that price. These are effectively all independent retailers."
Despite this, Gara expects digital pricing to lower after the launch of the PS4 to something approaching parity with high street prices.
"Will there be a settling down and an alignment, and where would we expect digital pricing to be? We'd hope it would be roughly equivalent to street pricing for the disc. That's where we expect the dust to settle over time," he said.
Sony's games aren't the only ones priced higher on the Store than in shops. EA's games, such as FIFA 14, are £55, as are the likes of Assassin's Creed 4, although it should be noted those prices are the same on the PS4 and Xbox One digital stores.
Both Sony and Microsoft do not set the price of third-party games on their digital stores, but they do control factors that affect it, such as currency conversion.
"In respect to third-party content, obviously we're only part of the pricing equation, and the PlayStation Store is only part of the pricing equation," Gara said. "And the publisher has a big say particularly about the price they offer it to us at. So I can't be drawn into comment on that."
So, what's to be done? Gara told Eurogamer Sony was "listening to the feedback" on digital pricing, and reiterated his belief that prices will go down after the PS4 launches as Sony strives to strike the right balance between digital and physical.
"Buying full games digitally is still a relatively new thing," he said. "Buying DLC and add-ons is already a significant business. So I think we'll find the right level that allows retail to coexist, selling discs and giving a great high street presence for our games, but also the digital option to coexist alongside it.
"But I would expect under normal circumstances that digital pricing for first-party titles will be in and around the street price you would expect to pay for the disc."
Talking more broadly, Gara said with the PS4 Sony would try to offer a variety of games with a variety of price points.
He pointed to indie games, such as Resogun, and free-to-play games, such as DC Universe, as an alternative to £50 games.
"The digital space is where we're introducing a swathe of titles right now, and a further stream of them to come. The indie sector is opening up and coming to PlayStation, which means price points are all about £50 or nothing. There are many price points in between, from free-to-play to the £10-15-20 type price points for maybe shorter experiences, but nonetheless, very affordable experiences."