Sci-fi thriller Observation and The Messenger lead latest Xbox Game Pass additions
Plus Night Call and Streets of Rogue.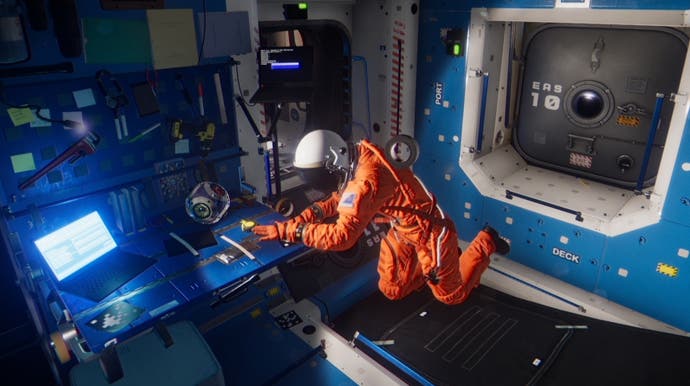 Microsoft has unveiled its latest Xbox One and PC Game Pass additions, and while there's not much in the way of blockbuster offerings to be seen, there are some enormously enjoyable indie treats, including The Messenger and sci-fi narrative adventure Observation.
First on the list, and for Xbox One, is Night Call, which arrives today, 24th June. It's an unusual noir-inspired narrative adventure which unfolds entirely within the confines of a taxi. You're the driver, tasked - alongside making your regular living by driving around Paris - with catching a killer, putting the pieces together through conversations with passengers. Eurogamer's Christian Donlan loved Night Call when he reviewed it last year.
Next up, and coming to console and PC on 25th June, is Observation. It's a sci-fi thriller - very much in the wandering and probing template - from Stories Untold developer No Code, that follows the story of scientist Dr. Emma Fisher, who finds herself on a crewless spaceship far from Earth with no company aside from the ship's AI. In an unusual turn, it's the latter that players control, fiddling around with the station's cameras and control systems to progress the mystery. This one got the Eurogamer thumbs-up too.
Also coming to Xbox One Game Pass on 25th June is developer Sabotage's wonderful Ninja-Gaiden-inspired retro platformer (with a twist!), The Messenger. It's new to Xbox One - PC and Switch versions released back in 2018 - and it's worth the wait. It serves up a tightly designed, and surprisingly funny, platform adventure - supported by a wonderfully fluid move set - that begins as a linear series of 8-bit inspired challenges (complete with appropriate audio and visual presentation) before evolving into something...a little more modern.
Game Pass' final latest offering, Streets of Rogue, also arrives on 25th June and is for Xbox One only. It's an extremely silly top-down rogue-lite action game, set in a randomly generated city, which invites players to complete objectives by fighting, sneaking, and hacking their way to their goal. It's not one that Eurogamer has given the review treatment to previously, but it's got an Overwhelmingly Positive user rating on Steam, which sounds promising.
So to recap then, here's your lot:
24th June
25th June
Observation (Xbox One and PC)
The Messenger (Xbox One)
Streets of Rogue (Xbox One)