Riot formally commits to tackling toxic behavior in Valorant
"I can't solve society."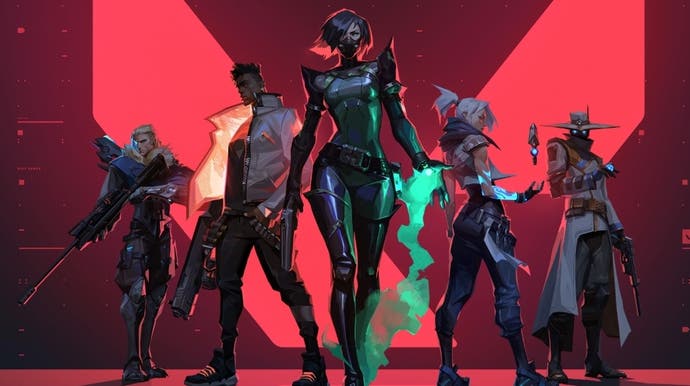 Last month, several Valorant devs came forward to report experiencing sexist harassment within their own game - and after some promises were made on Twitter, Riot has now formalised its commitment to tackling the problem.
In a blog post on Riot's website, Valorant executive producer Anna Donlon explained that player behaviour remains a priority for the Valorant team.
"I replied to a colleague's tweet last month about my fears of solo-queuing, a problem I've had for many years of multiplayer gaming," Donlon said. "We've learned to mute others who are harassing us. We've learned to mute ourselves in order to keep the peace. And as a result, we have a competitive experience that can feel compromised.
"I worry that if we (Riot) don't make a larger commitment here, we'll end up following up with very little, or we'll stop at providing 'tools' to self-isolate, rather than promoting a fair, competitive experience for everyone. So I'm going to make that commitment."
Gross, this is creepy as hell. This is why I can't solo. I'm so sorry. We're absolutely looking into long-term solutions for making it safe to play VALORANT - even solo queue!

— Anna Donlon (@RiotSuperCakes) April 24, 2020
Donlon noted that Valorant already has some features designed to allow non-verbal communications, including "agents calling out when they see enemies with the spike" and a ping system. Yet she felt more could be done to improve the experience of those using voice chat, starting with publishing a code of conduct.
"...[this] might not sound like much, but sets our baseline expectations for how we can build (and yes, punish) this community together," Donlon explained.
"This is a very hard space to take on. I can't solve society, and some of these issues are really, really deeply entrenched. But what I can say is that Riot takes this seriously - it's why we established a dedicated 'Central Player Dynamics' team to tackle the science and research of what promotes fair teamplay (it's not always punishments!) and it's why we formed the Fair Play Alliance with our partners in the gaming space."
The code of conduct seems to be the only new measure Riot is ready to announce as of yet, but the company has promised to keep players in the loop when it has more to show. Valorant game director Joe Ziegler previously told Eurogamer Riot was "definitely trying to get ahead" of the sort of toxicity seen in League of Legends, but given the closed beta is already experiencing issues and Riot is yet to detail any further measures, it's already feeling like the team has some catching up to do.
Outside of Valorant, Riot recently published a report showing its year of diversity and inclusivity efforts has resulted in a one per cent increase in the number of women employed at Riot worldwide, along with a one per cent increase in underrepresented minorities at Riot US (via GamesIndustry.biz). Efforts had included changes to the hiring process, and improving conduct amongst employees, which Riot explained was a "foundational year" in the process - while acknowledging there was more work to be done.
The initiative began after a report by Kotaku found serious problems with sexism in Riot's workplace culture, which also led to an ongoing class action lawsuit against the company.