Reveal the Deep is atmospheric, scary, and only 52 pence
You are not alone down there.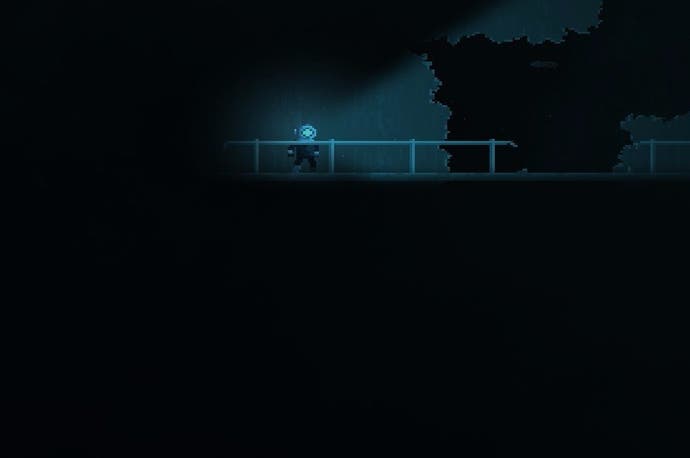 52 pence bought me a morning exploring a sunken liner - a steamship that went to the bottom of the ocean in 1901, and took various weird and ghastly secrets with it. 52 pence is the sales price, I gather, but even when it's back up to full whack at 79 pence, Reveal the deep is still going to be a bit of a bargain.
This is all about exploration, storytelling, and atmosphere. You're a diver, faceplate glowing inscrutably, picking amongst the waterlogged remains of a vast boat. You're trapped in a world of dark blues and greys, and the only thing you have for company, aside from an ever-present cloud of bubbles rising from your gear, is a headlamp.
You can turn the headlamp off, which you would never really want to do in such a predicament, and here is where things get weird. With the lamp off, certain parts of the ruined vessel are suddenly restored: old diaries and letters can be read, simple block-puzzles can be solved, and a narrative starts to form, hinting at dark deeds and a lingering menace.
This isn't really about the puzzles, of course. It's about the economy: the ease with which a simple graphical style, a floaty jump, and just the right kinds of creaking, groaning sound effects can take you somewhere odd and frightening. Reveal the Deep is genuinely frightening, in fact, so oppressive and gloomy that I couldn't make it to the end. No matter. I made it far enough. An excellent return on my 52 pence investment.