PS Now UK beta rental prices are pretty high
UPDATE: Sony listening to feedback, says final pricing yet to be decided.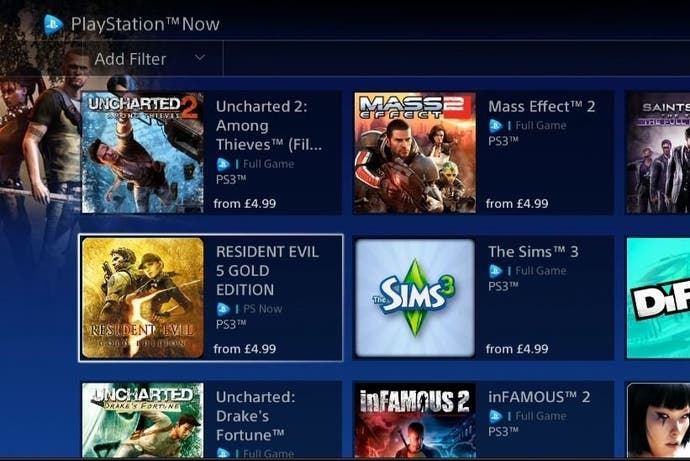 UPDATE: Sony has told Eurogamer user feedback will help shape pricing when it comes to PS Now, currently in beta.
"During the paid private beta the titles will be priced between £2.99 and £9.99," a spokesperson for Sony Computer Entertainment Europe said.
"Final pricing for when PS Now fully launches has not been confirmed yet but we'll continue to listen to gamer feedback on this subject.
"PS Now is an evolving service and user feedback will be a key part of our service design decisions, including content and pricing."
ORIGINAL STORY: PlayStation Now's UK beta has gone into paid rental mode, users tell Eurogamer, and the video game rental prices are pretty expensive.
There are two options available:
£4.99 for two days or £9.99 for 30 days.
£2.99 for two days or £7.99 for 30 days.
The first pricing model relates to PS3 games. The second relates to PSN games.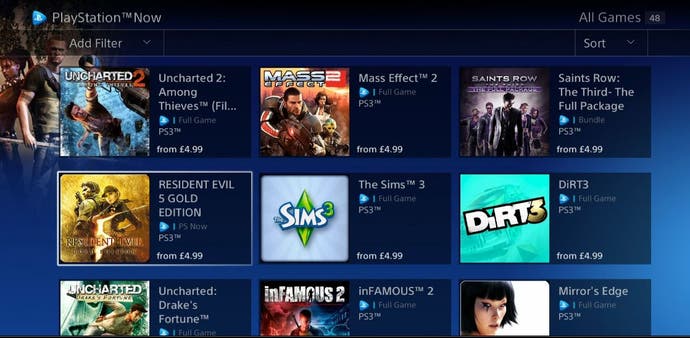 Take, for example, the five year old Resident Evil 5 Gold Edition. It costs a fiver to rent for two days, or a tenner to rent for 30 days.
By way of comparison, CEX is selling Resident Evil 5 Gold Edition for £4.
PlayStation Now is Sony's game streaming service. It lets you play PS3 games on PS4 using Gaikai's cloud gaming technology.
It may be the case that Sony is testing the waters with these prices, and it's important to note that Sony said, when it announced the UK beta would begin in the spring, that it would test rental periods and pricing models. We've asked Sony for comment.
Games currently available include Uncharted 2, Mass Effect 2, Saints Row: The Third, The Sims 3, Dirt 3, inFamous 2 and Mirror's Edge.
There's no news yet on a monthly subscription.