Pre-order Zelda: A Link Between Worlds, get a musical chest
UPDATE: Now part of Collector's Edition with Link's Awakening DX code. 3DS XL Bundle confirmed for the US.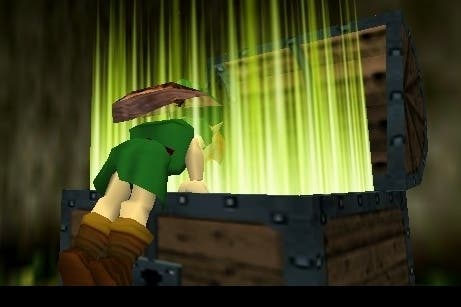 UPDATE #3: The Zelda: A Link Between Worlds 3DS XL bundle is coming to the US. Previously it had only been announced for Europe.
The bundle - which contains a golden tri-force cover and A Link Between Worlds pre-loaded onto the console - was leaked in a GameStop Black Friday ad via BFAds.net. It's priced at $219.99.
GameStop later confirmed to Polygon that the ad is in fact legit.
UPDATE #2: GAME has announced a Collector's Edition version of Zelda: A Link Between Worlds with the musical treasure chest item previously named as a pre-order bonus.
Available for £49.99, the pack will also contain an artwork poster and digital code for the excellent Game Boy Color adventure Zelda: Link's Awakening DX, probably the finest handheld entry in the series.
We still haven't heard a reason for GAME's confusion over the chest item, but its inclusion in the Collector's Edition now means that UK Zelda fans will now be able to nab it after all.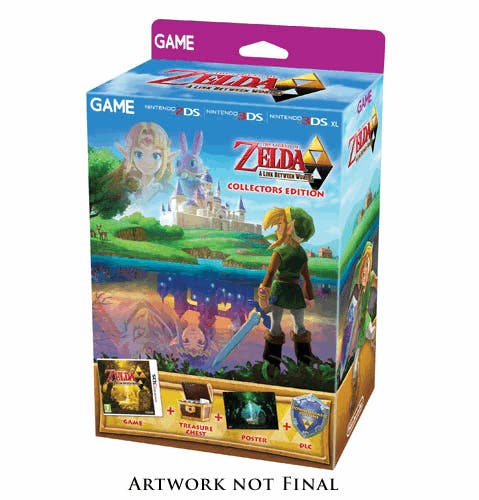 UPDATE: UK retailer GAME has said it will not stock the previously-announced Zelda: A Link Between Worlds pre-order bonus.
In an odd turn of events, the chain has admitted via its official Twitter that the musical treasure chest item revealed yesterday will not be available.
"You may have seen last night @NintendoUK tweeted about a pre-order chest item for The Legend of Zelda: A Link Between Worlds," GAME wrote. "We have no pre-order bonus to announce but BUT you can be sure we're working with Din, Nayru & Farore to bring you something special..."
Din, Nayru and Farore being goddesses within the Zelda series, of course. The retailer continued: "Until then, feast your eyes on this special LoZ: A Link Between Worlds #3DSXL available to pre-order tomorrow!"
We've reached out to Nintendo UK to find out what went wrong - and whether there'll be any other way to get hold of the Zelda treasure chest loot. The company's original announcement of the offer is still online.
ORIGINAL STORY: Upcoming 3DS adventure The Legend of Zelda: A Link Between Worlds has a very special pre-order bonus at participating stores - a musical treasure chest.
"Ta-da-da-daaa! Pre-order The Legend of #Zelda: A Link Between Worlds @GAMEdigital to get this exclusive item," Nintendo UK announced via its official Twitter account.
Opening the knick-knack will play the series' famous chest-opening tune, as demonstrated below in a special video starring Zelda director Eiji Aonuma and company boss Satoru Iwata.
It's the latest GAME-exclusive bonus for a Nintendo title - the retailer stocked a special edition Ganon figurine for launch with Zelda: Wind Waker HD and before that Animal Crossing figures to tie in with 3DS entry New Leaf.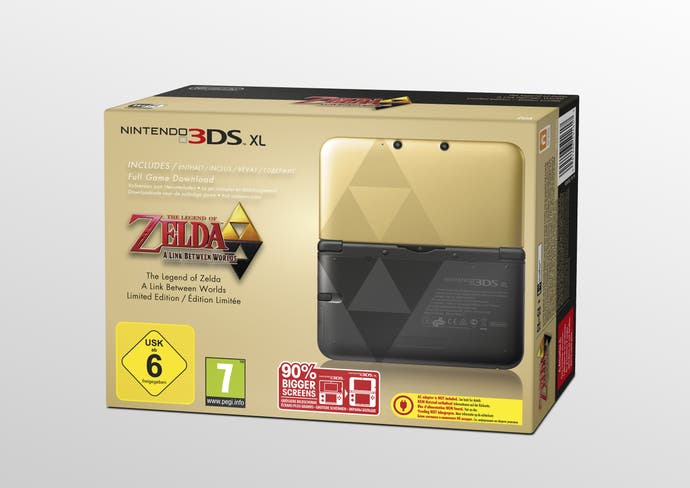 Nintendo has also announced a limited edition Link Between Worlds-themed 3DS XL console, which will come with the game pre-loaded. It'll have a gold design on the top shell and inside, with a Triforce logo on the rear.
Due to launch on 22nd November, A Link Between Worlds will act as a sequel to SNES classic A Link to the Past, featuring the same Hyrule overworld but with new dungeons.
A second "dark world" named Lorule will also be included to explore, as revealed in a trailer last week.