Pokémon Let's Go trailer shows off PoGo integration, legendary battles, mini-games
Brave mew world.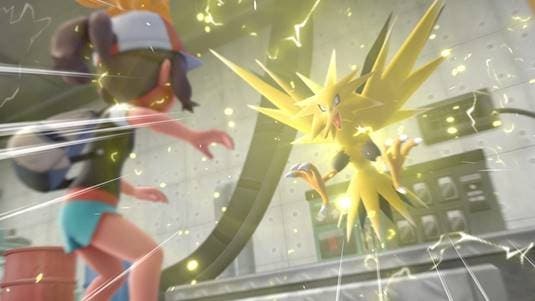 It's only a few months until Pokémon Let's Go Pikachu and Eevee come to Switch, and today we got another peek(achu) at the games.
One of the main selling points of Let's Go is players will be able to transfer their Pokémon from Pokémon Go into the new games. These Pokémon will be kept in Go Parks, and according to the press release, there will be 20 of these parks within a larger Go Park complex outside Fuchsia City (site of the Safari Zone in the original games). Each Go Park can hold 50 Pokémon, meaning you can hold up to 1000 PoGo critters in Let's Go at any one time.
But it won't be as simple as an old-school migration. In a Q&A with Junichi Masuda, the director confirmed PoGo Pokémon will not "go straight into your collection" and will need to be caught within the complex.
The only Pokémon you won't be able to catch immediately are legendaries. These aren't going down without a fight - quite literally, as you will need to battle them before capturing. Sounds like we'll have our work cut out for us.
Although there's a hard limit on the total number of PoGo Pokémon that Let's Go can contain, the source of these Pokémon appears to be more flexible. The press release states there is "no limit to the number of Pokémon Go accounts that can be tied to a single save file, so you can receive Pokémon from your friends and family too". I guess that also works if you're a hardcore PoGo player with multiple accounts (not naming any names).
When you collect 25 of the same Pokémon in a Go Park, you'll be able to play a special mini-game to collect more candies. Just look at the video of someone attempting to herd those Pikachus. I wonder what a group of Pikachus is called. A gaggle? A swarm? Someone help me out here.
Anyway, as detailed previously, the candies will allow players to raise specific stats such as speed and defense - kind of like vitamins in the old mainline games. If you want a strong Pokémon team, you'd better practise your Pikachu-herding skills ready for the release on November 16th.