Peter Jackson's AR company reveals its first game demo
The future of tabletop gaming.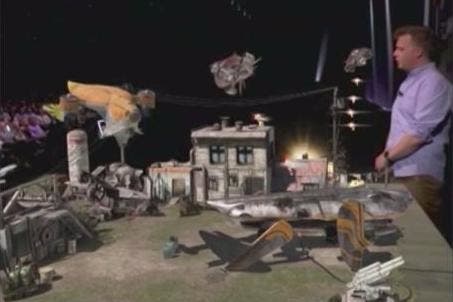 Lord of the Rings and King Kong director Peter Jackson started up an augmented-reality production company called Wingnut AR and it's now unveiled its first game demo.
Revealed at Apple's Worldwide Developers Conference earlier today, Wingnut's creative director Alasdair Coull demonstrated a game in which you use an iOS device to peak at an augmented-reality western-looking space port set atop a real physical table.
In this brief demo a handful of denizens crowd around a courtyard that operates as an outpost for traders. While supply ships dock on the landing pad, raiders attack and we see the battle from whatever angle we choose to view it at with the iPad.
It's a little unclear what, if anything, is interactive in this scene. Given that it's a presentation, I'd wager not much. But it looks like it could operate as a small-scale strategy game about building defenses.
The game in question was developed in Epic's Unreal Engine 4 using Apple's ARKit.
Wingnut never gave this game a title, or even confirmed that this will be fleshed out into a full commercial app, but Coull stated that the company would release an AR product on the App Store later this year.