VoodooTV FM
Preview - the world's first preview of 3dfx's new digital TV tuner card
3dfx have had a hard time of it over the last year, with repeated delays to their eagerly anticipated VSA-100 3D graphics chip leaving rivals NVIDIA to tidy up with their GeForce series. The company might have taken a knock as the likes of NVIDIA and ATI overtook their technological lead in the PC 3D graphics market, but now they are coming back fighting, and part of their strategy to regain their place as one of the most innovative and successful graphics hardware manufacturers is .. a TV tuner card?!?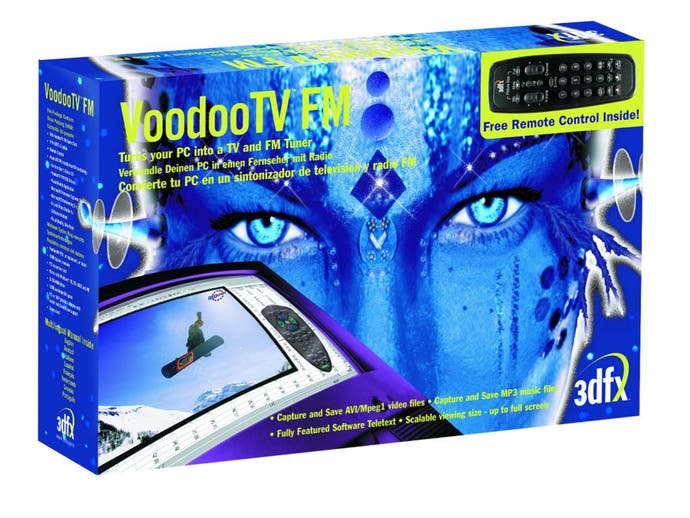 Humming To A Digital Tune
3dfx believe that diversification is an important part of the answer to their current problems, and their first step into the brave new world of multimedia is the "VoodooTV FM", a digital TV tuner which promises to "deliver the most incredible television experience you'll ever have on your PC".
VoodooTV FM is a solid state "tuner-on-a-chip", which should provide clearer pictures and faster channel searches than old fashioned analogue tuners. Certainly it was already looking quietly impressive when we saw it in action at the back of 3dfx's stand at the ECTS computer games trade show in London last month, and playback quality was generally excellent. You can watch TV in both full screen and windowed modes, with full software teletext and support for up to 125 channels, which should be enough even for the Americans.
As the name suggests, the card also includes a built-in FM radio, which is controlled using an on-screen WinAMP-style utility which features full scan and seek functions, as well as support for a suitably large number of preset channels. And because all of this data is transferred through the PCI bus, there are no pass-through cables to worry about. The card also comes with a rather funky and well-built remote control, so you don't even have to touch your mouse or get up off your couch to change channels or adjust the volume. Which is nice...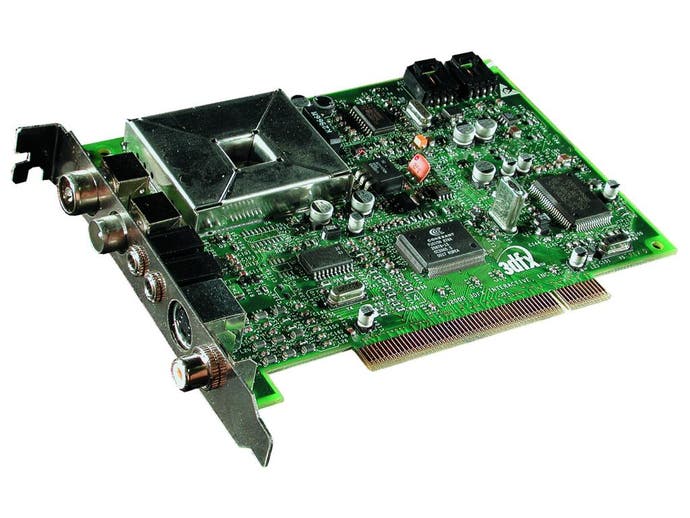 Video Killed The Radio Star
The card also allows your PC to double as a high quality VCR, with a digital capture facility that can record your favourite soap opera, sports event or movie at anything up to a rather futile 768x576 resolution. Of course, you will need a fast and voluminous hard drive to record so much data so quickly, but if you have the hardware to back it up it's certainly a nice option to have.
Another welcome addition is the ability to record your favourite radio shows using the card, taking the sound direct from the FM tuner to produce ready-encoded MP3 files on your hard drive. You can also hook up the card to your camcorder, VCR or other electronic gizmos, with seperate inputs for S-Video, composite video and stereo audio for maximum flexibility. All you home movie fanatics can rejoice, as you can now easily output your latest masterpieces to your hard drive for posterity .. and then use them to torment unsuspecting friends and relatives. Just don't tell my parents about this feature!
The card is expected to cost under $100 in the USA, which should translate to £75 or less in real money. That might not make it the cheapest TV tuner on the market, but given the card's ample features it's certainly competitively priced. And while 3dfx are obviously pitching this as "the perfect companion for your Voodoo graphics card", it will also work perfectly well with any other graphics hardware you happen to have installed.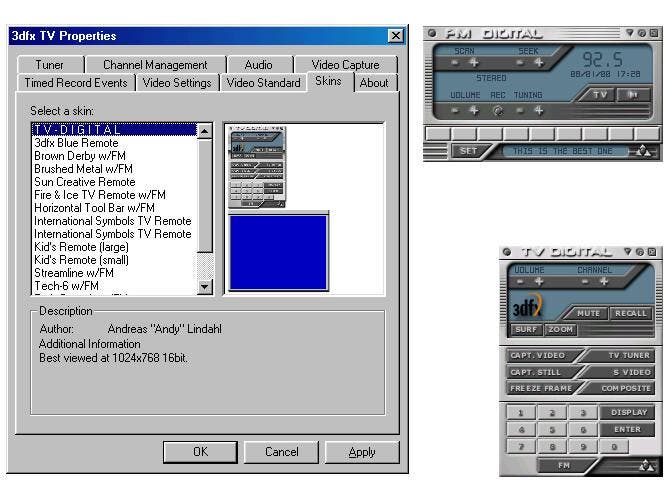 Conclusion
The card's announcement at ECTS last month might have come as something of a surprise for many of us, but 3dfx are no newcomers to the TV tuner market, having included TV capabilities on their popular Voodoo 3 3500 TV graphics card last year.
The VoodooTV FM is certainly looking very promising at this early stage, and it could be just the thing if you're looking to receive and record TV and radio shows on your PC, or to digitise your video collection. And the best part is that the card should be available in plenty of time for Christmas, so start stretching your stockings now...