Athens 2004
Sony unveils exclusive Olympics title.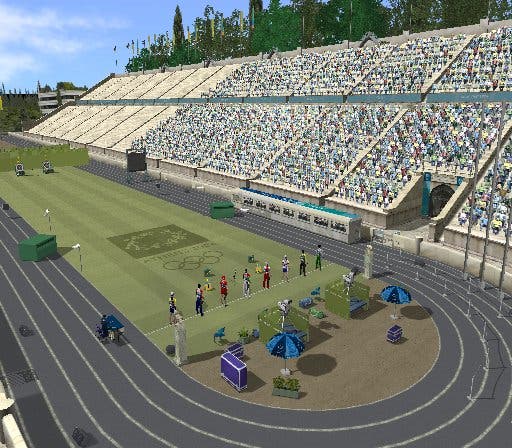 Sony Computer Entertainment Europe has announced plans to publish an official Olympic Games title developed by Eurocom this July, ahead of the famous athletics event's return to Athens this summer. Developed in close partnership with the Athens 2004 Organising Committee and International Sports Multimedia - the exclusive licensee of the International Olympic Committee (IOC) - Athens 2004 will feature all manner of track and field events spread across accurately modelled Olympian venues as up to four players compare the skills of various motion-captured sportsmen and women. What's more, it's a PS2 exclusive.
According to publisher Sony, the seven authentic Olympian venues - Olympic Stadium, the Markpoulo Olympic Shooting Centre, the Olympic Aquatic Centre, the Nikaia Olympic Weightlifting Hall, the Olympic Indoor Hall for Gymnastics, the Markopoulo Olympic Equestrian Centre and the historic Panathinaiko Stadium for Archery - have been recreated using accurate architectural plans and photography, and the first five screenshots certainly do look like they're modelled on the Olympics. We'll get the measuring tape and floor plans out closer to July.
In terms of gameplay, you'll be pleased to hear that Athens 2004 is strictly an Olympic event simulation, and not some crack-addled mascot-based platformer like 16-bit oddity Izzy's Quest for the Olympic Rings. (What, you don't remember Izzy?). As such you can pretty much imagine the various gameplay modes without my help, but for the sake of cave-dwelling types here's what generally happens at the Olympics: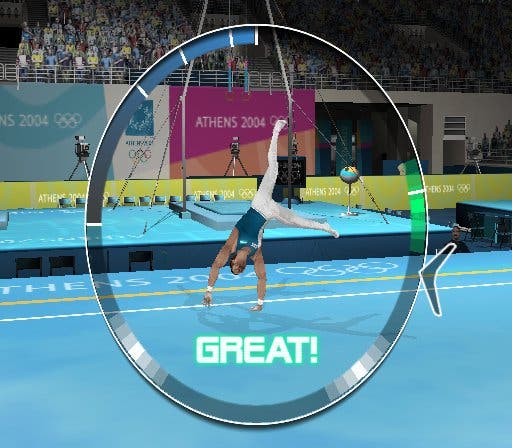 In the pool we have 100m Backstroke, 100m Breaststroke, 100m Butterfly and 100m Freestyle. In the gym we have the Floor Exercise, Rings and Vault tasks. On the track there will be 100m, 200m, 400m, 800m, 1500m, 100m Hurdles and 110m Hurdles events, while on the field we can expect High Jump, Long Jump, Triple Jump, Discus Throw, Hammer Throw, Javelin Throw, Pole Vault and Shot Put, with Archery, Equestrian, Weightlifting (Clean & Jerk) slotting in somewhere abouts and the Heptathlon and Decathlon straddling both track and field.
Speaking of which, the only question on our lips this morning was simply "How do you control it?" Traditionally track and field based athletics games have relied on the wearying task of mashing buttons more and more frantically, but that's a skill rarely demanded for more than a few seconds by the average game in this day and age. Indeed, although a Sony spokesperson couldn't offer us any more details at this stage, we did get the impression that button mashing is definitely not the order of the day, and there seems to be evidence to support that theory in one of the five screenshots depicting a gymnastics event. What do you reckon this contraption is in aid of, eh?
We wish Eurocom the best of luck with it of course, and we have some ideas if anybody over there is listening? How about mapping an analogue stick to each leg and having the player waggle them alternately to form a running motion? Eh? That's quite good. Or you could have them hammer the triggers alternately and use the analogue sticks to whack nearby runners, or drop oil slicks in their path and stuff. No?
Athens 2004 is due out in July. Expect to hear more about it in the coming months.