Outside Xbox's Best Worst Games of 2013
I can't believe it's not better.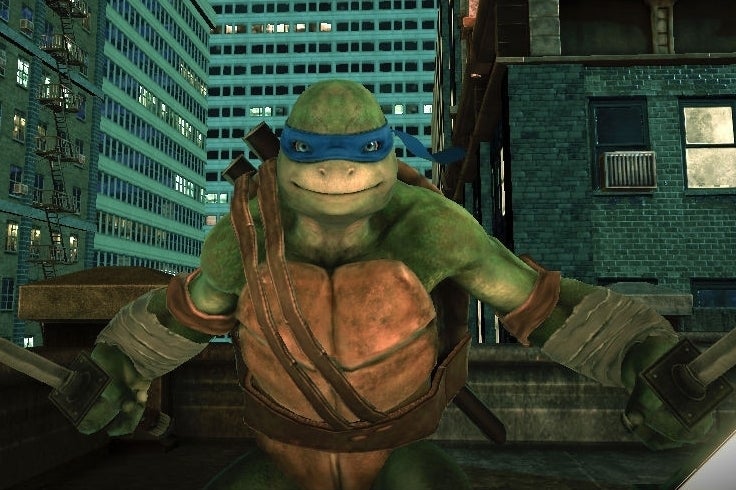 Gather round, Eurogamers. We're kicking into Christmas overdrive here at Outside Xbox with our best worst games of 2013.
These are the Xbox abominations that somehow kept us playing - if not until the closing credits, then until we'd recovered from our astonishment. As with a car wreck, you just can't look away, and that makes you a terrible person.
Teenage Mutant Ninja Turtles: Out of the Shadows on XBLA was marvellously broken. In the video below, Andy falls off a building into a part of the level that's not ready for him yet, embarrassing everyone. There's a cheery rubbishness to the disappearing graffiti and placeholder-looking cutscenes that nearly makes up for seeing the Turtles brought so low.
Road Rash had a better line in race-fights 22 years before Road to Hell: Retribution, but it was Road to Hell's hilariously dreadful love scenes that made it a best worst game. The characters stayed clothed to sex each other up not to spare our blushes, it looks like, but because even they weren't into it. Take a watch and marvel at the improbably ludicrous awfulness.
Stealth-action RPG Dark is a poor man's Vampire: The Masquerade - Bloodlines. It's trying so darn hard to be a sexy vampire game, but protagonist Eric Bane is a hoarse, charmless div. He looks like an anaemic David Blaine. Still, vampires!
That's your lot ahead of Christmas from Outside Xbox, unless you discover us over at outsidexbox.com. Have a good one, Eurogamers!