Monday Night Combat dev starts Kickstarter for RTS Planetary Annihilation
Total Annihilation-inspired successor made by some of the same staff.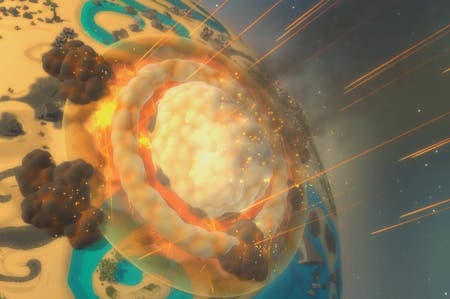 Monday Night Combat developer Uber Entertainment has taken to Kickstarter to fund its Total Annihilation-inspired RTS, Planetary Annihilation.
As of writing this, it's at $212,624 of a $900,000 goal with 29 days on the clock before the 14th September deadline.
The intergalactic RTS seeks to take the core tenets of Total Annihilation and place them on a larger scale where you can "create vast armies with which to annihilate enemy planets, destroy rival systems and win the Galactic War!"
The game will support AI matches, co-op rounds, large scale battles with 40 people and anything in between.
There will also be a level editor and the game will feature procedural worlds brought by the team that developed the rendering engines for Total Annihilation and Supreme Commander.
Planetary Annihilation's creative lead Jon Mavor wrote the graphics engine for Total Annihilation and art director Steve Thompson worked on Cavedog's classic Ron Gilbert-produced RTS as well.
Also returning is voice-actor John Patrick Lowrie who narrated Total Annihilation before moving on to such roles as Sniper in Team Fortress 2 and various citizens in Half-Life 2.
The first 5000 backers will get a copy of the final game on PC or MAC along with an exclusive wallpaper for $15. After that, the same reward will cost $20.
A $40 pledge nets early access to the beta and a digital soundtrack, while $95 gets players a commemorative boxed version of the game, a t-shirt, a digital art book and access to the alpha.
Planetary Annihilation's estimated release date is July 2013.