Luna: The Shadow Dust review: a charming self-contained puzzler
Great in phases.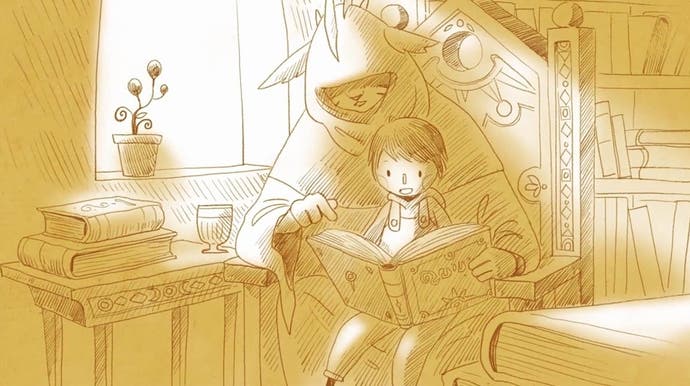 From its winning art to its calming music and puzzle design, Luna has a lot going for itself.
It all begins rather abruptly. Üri, the protagonist of Luna: The Shadow Dust (a game that's not to be confused with Luna, Funomena's 2017 puzzler), a small boy with a hood that makes him look as if he's got bunny ears, falls from a great height. After he's dusted himself off and gotten his bearings, he discovers a large tower, stretching all the way into the sky. The task is clear: let's climb that thing. And that's pretty much all the context you're given. Luna likes to keep it simple. All this point and click puzzler is asking you to do is, well, point and click. You ascend the tower one room per level, and in order to do proceed, you need to open the door leading out of the room, much like finding the solution to an escape room puzzle. As the boy enters from one end of the room, it's always a good idea to find out what's even clickable in order to start out. Some rooms are dominated by large machines, so that you can already tell there will be buttons to press and levers to push. Trial and error is encouraged, and figuring solutions out naturally feels rewarding.
Sometimes trial and error is all you have, though, since Luna is a game that communicates entirely without words. Some of the more intricate puzzles have visual hints hidden somewhere in the room, but since even these are occasionally difficult to work out, all you're left with is clicking around until inspiration strikes.
To be fair, I rarely got completely lost. Most of Luna's puzzles range from simple yet elegant to perhaps a little too easy to solve, but this is coming from someone who's near-exclusively played LucasArts adventure games as a child, which famously feature a lot more counterintuitive puzzles. Many puzzles in Luna are nevertheless classics you will have seen in almost any game - can you really call something a puzzle game if you don't have to put together an image by rotating different discs? - but the simple and too simple generally strike a good balance here. A lot of the simplicity of the puzzles comes from the fact that everything you need is part of the room - if you give yourself a moment to take it all in, you'll quickly work out what's possible and can start working on the solution. To some, the occasional trial and error may become frustrating, but I found it oddly relaxing to find a way to advance even without a central eureka moment that turned everything around.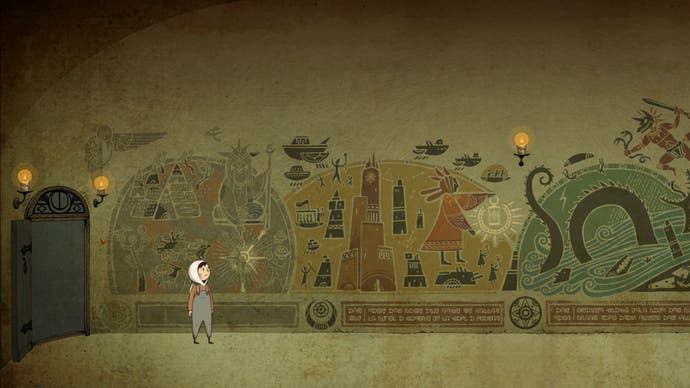 The rooms that really stuck with me, however, featured puzzles that were both clever and visually stunning. Early on you gain a small furry companion to help you with puzzling, and I particularly enjoyed a room in which you play with shadows in order to help him reach a lever. At the same time this puzzle was probably one of the more exasperating, as its success depends on some fast, precise clicking and switching between the boy and the small animal, during which the controls wouldn't always react well, forcing me to run through the entire sequence again.
There is also a puzzle set in a cathedral using giant mosaic windows is a great example for one of Luna's strengths - I enjoyed taking my time to simply look at the detailed environs and marvel at the sparse but effective animations. It's important to recognise that Luna was probably at no point designed to be a hardcore, brainteasing puzzler. It's drawn comparisons with Nomada Studio's GRIS because it's similarly silent and revolves around beautiful 2D art, but I like Luna better, simply because it allows me to relax. Where GRIS tried hard to make me emotional, Luna shows you a homey, slightly magical time. I didn't feel compelled to finish the game by an overarching narrative, but simply due to my own curiosity at what the next room would be offer. That isn't much, but sometimes it's enough.
Of course, this could simply be a glaring flaw of Luna's non-verbal storytelling, since I honestly can't tell you what exactly the game was supposed to be about. Many of its rooms follow the theme of light and shadow, and your overall task seems to be restoring the balance between the two, at least that's what many puzzles and the ending sequence suggest. While I'm usually particular about gaming narratives where applicable, I don't think Luna loses any of its charm by not telling an easily graspable story, not only because at around 4 hours, it doesn't have to be a huge investment, neither of time nor emotion. Instead, what's important is how it makes you feel in the moment.
Like Untitled Goose Game or Knights and Bikes, some of last year's best titles, Luna is one of those short, completely self-contained little experiences you can finish in one sitting and just feel content after. Certainly, it's not as strong in intent and execution as either of these two examples, but there is something to be said for a game that simply shows a lot of heart and manages to make you feel cosy.