Kingdoms of Amalur: Reckoning needed to sell 3 million to break even
"The game failed. The game failed."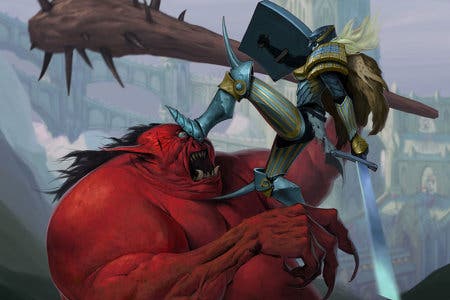 Kingdoms of Amalur: Reckoning apparently needed to sell "in the 3 million range just to break even" - an astronomical ask of a new IP of its status.
The words came from Lincoln Chafee, governor of Rhode Island (the state that provided the loan 38 Studios was founded upon, and now can't pay back), during a press conference last night (reported by Kotaku). That's what "experts" had told Chafee.
Kingdoms of Amalur: Reckoning managed to sell 1.22 million copies in 90 days. 38 Studios boss Curt Schilling revealed the total on Twitter, adding that the game had "outperformed [publisher] EA's expectations". By our reckoning, that puts Reckoning's budget at €50 million ($63 million) or slightly higher. That assumption is based on Ubisoft recently saying that Ghost Recon: Future Soldier, a game with "€50 million on the balance sheet", needed to sell 2.5 to 3 million copies to break even.
The unmet sales expectations explain the sour chain of events that have reportedly ended with all staff at 38 Studios and developer subsidiary Big Huge Games being laid off.
"The game failed. The game failed," said Chafee at the press conference. He now has to explain to residents why a $75 million (£46.6m) loan won't be paid back, costing them around $112 million (£71.44m), collectively, in taxes.
He added: "If the company's not going to be profitable and can't give us the confidence [it can get] on solid footing, then we have to deal with the ramifications.
"Industry experts tell us this is very, very expensive and it's not only the cost of producing the game, but then maintaining it once it's released, and then tens of millions of dollars to market it."
"The game failed. The game failed."

Lincoln Chafee, governor, Rhode Island
His comments refer to Project Copernicus, the Amalur-themed MMO follow-up to Reckoning. (Screenshots from Copernicus leaked yesterday afternoon. Curt Schilling subsequently linked through to the site that spilled them, 38 Watch, and numerous other forum members have appeared, barely concealing that they work(ed) at Big Huge Games or 38 Studios staff.)
Schilling was once a star baseball player, who earned an estimated $114 million throughout his career, according to Bloomberg.
His background explains Lincoln Chafee's Babe Ruth analogy.
Said Chafee: "The Red Sox lost Babe Ruth because the owner invested in a play called No No Nannette. And the play failed and he had to sell Babe Ruth. This is very very similar. The game failed. That was integral to the success of the company."
The 38 Studios case transcends video gaming - politically, this could make or break Chafee's governorship, hence all the press conferences and hoohah.
So, when quizzed why he didn't do anything about the rampant spending at 38 Studios earlier, Chafee replied: "I didn't meddle. If I did meddle there wouldn't be all this violence. All this horrible sexism in games."
Curt Schilling hasn't responded fully to what's going on. On Twitter this morning, he wrote, "Thank you to everyone sending prayers and well wishes to the team and families of 38 Studios."