Jelly Deals roundup: Star Wars Humble Bundle, Deus Ex, Titanfall 2 and more
Wake up, time to buy.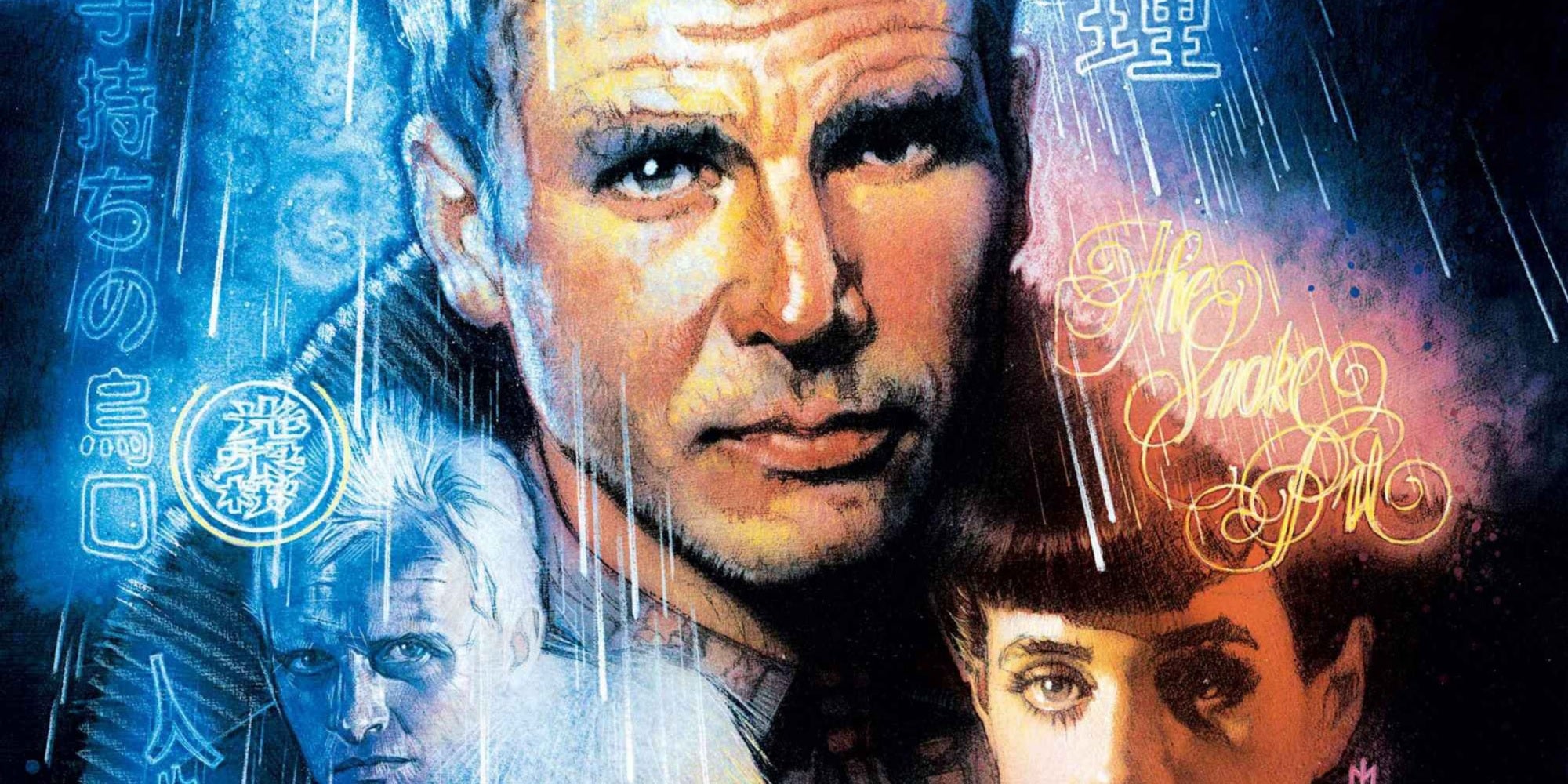 A note from the editor: Jelly Deals is a deals site launched by our parent company, Gamer Network, with a mission to find the best bargains out there. Look out for the Jelly Deals roundup of reduced-price games and kit every Saturday on Eurogamer.
---
Here we are at the end of another long week. Hopefully, this weekend will let most of you catch up on some of the things you've missed out on during the working week: playing video games, improving your solitaire game, marathoning the entire back catalogue of Bruce Campbell movies or growing a challenging but rewarding herb garden, for example.
Whatever you've been up to, we're here once more to check out the best deals of the week when it comes to the world of gaming and tech. We've got a decent amount to look at today, so let's get to it.
As usual, we've got deals that'll work in the UK, deals that'll work in the US and some deals that will work in both the UK and US, as well as presumably many other places.
UK & US Deals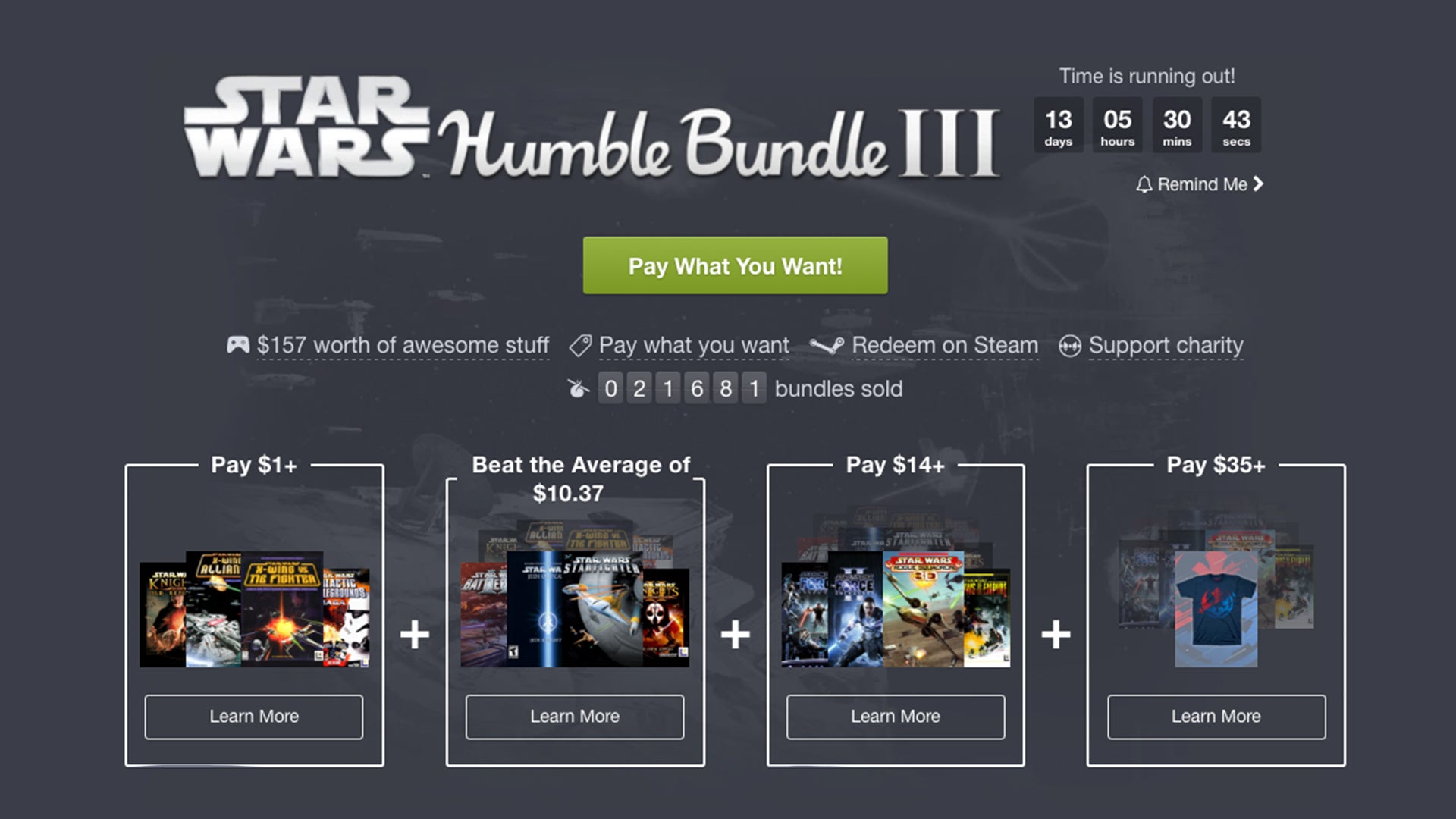 Yet more Humble Bundles! This time, the Star Wars people have gotten together with the Humble people to bring a third instalment to the Star Wars Humble Bundle line. Most excitingly (for some), this bundle features the Steam debut of N64 classic Shadows of the Empire, which I'm sure is definitely as good as I remember it from 20 years ago and won't make me sad at all. Pay enough and you'll even get a fancy T-shirt.
Pay what you want
Star Wars Knights of the Old Republic
Star Wars X-Wing Alliance
Star Wars X-Wing vs. TIE Fighter Balance of the Power Campaigns
Star Wars Galactic Battlegrounds Saga
Pay more than the average
Star Wars Battlefront II
Star Wars Jedi Knight II: Jedi Outcast
Star Wars Starfighter
Star Wars Knights of the Old Republic II: The Sith Lords
Star Wars Rebel Assault I & II
Pay $14 (£11.32) or more
Star Wars The Force Unleashed Ultimate Sith Edition
Star Wars The Force Unleashed II
Star Wars Rogue Squadron 3D
Star Wars Shadows of the Empire
Star wars Empire At War Gold Pack
Pay $35 (£28.30) or more
X-Wing Vs. TIE Fighter T-Shirt
Star Wars Humble Bundle 3 from Humble Bundle
Speaking of Humble, this month's big-deal game that you'll get by signing up to a Humble Monthly subscription is Total War Warhammer. For those not in the know, a Humble Monthly subscription costs £10 / $12 a month and will see you getting a stack of Steam keys for your money each month. This also means it's by far the cheapest way to get a copy of Total War Warhammer. Be quick, though, since the games on offer change each month, as you would expect.
Total War Warhammer on PC (Steam) for £10 / $12 with Humble Monthly
The folks over at Deep Silver have put a whole bunch of their games on sale via Xbox Live right now, which is rather nice of them. For the next few days, you'll be able to save a pretty penny on some of the company's most recent offerings. Here are some highlights.
Catherine is a very, very strange game. It's a relentlessly challenging puzzle game mixed with a soap-opera level drama mixed with a bizarre JRPG. It's baffling, erratic and altogether disorientating. In short, it's absolutely fantastic. The digital Xbox 360 version of the game is currently reduced down to £2.24 (or your local currency equivalent) on Xbox Live. It's also backwards compatible so that version will work just fine on an Xbox One too. Don't have nightmares.
Catherine on Xbox 360 (works on Xbox One) for £2.24 from Xbox Live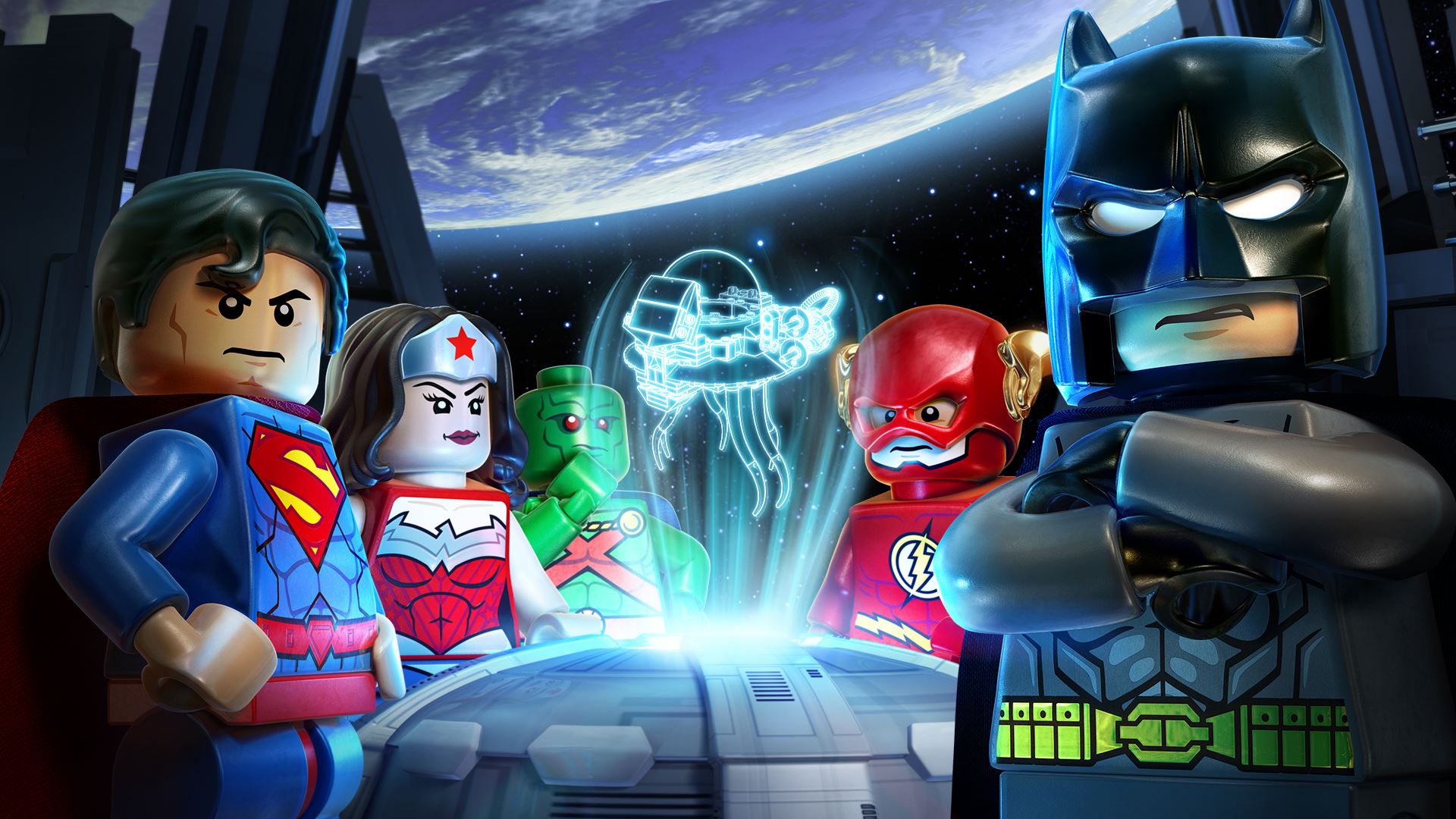 What with that Lego Batman movie out right this very minute (which I hear is quite decent), what better time to indulge yourself with a copy of Lego Batman 3 on PC along with seven (!) DLC packs with extra content, all for £6.69 / $9.99. At that price, it might just be worth it just for Adam West's in-game voice.
LEGO Batman 3 with seven DLC packs on PC (Steam) for £6.69 / $9.99 from Bundle Stars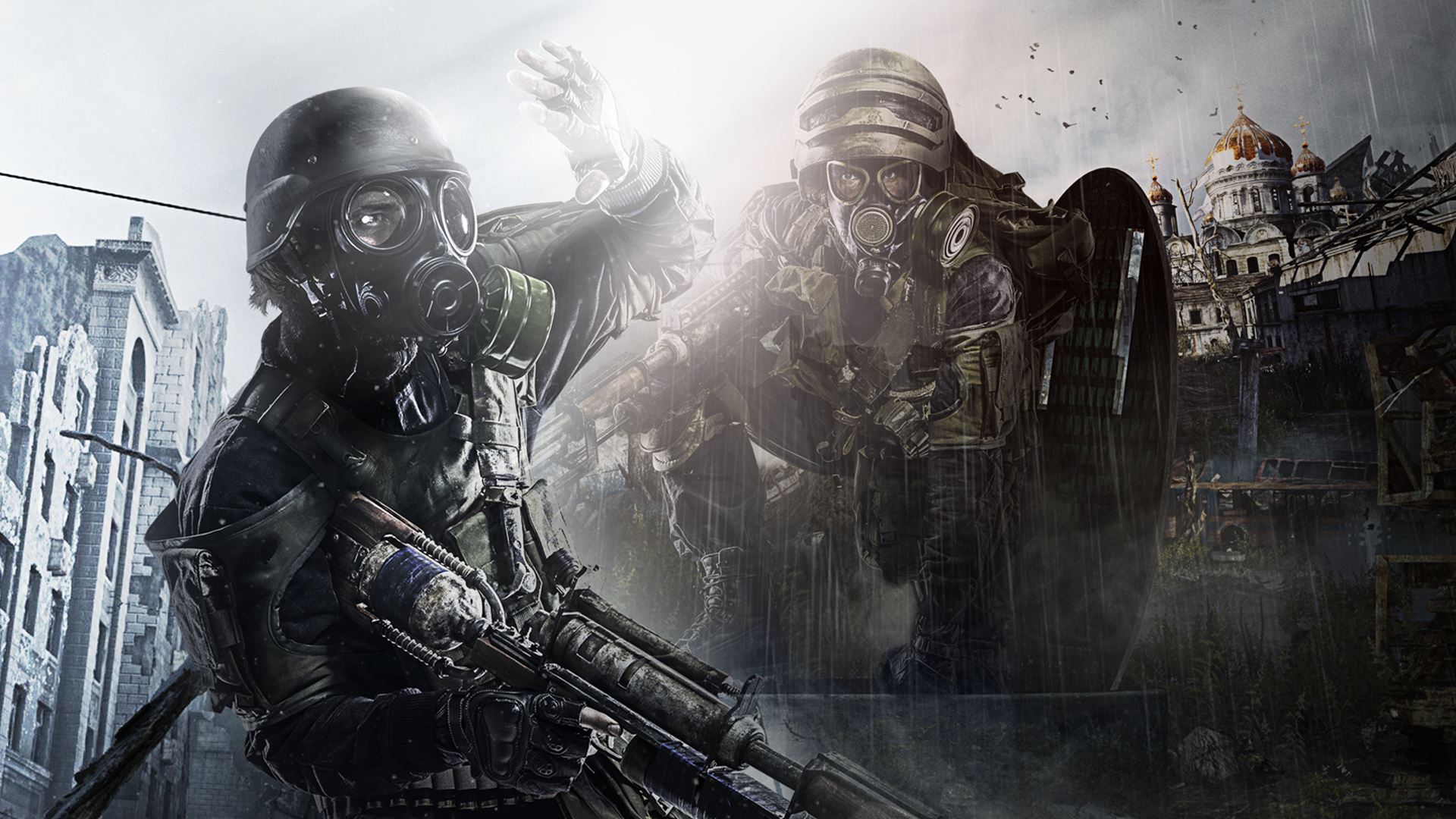 Underground, overground, wombling free. That's what you can be doing right now if you grab a copy of the Metro Redux Bundle on PC from Bundle Stars, where it's currently reduced to £4.99 / $7.99. That's both of the extra bleak post-apocalyptic first-person shooters in the Metro franchise for a super affordable price.
Metro Redux Bundle on PC (Steam) for £4.99 / $7.99 from Bundle Stars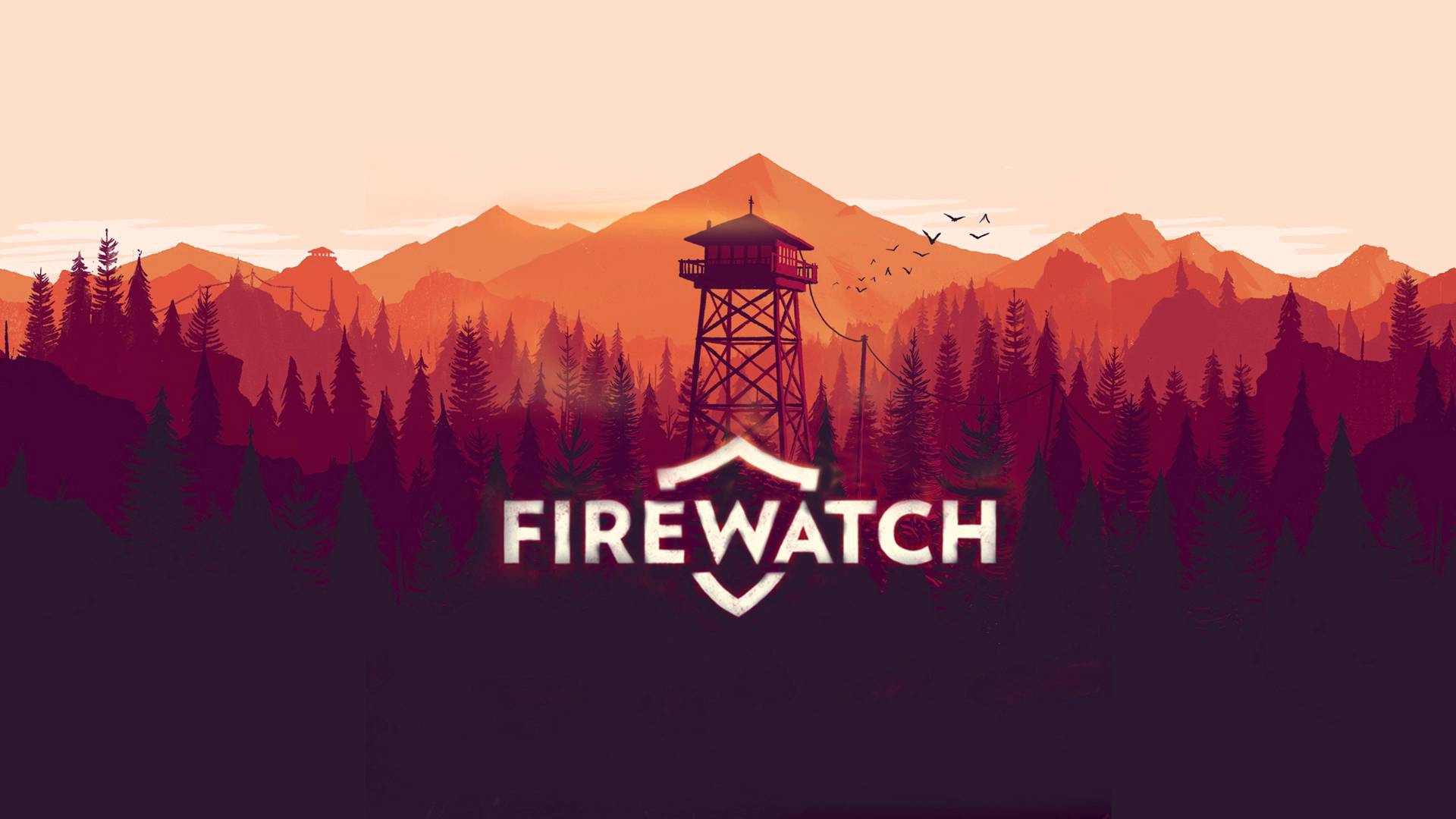 The beautiful, narrative-driven explorathon that is Firewatch is currently celebrating its one-year anniversary. The folks at Campo Santo have decided to commemorate the occasion by cutting the game's price by 50% for a limited time, which incidentally is the cheapest the game has been available for. It's down to £7.49 / $9.99 right now, but be quick.
UK Deals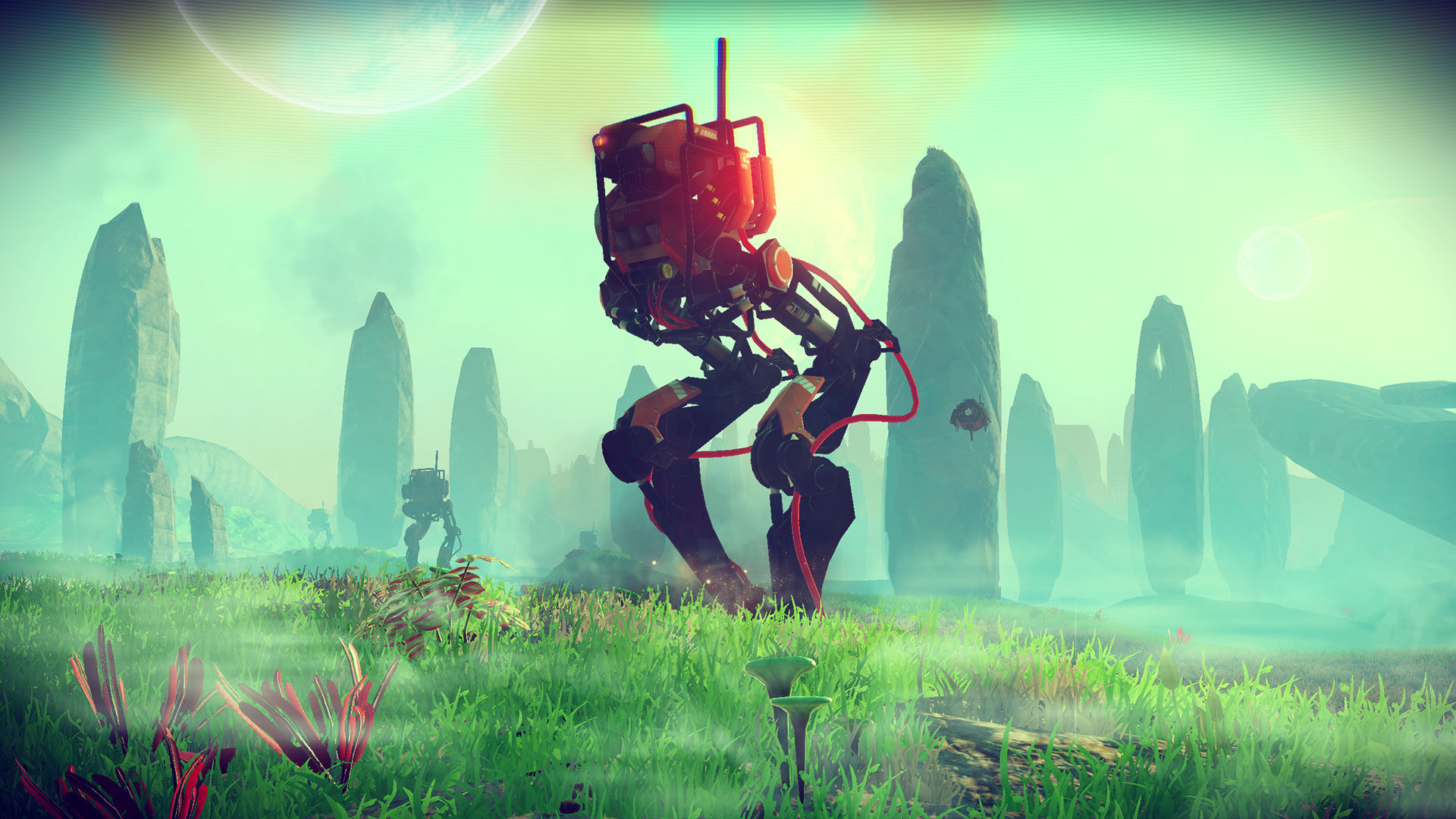 Hey, remember No Man's Sky? Somehow, it's been almost half a year since the release of Hello Games', uh, let's call it "divisive" space exploration game. It's currently down to its cheapest price yet as a PS4 game, costing just £12.99 at Smyths and £14 from Amazon UK.
No Man's Sky on PS4 for £12.99 from Smyths
No Man's Sky on PS4 for £14 from Amazon UK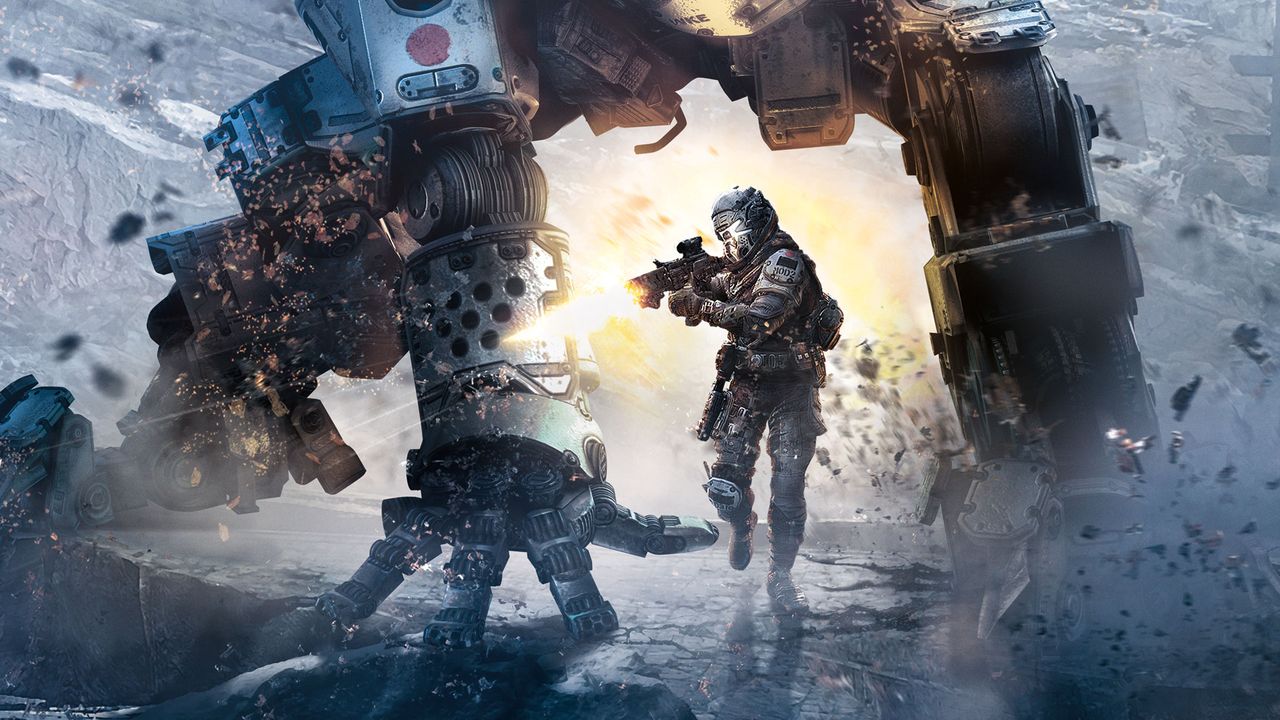 Look, there are only so many times I can tell you that you really, really need to play Titanfall 2. If you were one of the many people not to get this one at launch (for shame) and still haven't picked it up, you can head over to Amazon UK right now and get an Xbox One or PS4 copy for £27.99. On the PC, you'll be paying just shy of £25 for an awkward code-in-box copy.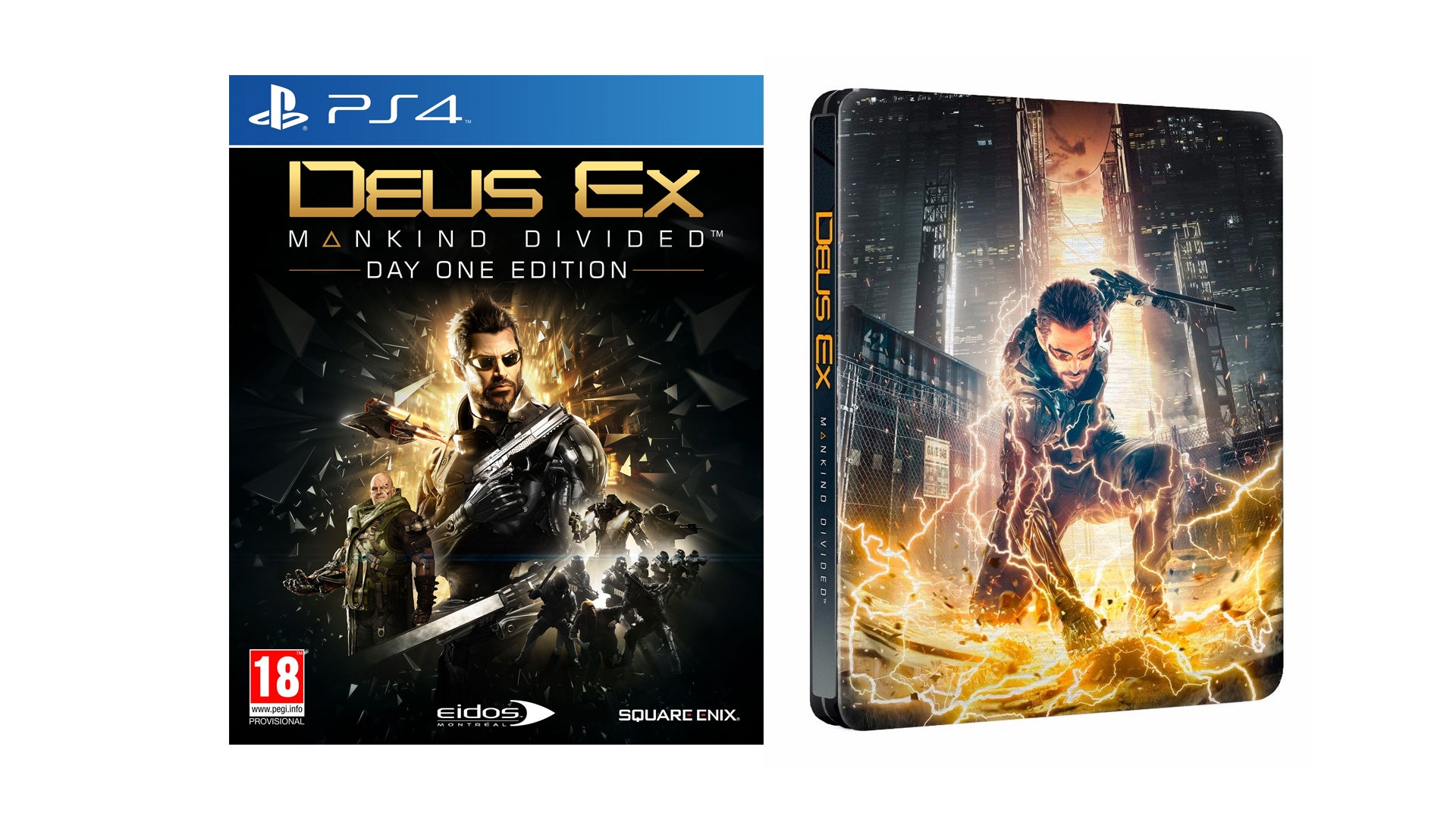 Adam Jensen may not be returning to our screens any time soon, but last year's Deus Ex: Mankind Divided is still out there and if you happen to have missed it on release, you can grab yourself an extra fancy steelbook edition on PS4 for the lowest price yet - £14.85, over at Base.
Deus Ex: Mankind Divided Steelbook Edition on PS4 for £14.85 from Base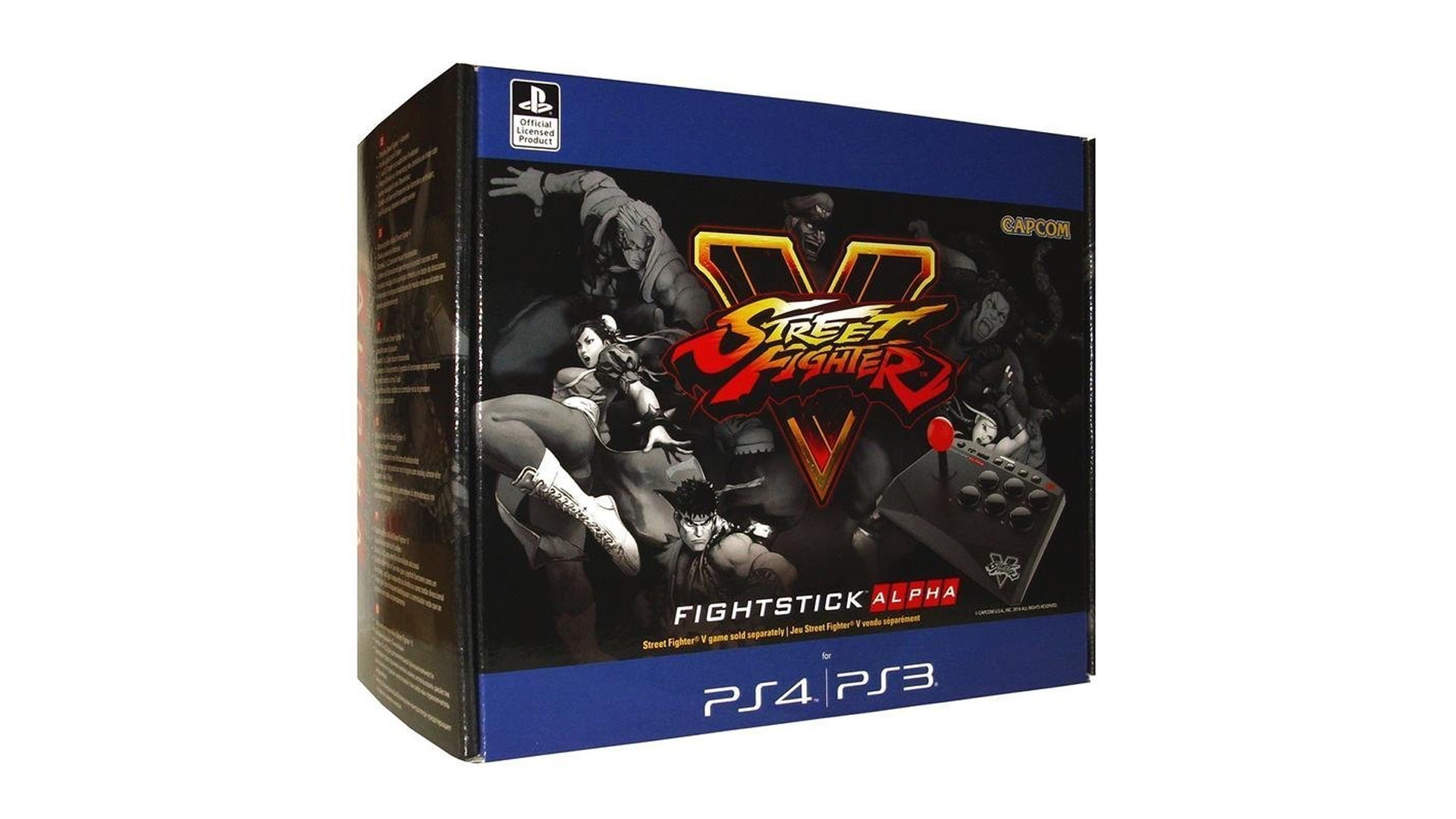 With Street Fighter 5 constantly being tweaked and updated, Injustice 2 coming in May and, the one I'm most looking forward to, Marvel vs. Capcom Infinite showing up in the latter half of the year (fingers crossed), it might not be a bad time to invest in an arcade-style fight stick. I say invest, but really, this Mad Catz FightStick Alpha for PS4 and PS3 is currently reduced to £34.99, so it might not be as much an investment as it would be a nice treat.
Mad Catz Street Fighter 5 FightStick Alpha (PS4/PS3) for £34.99 from Amazon UK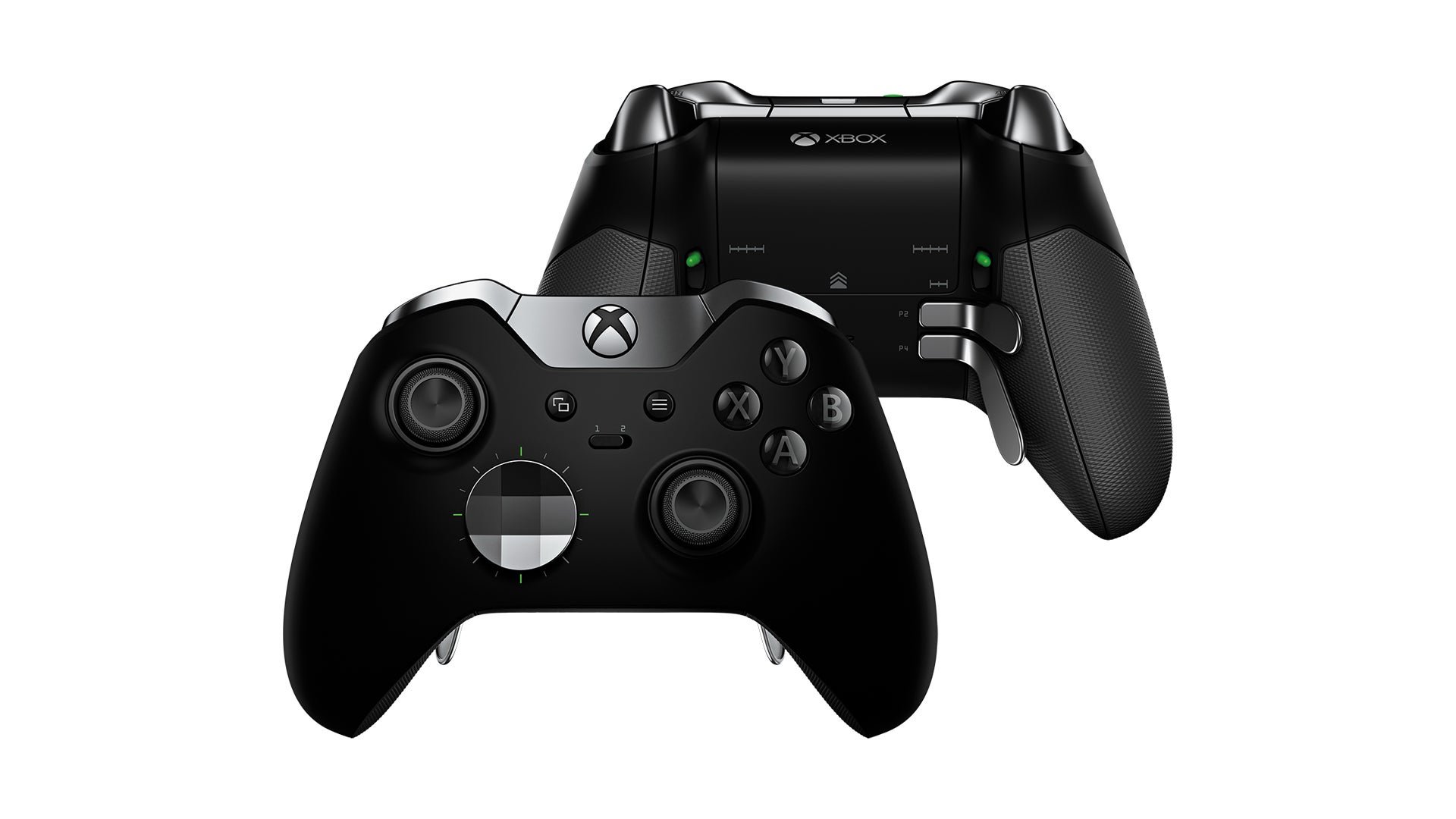 Today, you can get your grubby mitts around an Xbox One Elite Controller for under £85, as long as you don't mind going with a refurbished model. The folks at Home and Garden Ltd have made a bit of a thing of refurbishing Elite controllers and selling them via their eBay store with a 12-month warranty. Not a bad price for one of the best gaming controllers on the market right now.
Refurbished Xbox One Elite Controller for £84.99 from eBay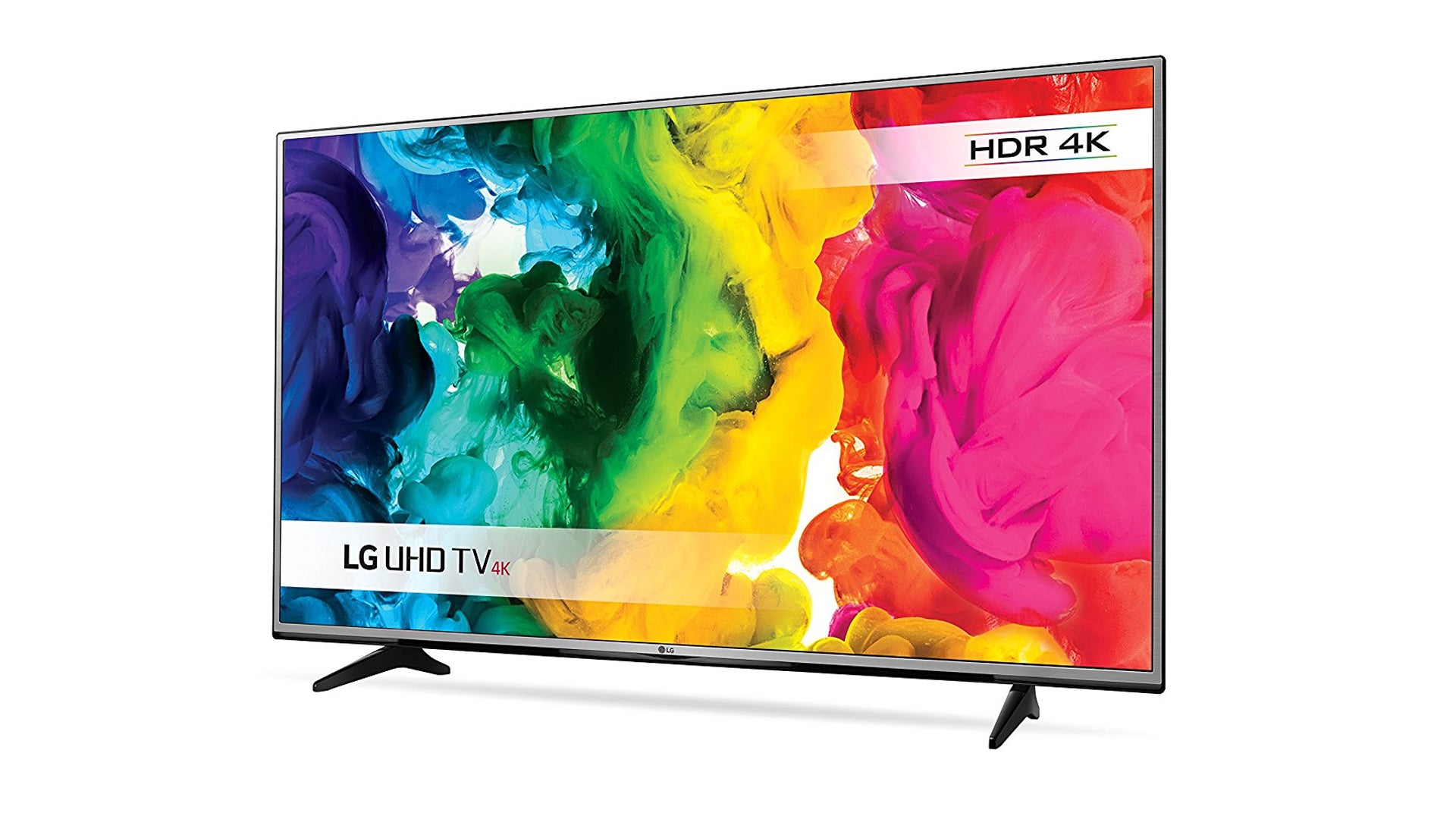 If you're one of the people who has been holding out on picking up a 4K television until the prices came down a little, you might just be in luck. This 55-inch LG 4K smart TV is one of the cheapest ways to get a high-quality 4K TV right now, costing just £550 at the moment. It even features that fancy HDR technology all the kids are talking about these days.
LG 55-inch 4K Smart TV for £550 from Amazon UK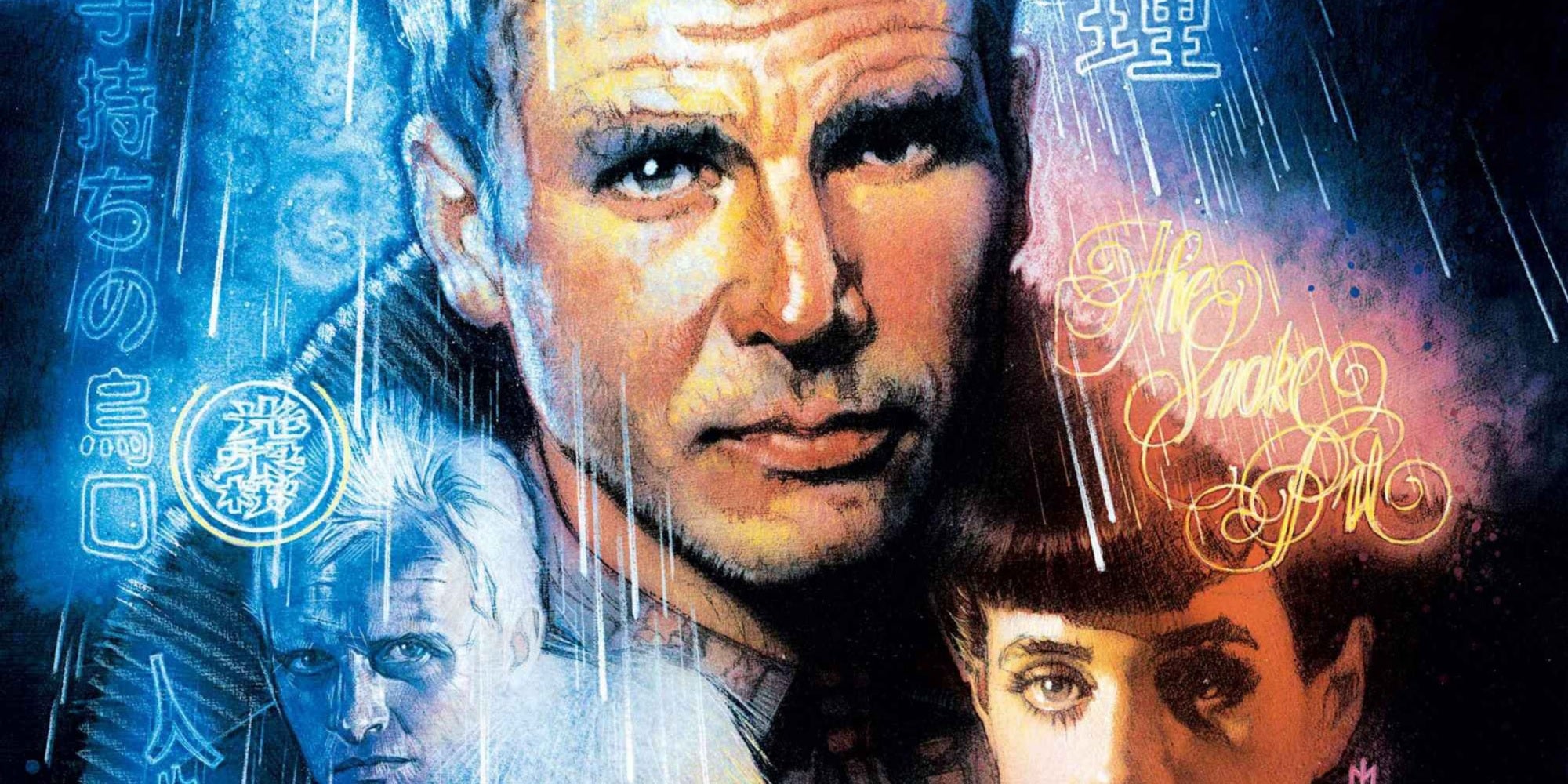 Heads up, movie fans, Amazon UK is currently offering a whole range of movies on blu-ray at massively reduced prices. There's a whole set of them currently priced up at £4.99 including 10 Cloverfield Lane, The Witch, The Big Short and even the Predator Trilogy box set. Plus, that copy of Blade Runner is only £7.99 and frankly, everyone needs to own at least one copy of Blade Runner.
US Deals
Over at Amazon US right now, you can grab yourself a digital copy of Forza Horizon 3 for $39.99. This being a digital copy of an Xbox One Play Anywhere game, this means you'll be getting both the Xbox One and Windows 10 PC versions of the game at the same time, and can play on whichever you please. Neato.
Forza Horizon 3 on PC/Xbox One (Digital) for $39.99 from Amazon US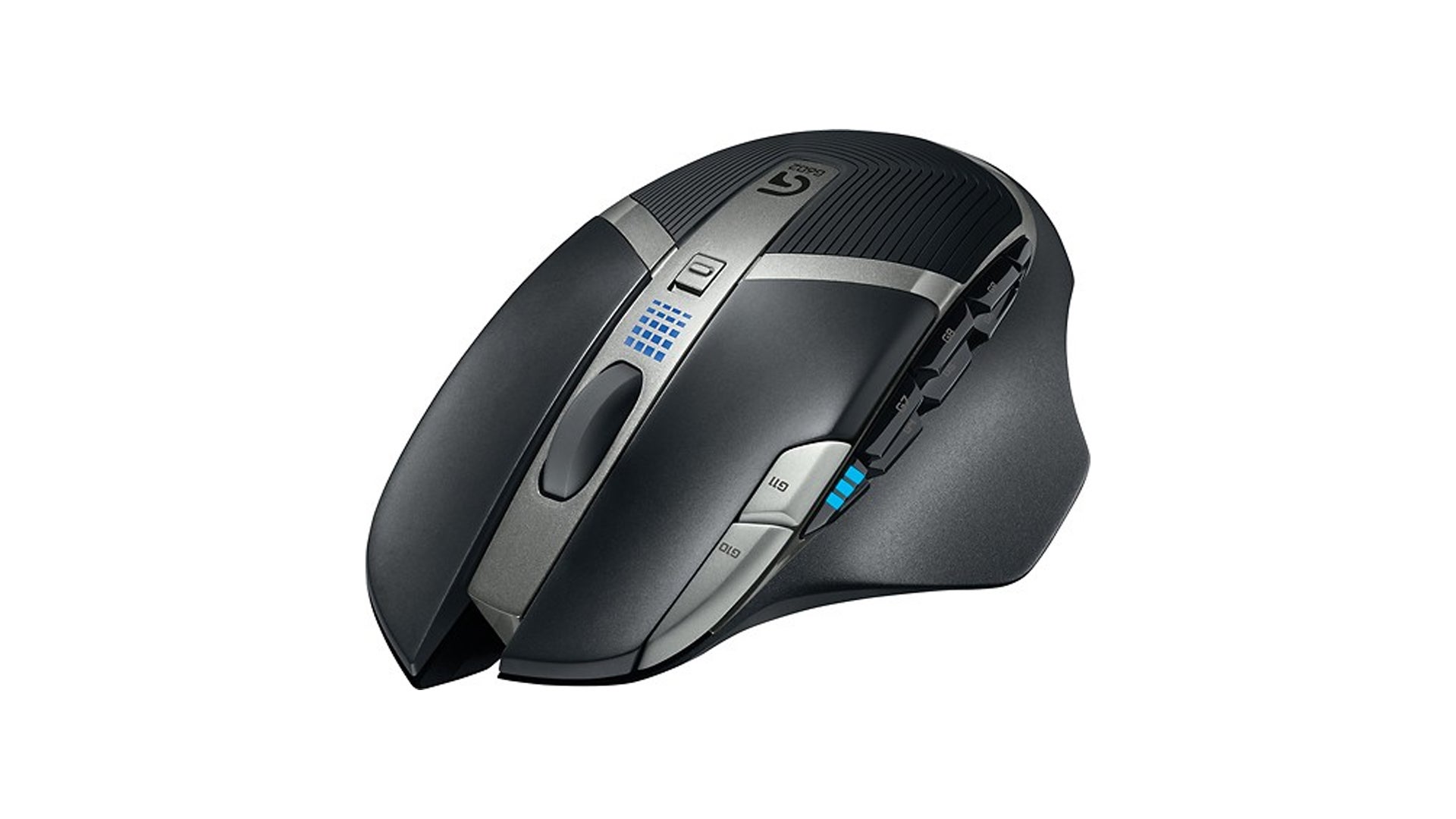 If you've been looking for a new mouse with a bit of a gaming bent, you wouldn't do badly to head over to NewEgg and check out this Logitech G602 which is currently on sale for half price, down to $39.99. It's the type with multiple buttons, far more than any mouse realistically should have (eleven on this model, in fact) as well as precise DPI settings.
Logitech G602 gaming mouse for $39.99 from NewEgg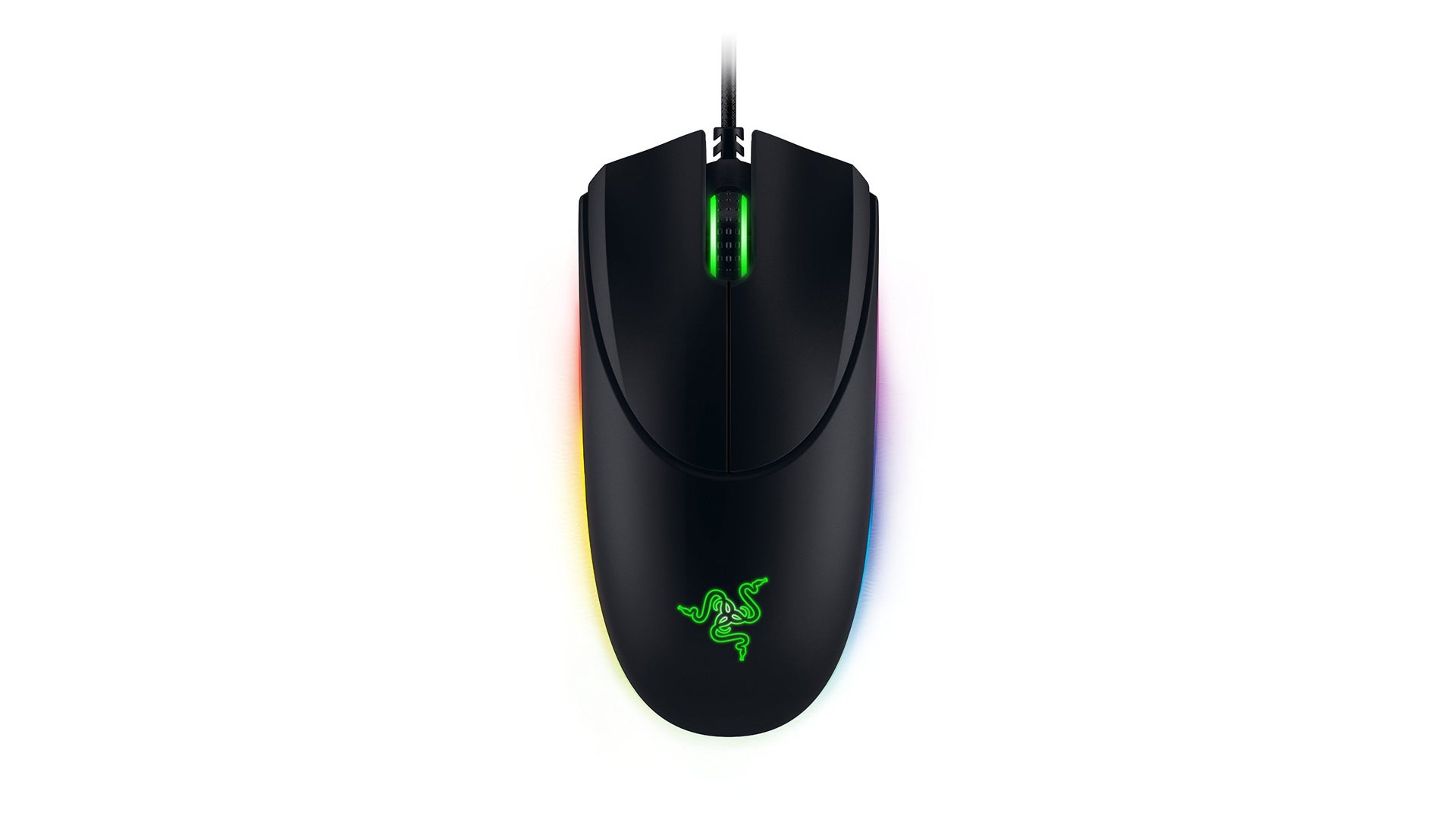 If that Logitech G602 above didn't grab your attention, you might prefer to take a look at a Razer Diamondback Chroma gaming mouse instead. This one is marginally more expensive than the G602, though still discounted by quite a ways. It also happens to be ambidextrous, which is a nice little feature to have.
Razer Diamondback Chroma Ambidextrous gaming mouse for $41.99 from Amazon US
Once again, we're done for another week. Keep in mind that deals, prices and availability can change at the drop of a hat, so apologies if you miss out on something you wanted. I'll be over at Jelly Deals, scouring the world wide web for more deals. Feel free to visit, or follow us on Twitter and give us a like on Facebook.