Jelly Deals: PlayStation's 'Big in Japan' sale starts today
Big discounts on PS4, PS3 and Vita games.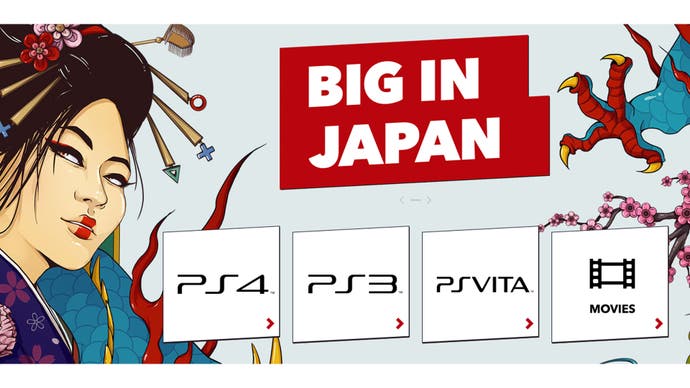 A note from the editor: Jelly Deals is a deals site launched by our parent company, Gamer Network, with a mission to find the best bargains out there. Look out for the Jelly Deals roundup of reduced-price games and kit every Saturday on Eurogamer.
---
Today marks the beginning of the PlayStation Store's 'Big in Japan' sale, which celebrates some of the absolute best games from Japanese developers available for Sony systems. This means, from now until the end of July 19th, you can get a whole bunch of great titles for not quite as much money as they would normally cost.
The actual savings vary depending on game but there are some seriously tempting highlights and PS Plus subscribers will get even bigger price cuts - such as Metal Gear Solid 5 Definitive Experience, which is down to £9.49 for the time being. If you'd like to take advantage of the sale, you can view the range via your PlayStation console or on the handy link right above.
For those who are particularly fond of bullet point lists, here are some highlights from the promotion:
PS4
Resident Evil 7 for £29.99
Final Fantasy 15 for £23.99
Yakuza Zero for £20.24
Skyrim Special Edition for £24.99
Metal Gear Solid 5 Definitive Experience for £9.49
Metal Gear Solid 5: The Phantom Pain for £7.49
Dark Souls 3 for £19.99
PaRappa the Rapper Remastered for £6.19
Final Fantasy 7 for £6.49
DmC Devil May Cry Definitive Edition for £8.49
The Silver Case for £15.99
Dead Rising Triple Bundle Pack for £15.99
Valkyria Chronicles Remastered for £7.39
PS3
Persona 5 for £29.99
Tekken Tag Tournament 2 for £3.29
Dark Souls 2: Scholar of the First Sin for £6.49
Yakuza 4 for £4.99
Yakuza 5 for £7.99
Metal Gear Solid HD Collection for £7.99
Vita
World of Final Fantasy for £14.99
Toukiden 2 for £24.99
Akiba's Beat for £14.99
Metal Gear Solid HD Collection for £7.99
While all that is lovely, it's worth noting that while Persona 5 has technically been discounted on both formats, it'll still cost you a whopping £44.99 for the PS4 version. Make of that what you will. Also, given that two out of three of the Dead Rising games on offer were made in Canada, I find their presence here a little questionable, but hey - a discount is a discount.
If you're looking for a cheaper way to get a PlayStation wallet top-up (or you want to grab PSN credit for another country's PlayStation Store), you can head over to Play-Asia and save a few pennies when buying a code. At the time of writing, a £45 PlayStation wallet top up will cost you £41.15.
Big in Japan Sale from PlayStation Store - Ends 19th July
How do you feel about the range of games on offer here? Feel free to leave your most pertinent game recommendations in the comments.