Jelly Deals: Amazon offering £10 off a £50 purchase today only
Switch your pre-orders?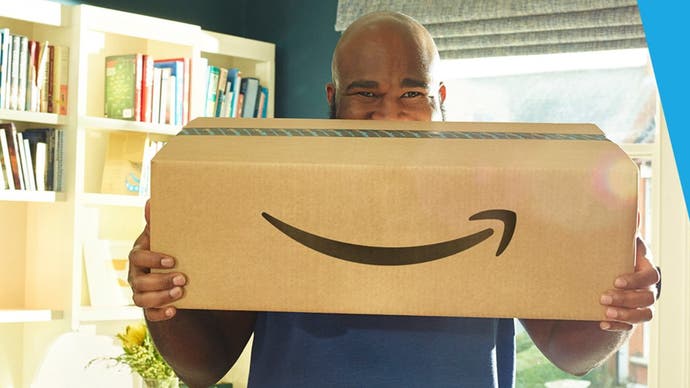 A note from the editor: Jelly Deals is a deals site launched by our parent company, Gamer Network, with a mission to find the best bargains out there. Look out for the Jelly Deals roundup of reduced-price games and kit every Saturday on Eurogamer.
---
Amazon UK announced today that, to celebrate being voted the number one organisation in the UK for Customer Service (according to a survey by The Institute of Customer Service, which is apparently a real organisation), the company is letting each and every customer get £10 off a purchase of £50 or more for one day only. That one day being today!
The offer's small print prohibits the discount from being used on digital products, alcohol, gift cards and for some reason, baby formula. One thing it does still apply to, though, is pre-orders. This means, if you're planning on picking up a Nintendo Switch for launch, you'll be able to take £10 off any Switch games or accessory ahead of time, as long as you can make the total purchase hit £50 or above. The Legend of Zelda: Breath of the Wild, for example, is currently £49.99 but as long as you can throw something cheap into the basket along with it, you'll get your £10 off, effectively making the game £40.
Using your £10 off code on Nintendo Switch game pre-orders is just one possibility, of course. You could instead opt to get yourself a massive 200GB Micro SD card to expand the Switch storage for a touch cheaper. Alternatively, take £10 off any combination of games you fancy, fill your boots. I mean, you can use it on anything you want - buy a stack of printer paper, if you feel like it.
If want to take advantage of the one-day-only offer, stack a purchase of £50 in your basket and enter the code BIGTHANKS during check out. Then you're done, the discount will apply right then and there.
Update: As Eurogamer commenter Oniken points out, you can get Zelda: Breath of the Wild on Switch for just £40.41 by adding it into your basket alongside this 42p ruler. Neat. It'll go down to £38.41 if you're an Amazon Prime member, too.