It looks like Nintendo accidentally revealed the final name for Yoshi's Switch game
Megatongue.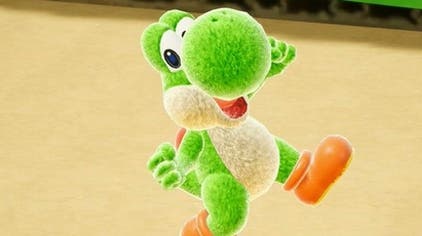 Nintendo has seemingly inadvertently revealed the full title of its upcoming, long-in-development, Yoshi platformer for Switch - which now looks to be called Yoshi's Crafted World.
Yoshi's inaugural solo Switch outing was first revealed at E3 2017, where it was simply referred to as "Yoshi for Nintendo Switch". That name has stuck with it ever since, reappearing with a TBC release date time and again on Nintendo's Switch schedule - until it was officially delayed into 2019 during this year E3, at least.
Earlier today, however, as reported by Nintendo Wire, fans spotted a (now removed) listing on Nintendo of America's website, referring to the Yoshi platformer as Yoshi's Crafted World.
Some may recall that Nintendo's previous solo Yoshi adventure, which released on Wii U in 2015, sported a lovely woolly aesthetic, earning it the moniker Yoshi's Woolly World. Presumably the naming meeting for Yoshi's Switch outing, which unfolds in a world fashioned entirely from paper craft, was never in much danger of overrunning. It seems likely that Nintendo originally intended to unveil the game's new name as part of its latest Nintendo Direct - initially scheduled to run today, but cancelled as a mark of respect, following the Hokkaido earthquake - and that it simply found its way onto the company's website too soon. Nintendo of America's director of product marketing Bill Trinen did, after all, offer fans assurances during E3 that updates on the game would be coming "later this year."
We'll know more once the rescheduled Direct has aired.