Is Total War: Arena a MOBA? It is and it isn't, Creative Assembly says
Plus: Rome 2 players to get "privileged access".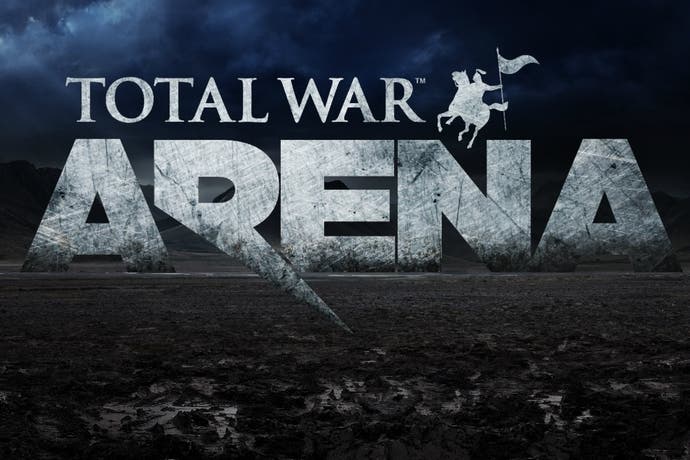 This week at the Game Developers Conference Creative Assembly announced Total War: Arena, a new free-to-play multiplayer spin-off that, on the face of it, sounds very much like a MOBA.
The truth about Arena, though, is a bit more complicated than that.
Total War: Arena features 10 v 10 battles, with each player controlling just three units. The philosophy behind it matches that of the biggest MOBAs: League of Legends and DOTA 2, in that it's free-to-play, is about two teams of players going against each other, and sees each player micro-managing units.
We definitely think the concept of a MOBA, the multiplayer online battle arena game, is what this is, but generally when people say MOBA they mean DOTA clone or League of Legends clone, and that is not what we are.

James Russell, lead designer of the Total War series
But, according to Total War lead designer James Russell and lead multiplayer designer Gabor Beressy, Arena doesn't play like LOL or DOTA 2, two names that have become synonymous with the MOBA (massively online battle arena) acronym.
"This is not a MOBA-game," Beressy told Eurogamer after the game was announced during CA's Total War session at GDC. "It's not a DOTA clone. How do you define a MOBA game? If you just say it's a multiplayer online battle arena, yes, it is. But it is Total War, so it's not a DOTA 2 clone. We're not going to have lanes and creeps and towers."
So, Arena isn't a MOBA, because it's nothing like LOL or DOTA 2, which is what most of us think of when we hear the term MOBA. But, according to Russell, Creative Assembly thinks of Arena as MOBA as the term was originally intended.
"We definitely think the concept of a MOBA, the multiplayer online battle arena game, is what this is," he said, "but generally when people say MOBA they mean DOTA clone or League of Legends clone, and that is not what we are.
"Some people would call this an MMO, and it is an MMO in that it is massively multiplayer and it is online only. So yeah, you could call it an MMO. MOBA should be an appropriate term, but it's been taken over to mean something else.
"We could say this is a Total War MOBA, and then when they're playing it people would go, 'No it's not!' But it is an appropriate acronym. It is a mutiplayer, online, battle arena."
Total War Arena grew out of a desire within Creative Assembly to create a multiplayer-focused experience based on the Total War brand. With the in-development Rome 2 set to provide the core Total War experience, which revolves around single-player, a slightly smaller team of developers is in the experimental phase on Arena, fleshing out how it will work.
"You've got 20 units in core Total War," Russell explained. "We've got three units in Arena. So you've got much tighter control over those three units. You've got a much more action-oriented design. We need to have as much gameplay and skill required to manage those three units as you've got in core Total War managing 20."
Beressy said Total War players can expect a familiar experience from Arena, despite these changes. "It is a Total War battle. We are going to keep the major pillars that fit the multiplayer in general. You still have massive armies, epic scale battles and all the spectacle of what Total War can offer, and we're still keeping tactical positioning of units. So everything that makes Total War battles fun is still there. We're not going to add the fantasy game mechanics MOBA games have, like the lane kind of gameplay.
"If we're going to add additional gameplay elements they will be based on reality, just like in any other Total War. We want to build a game that is realistic, and feels like you're on the battlefield with your troops. You're not just controlling heroes."
For the core Total War experience, see Rome 2.
The idea with Arena is that the playable units will be history's greatest commanders. Russell told us this means you'll see warriors from many different time periods clash in what he described as "the ultimate mix".
The game will launch with units based on ancient cultures, such as the Greeks. When pressed on this, Russell said: "We are starting with ancient cultures. In the very first iteration we will be focusing on ancient world cultures, so Romans."
"Every Total War game is in a certain time period and you have to stick with it," Beresy said. "There's not enough room to go out of that. With Arena we can do that. We can start with Roman and Greek generals, we can have Attila the Hun against Genghis Khan in the future. All those really interesting scenarios could happen. That's the vision."
Now for the small print: this being a free-to-play game, there will be monetisation in the form of "accelerators". These enhance your ability to earn rewards, Russell said.
"The game loop is, you fight a battle and then you use the rewards you earn in battle to customise and improve your squad of three units you then bring to the next battle," he explained.
"From a monetisation perspective, we want to focus on enhancing your ability to get up through the content, to upgrade your units, basically to make that happen faster for you. You'll have an enhanced set of rewards.
"We don't want to hive off a load of the content to be premium only. Our philosophy is we want the vast majority of content to be available free to everybody if they earn it. We don't want to have pay to win mechanics where you distort the battle. That's absolutely not what we want to do. We want to focus on increasing the speed at which you can get to the higher level troops. But you don't have to be premium, you don't have to pay any money to get there, it just might take you a bit longer. This is all outside of the battles, right? There's no progression within the battles. The battles are their own tactical exercise."
Creative Assembly isn't ready to suggest a release window for Arena at all right now, but did suggest that Rome 2 players will get to play it before anyone else.
"We definitely want our existing core Total War players, the people who buy Rome 2, to have privileged access to Arena," Russell said.