I'm worried about eFootball
It's all a bit Messi.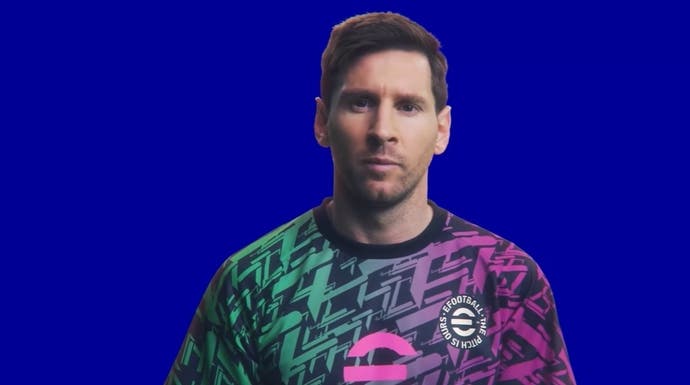 I'm worried about eFootball.
It's not just the 30th September launch - what Konami has already admitted amounts to an extremely limited demo with just a handful of teams available to play.
It's not just that key gameplay features, including new mechanics, animations and even kicks won't make it in time for that initial launch.
It's not just that the only actual proper gameplay footage we've seen from the game - and we're a week before launch now - was not direct feed and appeared to bust an embargo.
It's not just that Konami is currently selling a £33 eFootball premium player pack (essentially a bunch of loot boxes) you can't use until November.
It's not just that eFootball is designed to be played cross-platform with mobile devices.
It's not even the horrible new name for PES - and an accompanying symbol that looks so similar to the euro € symbol that the first thing I think when I see eFootball is that it wants my money.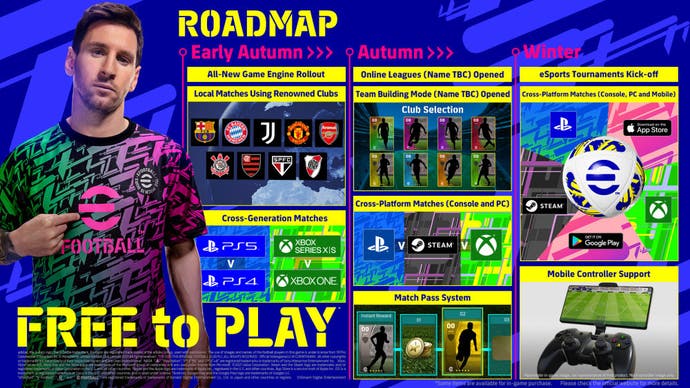 It's all this combined, and what it does for how I think about the game. eFootball is sufficiently cross-platform enough that mobile users are on a level playing field with PlayStation 5 users. If both sets of players are to have an even chance, how can eFootball be making the most of current-gen tech when it comes to gameplay mechanics, player animations and ball physics?
The £33 eFootball premium player pack makes we worry about monetisation. eFootball is free-to-play, so of course Konami needs to make its money through microtransactions. But already we're getting a whiff of pay-to-win and gambling via "chance deal items" that are being sold months before they can even be used. The beloved Master League, Konami has said, will be optional DLC. But at what cost?
One thing PES fans were able to rely on for years (give or take the odd blip) was the gameplay. The best virtual football in all video games! That's how I've felt about PES' more considered, thoughtful, realistic play. But when a special kick that actually sounds pretty cool isn't ready for launch, it makes me wonder whether eFootball could do with more time in the oven.
When Konami announced it was taking a year off and moving PES over to the Unreal Engine, I thought, great, a proper next-gen, boundary-pushing football video game that will give FIFA a real run for its money on the virtual pitch at least. Everything about eFootball I've seen so far gives off the opposite impression. I mean, just look at the grass.
It's not all doom and gloom. I had the opportunity to watch a virtual presentation of eFootball recently, and it ran through pretty much everything we've seen and heard already about the game. But one thing stood out as impressive: continuous play.
When the ball goes out for a goal kick, a ballboy or girl will chuck the ball to the keeper, who then rolls the ball with backspin onto the pitch for a goal kick - all without a break in play. This new tech means the goal kick is taken from a different place every time. It looks realistic and helps with game flow. Take that, FIFA!
Continuous play is the most impressive thing about eFootball I've seen so far. And that - this close to release - is a worry. Of course now is not the time to judge the game. 30th September, when eFootball comes out, isn't the time to judge it either. Konami has designed eFootball as a live service game that will evolve over time with new updates and features, the first of which arrives later this autumn. Perhaps then - when, presumably, all the kicks will be in the game - is the right time to have our say.
Until then? Well, I'm worried about eFootball.