Preaching to the choir
We chat to Kevin Mason and Richard Bates, SingStar's lead designer and programmer respectively, about SingStar Party, our vocal skills, and the team's future plans.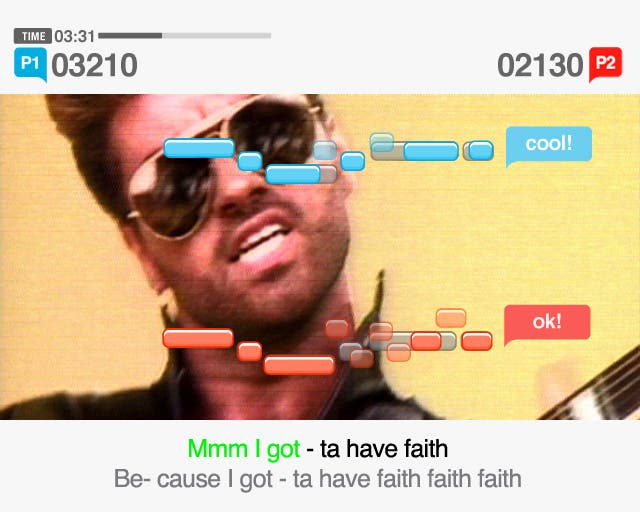 Karaoke is an age-old concept, but, up until Sony's SingStar, attempts to turn it into a viable computer game have proved hit and miss. Konami had a go with its Karaoke Revolution/Stage series, and Microsoft's fairly abysmal Music Mixer included some karaoke stuff, but Sony really nailed the formula: it's actually more fun if you just let people sing along, and don't force them to try and hit the notes. That's why Alan Partridge singing Why Do Birds Suddenly Appear is so funny, and your sister gyrating her larynx to Sum 41 plainly isn't. It's also why we were so keen to track down the folks behind SingStar and talk to them about their future plans and SingStar Party, the package of 30 new songs and new game modes due out for PS2 in Europe on November 19th...
Eurogamer Firstly, could you introduce yourself to our readers?
Kavin Mason
In keeping with the theme of SingStar Party, we're doing this interview as a duet. We're Kevin Mason, Lead Designer, and Richard Bates, Lead Programmer.
Eurogamer Presumably your testing department is an entertaining place to be these days? Had any complaints?
Kavin Mason
Actually, we recently had a group of testers who came to visit the studio and they said that SingStar and SingStar Party were their favourite games to test. I think that anything that offers a change from the norm is welcomed with open arms in our testing department. They have their own private testing room so they can 'test' at the top of their lungs without disturbing anyone.
Obviously it's also fun here in London Studio where we develop the game. The SingStar team works on the same floor as the EyeToy team, so it's a little bit crazy with people screeching like banshees and flailing their arms like they're possessed. I can't imagine another development studio which would be quite so weird to work in.
Eurogamer We cannot sing that Maroon 5 song. Really can't. We keep running out of breath about halfway through it. Had any testers falling over at all?
Kavin Mason
It's bizarre that you should say that as most people on the team think that 'This Love' is the easiest song in the game. I guess it goes to show that there is no such thing as easy or difficult songs. Each person will have to decide for themselves what they find easy and hard, but with practice you will get better. The songs that I find hardest are Alicia Keys' 'Fallin' and Spandau Ballet's 'Gold' and Busted's 'Year 3000'!
Richard Bates
'Tutti Frutti' by Little Richard is just insane and the "I Know, I Know..." section in Bill Withers' 'Ain't No Sunshine' makes me faint. But it's all good fun.
Eurogamer The interface in SingStar - and Party - seems to be made with simplicity and accessibility in mind. In other words, it's perfect when you're drunk or worse. Deliberate?
Kavin Mason
Yeah, absolutely deliberate, although when designing our interface we weren't thinking so much about drunk people, but more about people who don't usually play games. We wanted to make SingStar a game that would appeal to people who didn't necessarily play or even like video games. With that in mind we had ensure that our interface didn't look like a game but instead looked sleek and cool and wouldn't have lots of visual clutter that you see in many video games. The look was to be more like MTV than RPG.
The reason for this is that the interface in most games acts as a barrier to people who don't play games. They pick up the controller and don't understand what it is they have to do. In SingStar we try and keep everything as clear and simple as possible, so that they can easily get in and start singing with a minimum of fuss. The benefits of this are apparent to drunkards as well.
Eurogamer How do you go about choosing the songs for use in the SingStar games?
Kavin Mason
On the one hand it's very easy generating lists of songs that we'd like to include in the game, on the other hand there are plenty of reasons why we have to exclude certain songs and also plenty of hurdles to overcome before a track makes it onto the game. Once we've generated our wish-lists, we acquire the audio for each track that we're interested in. There maybe around 150 songs or so on the short list. At this point we start evaluating each song checking for a variety of potential failure points including dodgy lyrics (no swearing), excessive instrumentation (no 10 minute guitar solos!) and of course it's got be fun to sing.
Once we've got our list of suitable songs, we then approach the various music publishers to ask their permission to use the tracks in the game. As you can probably imagine, it's not all plain sailing and by the final count we have about 40 - 50 tracks to select from. There is only space for 30 tracks on the disc (it's absolutely filled to the brim), so we have to then poll lots of different opinions and arrive at the final selection.
Eurogamer Did you try to fit a particular demographic, or try and be as inclusive as possible?
Kavin Mason
We want the whole family to play SingStar - from your little sister through to your gran - so obviously we needed music to appeal to each of them, but hopefully popular enough to be familiar to all. Artists like Elvis, Sonny & Cher and Little Richard tend to appeal to the older members of the household, whilst Javine, Busted and Maroon 5 generally appeal to a younger generation.
Having said that, it is difficult to pigeon-hole people's musical tastes according to their age, so we just try to put as wide a choice as possible and hope that people like what's on the disc. The one thing that all the tracks have in common is that they are fun to sing.
Eurogamer You've spoken about the new duets system and the like, but have you made many changes under the bonnet since the last game? If so, what sort of things specifically?
Richard Bates
We've been very confident in our technology since the first SingStar game, so we've been able to spend the time researching new ideas. The outcome of that is what's been the biggest technical challenge this time round - the disc swap feature. We think people will want to sing songs from both games, and not having to reboot the console to do that will save valuable singing time!
Eurogamer Which are your favourite songs in SingStar Party and why?
Kavin Mason
I like Maroon 5's 'This Love' because I can get a SingStar ranking on it! Other favourites include Little Richard's 'Tutti Frutti' because it's just silly to sing and also Bob Marley's 'No Woman No Cry' because it's a change of pace and a completely different type of song when compared to the rest of the disc.
Richard Bates
I like Scissor Sisters' 'Take Your Mama'. It's the kind of music I buy myself, and hear on the radio, so it's fantastic to have it included in the game. The same goes for Franz Ferdinand - if you think you're too cool to be singing Tiffany songs, we still have something for you!
Eurogamer Do you think SingStar could ever work online? Perhaps for uploading and downloading performances? Or even downloading new songs?
Richard Bates
We're all very excited about PlayStation 2 going online, and we're always keen to take advantage of new developments, but our focus will always be on multiplayer party gaming, that's where SingStar comes into its own.
Eurogamer Can you ever see yourselves releasing cheaper update packs with a few new songs, or do you plan to continue making full price versions with a new line-up each time?
Kavin Mason
One of the things that we read in most reviews and forums is the desire to have songs of a specific genre or from a specific artist, so we will investigate those kinds of suggestions. Whether they are simple update discs or full price versions will remain to be seen.
Eurogamer Indeed, what are your plans beyond SingStar Party? Any chance of four-player sing-alongs for aspiring Barbershop Quartets?
Kavin Mason
We realise that the key ingredient in SingStar Party is the fun of multiplayer - singing along with a partner is really enjoyable and much more sociable than any other videogame that I can think of. So we'll be looking at ways of expanding and improving the multiplayer fun of SingStar. Barbershop Quartets might be the way to go...
Eurogamer Finally, have you considered the idea of a PSP version? Seriously. Imagine what the Tube would be like. We'll leave it with you.
Kavin Mason
Have you been eavesdropping on our meetings? The vision is to have a whole tube carriage gathered around someone's PSP singing 'Kumbiya'. At that point it might be time to emigrate.
Thanks very much to Kevin and Richard for taking the time to speak with us. SingStar Party is due out exclusively on PS2 from November 19th, and is reviewed here.